CEPH Now Accepting Third Party Comments for Re-accreditation
Published on 01.26.23
The School of Public Health at SUNY Downstate is currently in its re-accreditation review cycle by the Council on Education for Public Health (CEPH). Our school will submit a final self-study report on March 27, 2023 and CEPH will conduct its site visit April 26-28 2023. CEPH is accepting written comments up until the 30-day period before the site visit. These comments, which go directly to CEPH, may address the school's programs, operations, quality, or activities.
All written comments to CEPH must be submitted by March 26, 2023. Comments may be sent via email to
submissions@ceph.org
or you may send your written comments by mail to:
Council on Education for Public Health
1010 Wayne Avenue, Suite #220
Silver Spring, MD 20910
---
What is Public Health?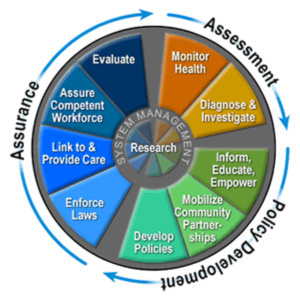 Public health encompasses individual and population-level factors that affect the health and well-being of communities and populations. The goal of public health research and programs is to determine which groups of people are at greatest risk of disease, and to develop preventive strategies to reduce risks. An essential aspect of this work involves collaboration with communities to implement positive change for risk reduction and health promotion.
---
SPH Diversity, Equity & Inclusion Statement
Central to our commitment to advancing health equity, the School of Public Health at Downstate Health Sciences University recognizes that diversity, equity, inclusion, and social justice are essential to the education and practice of public health. The School of Public Health (SPH) takes tremendous pride in being a part of the only academic health center located in the vibrant borough of Brooklyn. We support our mission by educating the next generation of diverse public health leaders and are committed to sustaining an environment that supports the professional success and personal well-being of people from all backgrounds.
To centralize our schoolwide efforts, in the fall 2022, we chartered the SPH Committee on Diversity, Equity, and Inclusion (CDEI). The CDEI includes representation from faculty, professional staff, and students across our SPH; our goals are to support the professional and personal development of a diverse public health workforce and an inclusive and equitable work and learning environment. To do this, the CDEI will promote (1) critical self- and collective reflection, (2) community-engaged evaluation activities, and (3) responsive programs and policies.
Read more about our ongoing institutional efforts to advance health equity across the Downstate Health Sciences University campus at the Office of Institutional Equity website.
---
Reporting Discrimination & Harassment
The State University of New York Downstate Health Sciences University (DHSU, Downstate, or the University) in its continuing effort to seek equity in education and employment consistent with Federal and State anti-discrimination laws, has adopted a complaint procedure for the prompt and equitable investigation and resolution of allegations of unlawful discrimination on the basis of actual or perceived race, color, religion, creed, ethnicity, national origin, citizenship status, age, marital status, disability, sexual orientation, gender, gender expression, gender identity, pregnancy, military status, prior record of arrest or conviction (except as permitted by law), predisposing genetic characteristics, and/or status as a victim of domestic violence, sexual offenses, or stalking.
Supervisors (mandated reporter) are required to immediately report instances of any oral or written complaints of discrimination or discriminatory harassment committed by employees to the Office of Diversity & Inclusion (ODI).
To view Downstate Health Science University's misconduct policies, learn more about the institution's complaint reporting procedures, or to access the ODI complaint form, please visit the Office of Diversity & Inclusion's policy page