Why Study Diagnostic Medical Imaging?
Diagnostic medical sonography lets you look deep inside the body using safe, painless sound waves. The technology has become indispensable—and once you master it, you'll be in high demand, too.
Why Study Diagnostic Medical Imaging at SUNY Downstate?
As a sonographer, you're an explorer. Downstate lets you explore sonography itself before committing to a specialty. Unlike other imaging programs, we don't ask you to choose a concentration before beginning your studies. Instead, you'll try your hand at abdominal, obstetrics-gynecology, cardiology, neurosonography and more. So you'll have a chance to discover a passion you may not have considered.
What You Will Learn
This two-year bachelor's degree program combines instruction in basic science, medical science and sonography.
Sonography places demands on the body, mind and emotions. You'll spend hours mastering the hand-eye coordination needed to operate the equipment and learning your way around human anatomy. But you'll also focus on ethics, interacting with patients, and how to conduct yourself as a medical professional.
Sonographers work side-by-side with physicians and hospital staff to make accurate diagnoses. At Downstate, you'll have the same chance to collaborate with other medical professionals.
---
Careers & Outcomes
Sonographers can see deep inside the human body. But here's a look into the future: The U.S. Bureau of Labor Statistics predicts demand for sonographers will grow 17 percent over the decade. There's no shortage of work now, either. You'll find sonographers trained at SUNY Downstate work in medical centers across New York City.
Job Titles
Sonographer
Echocardiographer
Vascular Technologist
Educator
Employers
Academic Medical Centers
Private Practices
Outpatient Radiology Centers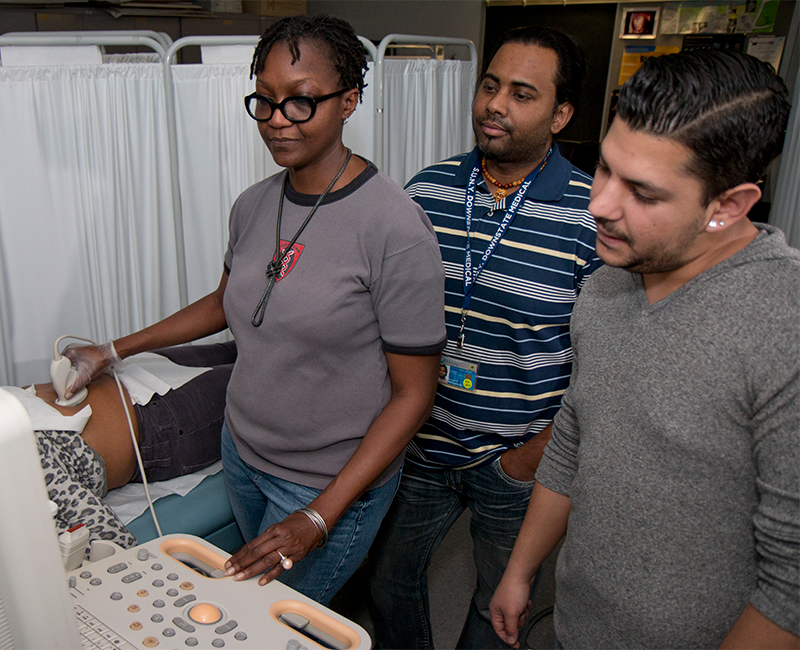 Meet Our Faculty
At Downstate, sonography students learn from registered sonographers who have spent years in the field. Some still practice; others contribute to the field through publications and research that improve education and practice.
Pioneers in the field.
Downstate was the first institution in the U.S. to offer a bachelor's degree in sonography.
Top honors.
Each year, Downstate inducts top students into Lambda Nu, the national honor society for the radiologic and imaging sciences.
It's a three-peat.
For the past three years (2018-2020), 100 percent of Downstate students have passed the ARDMS certification exam.