Research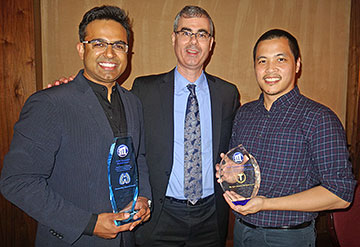 Over the past seventeen years, my research has greatly expanded our understanding of the basic mechanisms of emphysema and smoke-related lung diseases. Under the tutelage of my mentor Dr. Jeanine D'Armiento at Columbia University, I demonstrated for the first time that enhanced lung expression of collagenase induced adult-onset emphysematous changes in mice. This changed the disease paradigm by establishing that emphysema could occur through mechanisms independent of elastin degradation. Using the cigarette smoke exposure model, which I pioneered at Columbia University Medical Center, we showed that enhanced antioxidant expression in the lung prevented smoke-induced inflammation and airspace enlargement in mice. It had long been established that oxidative injury was enhanced in COPD and this was the first study to show that countering this injury could prevent the development of emphysema and inflammatory tissue damage in mice. My research group then conducted further studies to identify the mechanisms by which antioxidant expression protected against smoke-induced lung injury. Our studies found that glutathione peroxidase-1 (GPX-1) counters emphysema by acting via protein tyrosine phosphatase 1B (PTP1B) to increase protein phosphatase 2A (PP2A) activity in the lung. Subsequent studies determined that GPX-1 is down regulated in the airways in COPD and this could explain the enhanced susceptibility to smoke-mediated lung damage in these subjects. Studies are ongoing to determine the mechanisms responsible for this down regulation of GPX-1 in the airways in COPD. Ultimately, this research aims to provide new insights into the pathogenesis of COPD and to develop new therapies to counter airway obstruction and lung tissue destruction in this disease.
Research Award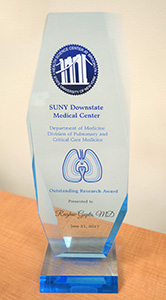 The Pulmonary and Critical Care Research Award is given each year to the fellow who most distinguishes themselves through their academic and scholarly activity. Respiratory diseases are a leading cause of suffering and death worldwide. SUNY Downstate's Pulmonary and Critical Care Division is dedicated to advancing the field of pulmonary and critical care medicine through state of the art research. Conducting research on top of busy clinical schedules is a daunting task for a fellow in training. This award recognizes the fellow whose commitment, energy and hard work produced scholarly activity that provided significant new insights into the origin and treatment of pulmonary and critical care diseases.
Spirit Award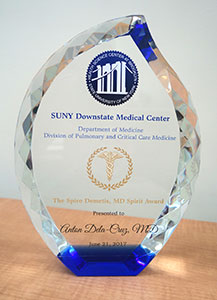 Each year, the Spiro Demetis, MD Spirit Award is presented to the graduating fellow who most exemplifies the dedication, compassion, humanism and clinical skill of Dr. Spiro Demetis. Dr. Demetis was a gifted clinician and leader of SUNY Downstate's Pulmonary and Critical Care Division. He honorably served this medical center and the greater Brooklyn community where he lived and worked for his entire life. His tireless energy, commitment to teaching and genuine concern for others influenced generations of physicians who trained under him and uplifted the health and morale of his grateful patients. This is the highest award bestowed by the division and we entrust its recipient to keep alive the beautiful spirit embodied by this most remarkable physician.