Curriculum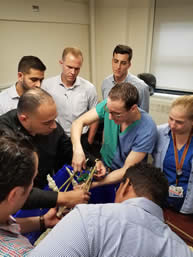 Orthopaedic Education Curriculum:
Orthopaedic surgery demands good technical skills, but just as important, if not ever more so, is to know when it is appropriate to take a patient to the operating room. For this reason we place great importance on weekly didactics and have a thorough lecture schedule that covers important topics every resident should know for their own practice, as well as preparation for the in-training exam (OITE) and the boards following residency.
All residents are enrolled in the Orthobullets PASS program. This consists of daily study guides and emails, access to all questions and practice exams available on the Orthobullets website. This program allows residency programs to track daily learning activity, formal and informal, to ensure trainees are progressing appropriately.
Journal Club: Occurs once a month and is led by our Chairman Emeritus, Dr. Stanley L. Gordon, who is the past editor-in-chief of Clinical Orthopaedics and Related Research (CORR). Residents discuss recent articles from the Journal of Bone and Joint Surgery (JBJS) and comment on the clinical implications of the research, the study design, and statistical evidence underpinning the study's conclusions. Dr. Gordon provides invaluable insight into the changes that have occurred in orthopaedic indications over the past decades which helps put current research and clinical controversies in context.
Our core lecture series is designed to prepare residents for their written and oral exams. We coordinate with the departments of Pathology and Radiology to give residents a complete understanding of all aspects of musculoskeletal care.
Day
Lecture / Time
Monday

6:15 AM: Fracture Conference KCHC

4:30-7:30 PM: Core Academic Lecture Series; OITE preparation; Monthly Journal Club

Tuesday

6:15 AM: Fracture Conference KCHC

7:00 AM: Fracture Indications Conference KCHC

7:15 AM: Indications / Service Specific Conferences at Various Hospitals

Wednesday

6:15 AM: Fracture Conference KCHC

Thursday

6:30-7:30 AM: Case Presentations by Service

6:30-8:30 AM: Grand Rounds at Downstate

Friday

6:15 AM: Fracture Conference
Additional Benefits:
Book/Equipment Allowance:
Can be used for various textbooks, lead, loupes or others.
Yearly Travel:
Allowance for conferences including AAOS for chief residents and other conferences where residents are presenting their research.
Courses:
AO Basic, AO Advanced, AANA arthroscopy course, Mount Sinai Tumor Course
Coverage of local high school varsity and junior varsity teams.
Saw Bones Workshops:
Once or twice per month.