Chairman's Welcome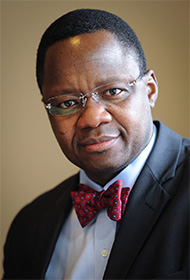 Welcome to the Department of Medicine at Downstate. The department has a long history of excellence in innovative research, educating the best generation of diverse physicians and providing excellent and compassionate care to the diverse population we serve. Our roots date back to 1860, when, as the Long Island College of Medicine, Downstate became the first medical school to introduce bedside teaching to medical students in the United States. Today, as the largest clinical department at Downstate, the Department of Medicine stands as one of the largest academic departments in the nation, with over 260 house staff and approximately 800 full-time and voluntary faculty members. Together with the College of Medicine, we are proud to say that 1 in 3 Brooklyn doctors have trained at Downstate and 1 in 10 physicians in New York City trained at Downstate. Downstate is 4th in the country in the number of graduates with an active license to practice and 11th in the number of graduates holding faculty positions across the nation. But before I continue, let me share with you a personal inspiring story.
My first encounter with Downstate was on my interview day for internship. I had been to several other interviews and knew what the landscapes looked like and had received pre-match offers. The usual routines were completed and we took a tour of Downstate's onsite teaching hospital, University Hospital of Brooklyn, and of Kings County Hospital, Downstate's largest affiliated hospital, which is located directly across the street. I observed the surroundings and people. I was amazed at seeing so many diverse people from different backgrounds in such a short period of time, all working harmoniously. I fell in love with what I saw, and immediately recognized that this was the home I wanted to practice medicine in. Despite having received pre-match offers in very prestigious institutions, I took a chance and entered the match in order to come to Downstate and my dreams were realized.
I've never left Downstate since. I capitalized on the very rich resources the department offers, sailed through my residency, nephrology and transplant nephrology fellowships, joined the faculty as assistant professor, produced quality research that catapulted me to associate professor and then professor of medicine, all within 10 years. I enjoyed the privilege of serving as program director of the nephrology fellowship, followed by being appointed chief of nephrology, then director of the transplant program and, now, chair of medicine.
How often does this happen for an intern in medicine to emerge as its chair? I believe the answer lies within the 'Downstate' culture where excellence is rewarded irrespective of your background. Downstate and its affiliates truly embrace diversity and the true frontier spirit of America.
So today, the state of the department is strong, in better shape than ever, and solutions to challenges continue to be pursued. The department has 13 academic training programs, with the core IM training program being the focal point and one of the few very large programs in the country. Our fellowship programs encompass cardiology, interventional cardiology, electrophysiology, endocrinology, gastroenterology, advanced endoscopy, pulmonary critical care, hematology oncology, nephrology, interventional nephrology, infectious disease, rheumatology, allergy immunology and geriatrics. Our training programs are exposed to the richest case mix, primarily at University Hospital of Brooklyn, Kings County Hospital and the VA Medical Center, although our house staff do rotate through many other hospitals. An advantage to training at Downstate is the exposure to a wide variety of patients and fellowship training opportunities.
We have a diverse group of highly specialized faculty, ranging from assistant professors to full professors and distinguished teaching and service professors, most of whom are well funded, and engaged in scientific discoveries. Some have built programs such as sickle cell disease, HIV/AIDs, dialysis, transitional care medicine, palliative care medicine, and heart failure, to name just a few that directly impact the care we deliver to our patients. We are also the primary sponsoring department of the NIH-funded Brooklyn Health Disparities Center.
Our department is at the forefront of the cutting edge of changes in the healthcare system: the transformation from fee-for-service to a value based payment system for health services in New York State, which aligns with being able to provide high value cost effective care to our patients.
As you explore and discover our department, you will no doubt, gravitate towards a niche and you will realize you have all the support you need to succeed in your academic pursuit.
Good luck.