Why Study Nursing?
Pursuing a career in Nursing will challenge you mentally and physically—but few careers are as rewarding. As a critical component to the spectrum of care, your selfless and heroic contributions, quite literally bestow the gift of life.
Why Study Nursing at SUNY Downstate?
As a nursing student at Downstate, you'll study at Brooklyn's only academic medical center. That means you'll draw from the expertise of doctors, researchers and others. You'll become a better thinker, problem solver and practitioner by collaborating with others. And you'll also become a better advocate for your patients.
If Brooklyn were its own city, it would be one of the largest in the U.S. Here, you'll work with patients from around the world. We're doing our part to ensure the field is just as diverse. Even though just 12% of the nation's nurses are minority group members, 70% of our nursing students are in those same groups.
What You Will Learn
Our BS programs build off liberal arts concepts as you earn nursing credentials.
Learn to provide safe, high-quality care in our simulation lab, which incorporates the newest technology.
Whether you're just entering the field or looking to bolster your nursing credentials with leadership experience, you'll work with physicians and patients at clinical rotations at sites throughout Brooklyn.
Graduates of the accelerated BS program are eligible to take the National Council Licensing Examination for Registered Nurses.

The baccalaureate degree program in nursing, master's degree program in nursing, Doctor of Nursing Practice program and post-graduate APRN certificate programs at Downstate Health Sciences University are accredited by the Commission on Collegiate Nursing Education.
---
Careers & Outcomes
Nurses everywhere are perpetually in demand—and graduates of SUNY Downstate's nursing program find opportunities in every kind of healthcare setting.
Employers
SUNY Downstate Health Sciences University Hospital
Northwell Health
New York-Presbyterian Hospital
NYU Langone Health
Maimonides Medical Center
Kings County Hospital
Accelerated BS in Nursing
This 15-month program will prepare you to join the profession, serving patients in a wide range of settings and backgrounds.
RN-to-BS in Nursing
A 1-year, online program that builds on your existing nursing experience while focusing on theory and skills that prevent illness and promote health.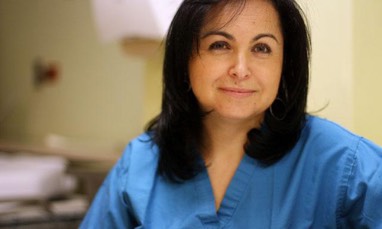 Meet Our Faculty
A SUNY Downstate nursing education is built on theory, practice and equity—and each of our faculty are committed to each of those precepts. You'll work one-on-one with nurses who have served as both caregivers and thought leaders, contributing to nursing scholarship in leading publications.
Practice makes perfect.
Sharpen your techniques before working with patients in our Simulation Laboratory, an 8-bay simulated hospital. A labor and delivery room, isolation room, critical care beds and step-down unit beds provide the chance to practice health assessment, psychomotor skills, critical thinking and teamwork.
Shine at Downstate.
Exceptional students can join Sigma Theta Tau, the national honor society of nursing.
Join the ranks of the best.
Downstate's undergraduate nursing program is ranked #9 in the country by GradReports.