Commencement 2023 on the Boardwalk
By Office of the President | May 24, 2023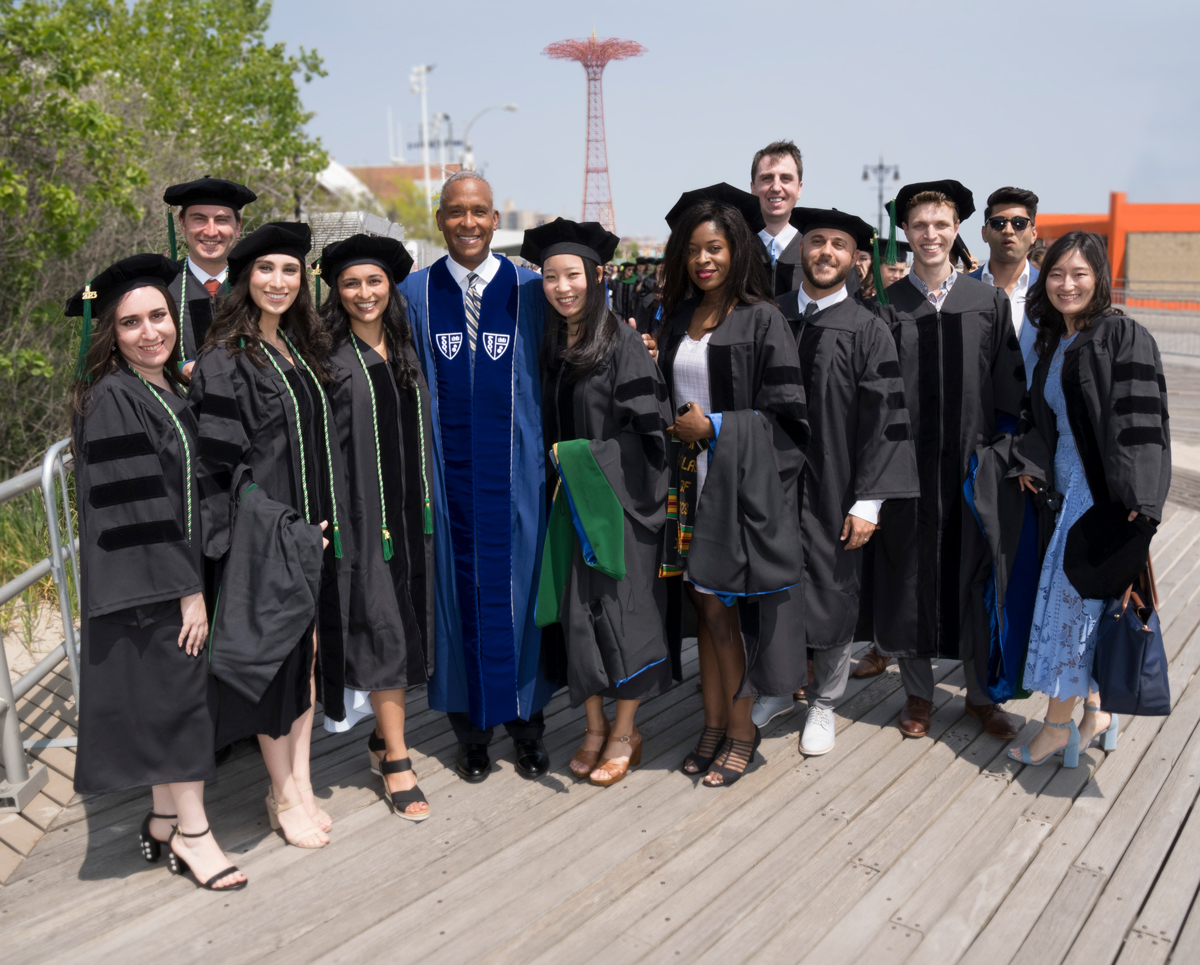 On May 11, more than 800 graduates joined the ranks of SUNY Downstate Health Sciences University alums following the 2023 Commencement ceremonies at the Coney Island Amphitheater in Brooklyn.
These phenomenal graduates earned undergraduate, graduate, and professional degrees. Many of them will now join a healthcare workforce when staffing shortages and heavy demand for their knowledge and skills are more critical than ever.
Students, faculty, families, friends, and guests gathered to celebrate this 163rd graduating class during two ceremonies—the first held in the morning for the College of Nursing and School of Health Professions and the second in the afternoon for the College of Medicine, School of Graduate Studies, and School of Public Health.
More than 300 degrees were conferred on graduates of the College of Nursing; over 130 were conferred on graduates of the School of Health Professions, comprised of programs in Diagnostic Medical Imaging, Health Informatics, Midwifery, Occupational Therapy, Physician Assistant, and Physical Therapy.
More than 190 students received the Doctor of Medicine degree; over 170 students graduated from the School of Public Health, and 20 from the School of Graduate Studies, including ten students in the Bridges to Medicine pathway program who received a Master of Science in Physiology. These students will formally enroll in the College of Medicine in the fall, joining the entering Class of 2027.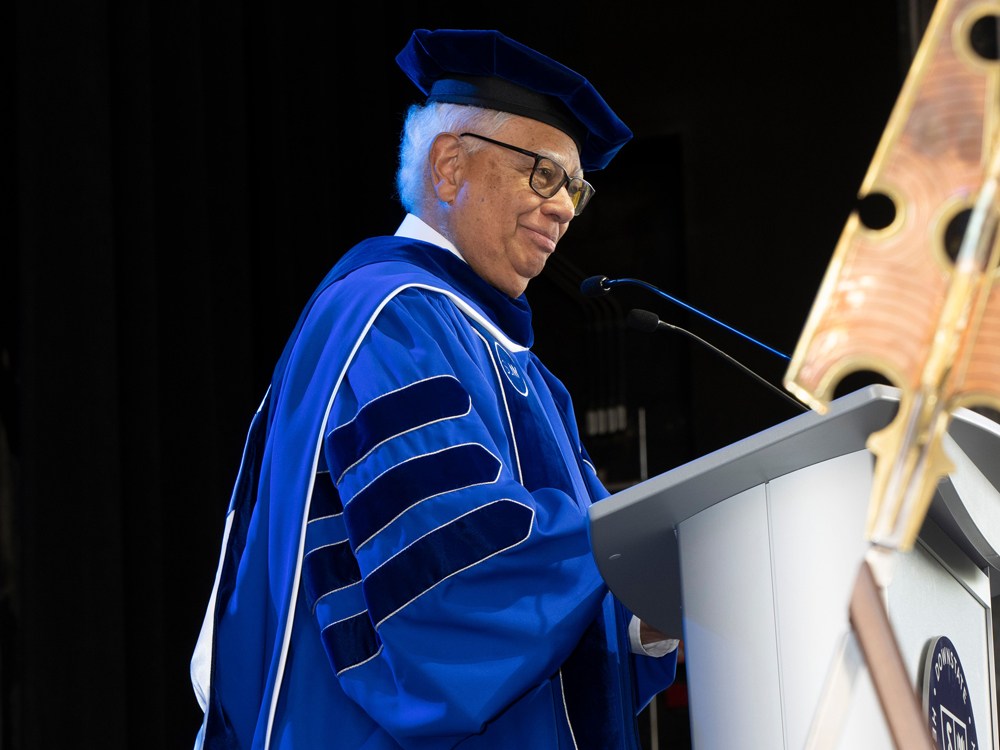 Downstate President Wayne. J. Riley, M.D., MPH, MBA, MACP, officiated both ceremonies. In the afternoon ceremony, Dr. Riley was joined by SUNY Board of Trustees Vice Chairman Cesar Perales, who gave welcoming remarks on behalf of the Board. Mr. Perales, an attorney, and well-known civil rights advocate, is the founder, president, and general counsel to the Latino Justice Puerto Rican Legal Defense and Education Fund.
Honorary degrees were conferred on Emery Neal Brown, M.D., Ph.D., and Nancy-Ann DeParle, J.D., for their outstanding contributions to science and healthcare policy.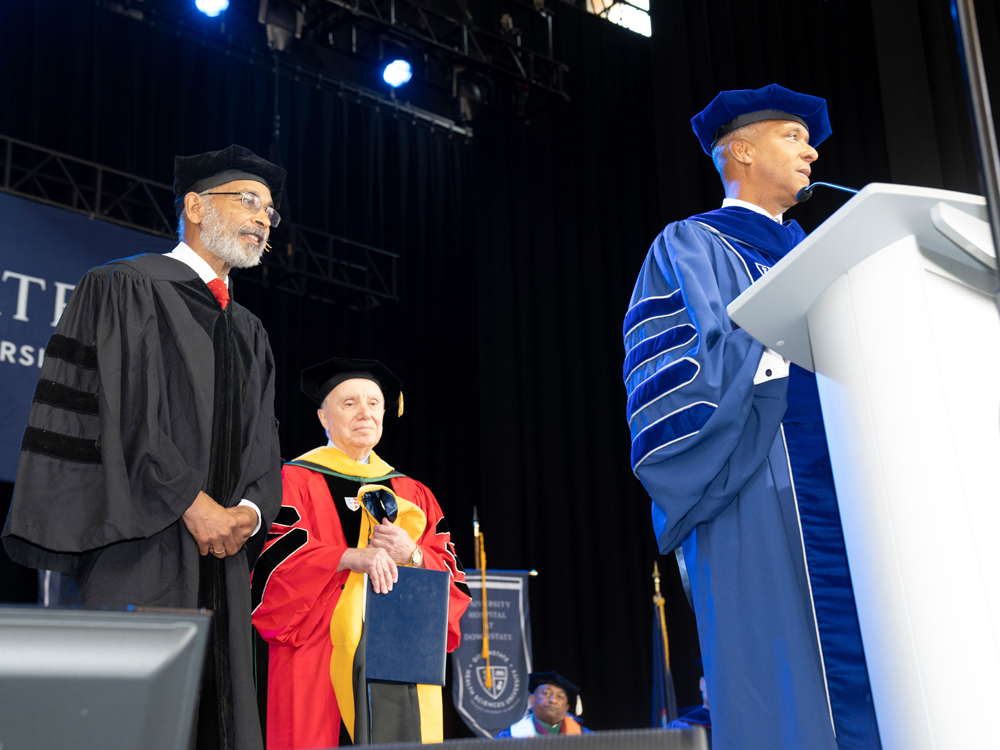 Dr. Brown, who received an honorary Doctor of Science, is a distinguished American statistician, neuroscientist, and anesthesiologist renowned for his expertise in developing signal-processing methods for neuroscience data analysis and applying these to the field of Anesthesiology. Dr. Brown is one of only 25 individuals elected to the three branches of the National Academies of Sciences, Engineering, and Medicine. He is also an elected member of the National Academy of Inventors and is the first and only anesthesiologist to be elected to the American Academy of Arts and Sciences.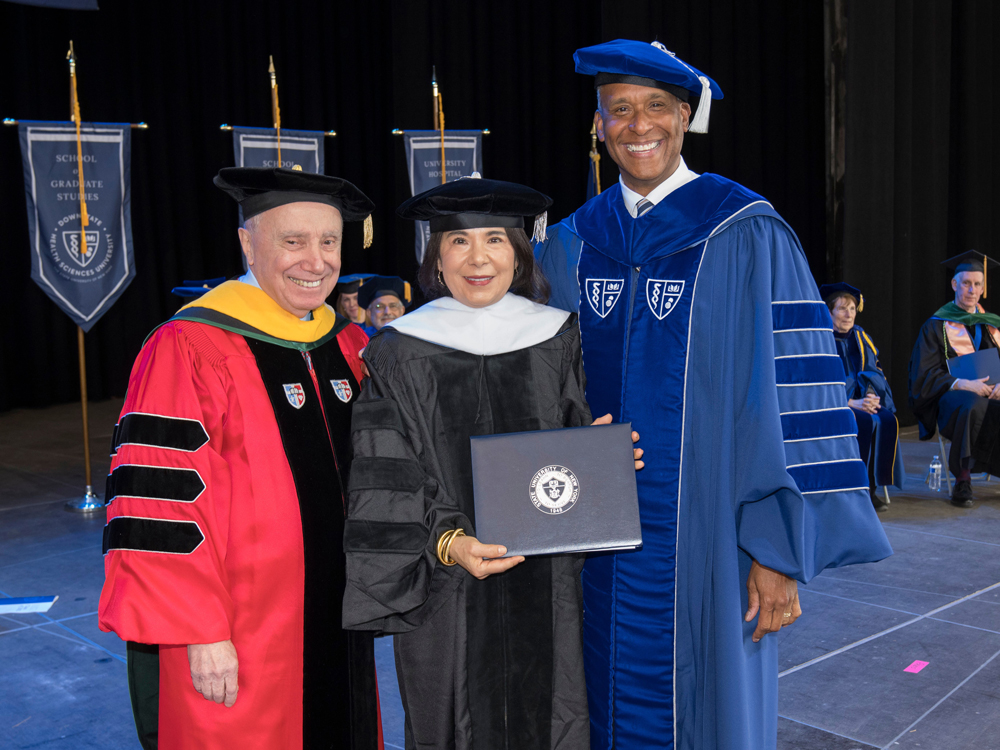 Ms. DeParle, a healthcare policy expert, was awarded a Doctor of Humane Letters. As Director of President Obama's Office of Health Reform and later as his Deputy Chief of Staff for Policy, Ms. DeParle led President Obama's efforts on healthcare issues, including passing the Patient Protection and Affordable Care Act. Ms. DeParle is the co-founder and managing partner of Consonance Capital Partners, a private equity firm that invests in innovative healthcare businesses. She also serves on the CVS Health and HCA Healthcare boards and is a Duke University's Board of Trustees, member.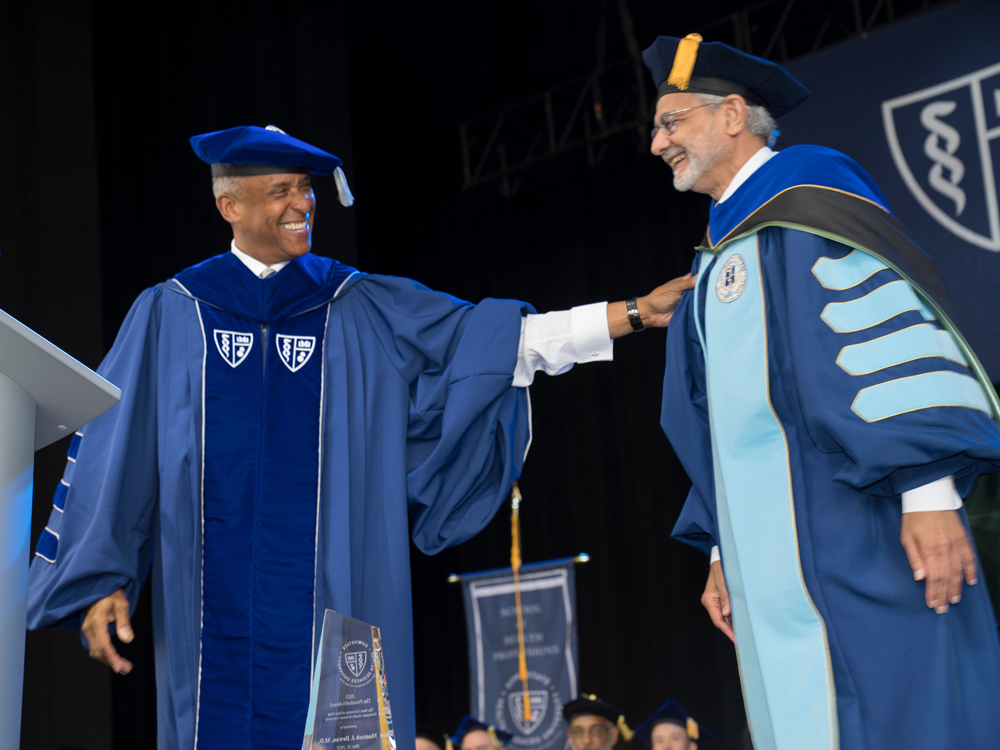 Before his keynote address, President Riley bestowed The President's Award upon Mantosh J. Dewan, M.D., Upstate Medical University President and SUNY Distinguished Service Professor of Psychiatry. The President's Award recognized Dr. Dewan's exceptional leadership in the field of psychiatry and his dedication to the advancement of medical education, the message of which resonated during his speech.
Before being appointed President of Upstate, Dr. Dewan served in key positions as a member of Upstate's faculty, including Chair of the Department of Psychiatry and interim dean of the College of Medicine. His 80 papers, 35 books and book chapters, and hundreds of presentations are on topics that range from brain imaging and the economics of mental healthcare to psychotherapy and medical education. Dr. Dewan is a Distinguished Life Fellow of the American Psychiatric Association and has received numerous awards for his contributions to the medical field and grants from the National Institute of Mental Health for his work.
President Riley also presented Eva Cramer, Ph.D., Downstate Distinguished Service Professor of Cell Biology and Vice President for Biotechnology and Scientific Affairs, with The President's Award in recognition of her invaluable contributions to the field of cell biology and her vital service to the University.
Dr. Cramer, who has served on the Downstate faculty for nearly 50 years, designed and implemented a comprehensive plan that established Downstate and Brooklyn as a leader in New York City's growing biotechnology sector. The Biotech Incubator on Parkside Avenue serves start-up companies, while the BioBAT site at the Brooklyn Army Terminal provides space for more extensive, mature companies looking to expand. Dr. Cramer has also developed symbiotic relationships between biotech companies and Downstate and implemented workforce development programs.
To view the full ceremonies, click on the Youtube links below:
College of Nursing and School of Health Professions
College of Medicine, School of Public Health, and School of Graduate Studies
Photo Galleries:
College of Nursing & School of Health Professions
College of Medicine, School of Graduate Studies, & School of Public Health
Tags: Commencement, Events