Celebrating Our Success!
Certified Nurses Day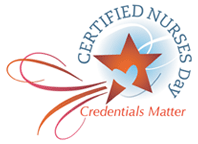 SUNY Downstate Health Sciences University Celebrates Certified Nurses Day on March 19 by Honoring our Board Certified Nurses
SUNY Downstate is celebrating Certified Nurses Day, on March 19, by honoring its board certified nurses. Our nurses are being recognized for their professionalism, leadership, and commitment to excellence in patient care.
Certified Nurses Day™ is an annual day of recognition for and by healthcare leaders dedicated to nursing professionalism, excellence, recognition, and service. Ultimately, board certification contributes to higher standards of patient care and protects the public. We believe nurses who voluntarily choose to achieve professional certification deserve public recognition and appreciation. While a registered nurse (RN) license provides entry to general nursing practice, the knowledge-intensive requirements of modern nursing require extensive education, as well as a strong personal commitment to excellence by the nurse.
SUNY Downstate encourages national board certification for all its nurses. Patients are encouraged to inquire whether there are certified nurses on staff when they visit a hospital or their primary care provider. There are many nursing certification specialties such as medical-surgical, pediatric, pain management, cardiac vascular, oncology, hospice, case management, emergency nursing, critical care and many others. Many nursing certification bodies exist to serve the full range of specialized nursing care offered in the contemporary health care system; national nurse-certifying bodies should be accredited by the Accreditation Board for Specialty Nursing Certification (ABSNC) or the National Organization for Competence Assurance (NOCA).
Please join SUNY Downstate and the nation's national nursing certification organizations in honoring those hardworking, dedicated nurses for their professionalism, and a job well done!
Below you will find an ad placed on Certified Nurses Day in Caribbean Life News, Bay News/ Brooklyn Graphic, Park Slope Courier, and Mill Basin/ Marine Park Courier.