Downstate's University Hospital of Brooklyn Receives 2014 Press Ganey Commitment to Excellence Award SM for Continuous Improvement in Patient Experience
Nov 12, 2014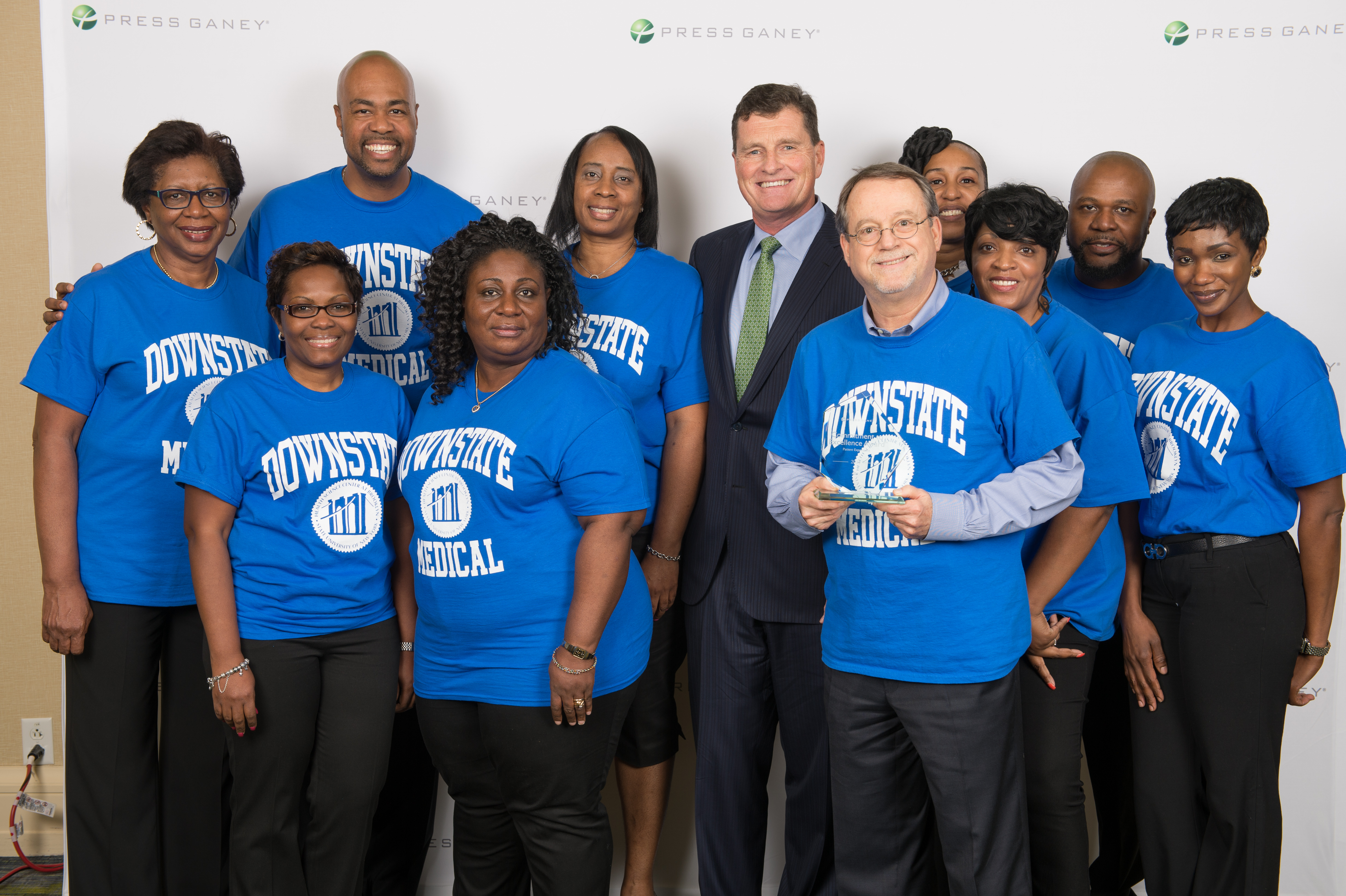 Brooklyn, NY -- SUNY Downstate Medical Center's University Hospital of Brooklyn has been named a 2014 Commitment to Excellence Award winner by Press Ganey Associates, Inc. The Commitment to Excellence Award recognizes healthcare organizations that achieved continuous improvement in Patient Experience during a two-year span. The recognition is awarded annually to 20 organizations.
Press Ganey is the nation's leading healthcare performance improvement company and partners with more than 11,000 healthcare facilities, including more than half of all U.S. hospitals, to reduce suffering and improve the patient experience.
"We are proud to partner with SUNY Downstate's University Hospital of Brooklyn," said Patrick T. Ryan, CEO of Press Ganey. "Achieving this level of continuous improvement reflects the organization's unrelenting commitment to deliver more patient-centered care."
According to John F. Williams, Jr., MD, EdD, MPH, FCCM, president of SUNY Downstate, the award represents an important recognition from the industry's leader in measuring, understanding, and improving the patient experience.
Downstate's University Hospital of Brooklyn won the award for outpacing peer institutions in the "Likely to Recommend" core measure of the federal Hospital Consumer Assessment of Healthcare Providers and Systems (HCAHPS). Only the top five percent of improvers were eligible to qualify for the award, and Downstate was recognized among those who qualified for having the largest total improvement among hospitals with more than 300 beds. Downstate is the only academic medical center being recognized in the Commitment to Excellence category.
"This is a tremendous achievement and honor, and one we should be proud of," said Dr. Williams. "The award is based on surveys completed and submitted by our patients, and it highlights the hard work undertaken by our staff every single day to meet patients' needs, provide excellent care, and create a healing environment. It takes a team to create a patient-centered culture and this award belongs to all of University Hospital's employees."
Downstate has taken a number of steps over the past two years to enhance the patient experience and to make sure its patients know they are its first priority. More than 1,000 employees have been trained through Downstate's Foundations of Service Excellence - Principles of Behavior and Patient Satisfaction program.
Downstate has initiated a number of projects, some implemented throughout the hospital and some on specific hospital units, to enhance communication and care. These special projects range from nurse rounding and a program of pastoral care visits, to improved discharge and environmental service processes. "The changes in our hospital culture are significant and real," added Dr. Williams.
University Hospital of Brooklyn was recognized with the formal presentation of the award on November 4 during the Awards Lunch at the annual Press Ganey National Client Conference, at the Orlando World Center Marriott Resort. The event draws more than 2,000 providers and 500 CEOs from across the country every year.
About Press Ganey Associates, Inc.
Recognized as a leader in performance improvement for nearly 30 years, Press Ganey partners with more than 11,000 healthcare organizations worldwide to create and sustain high-performing organizations, and, ultimately, improve the overall healthcare experience. The company offers a comprehensive portfolio of solutions to help clients operate efficiently, improve quality, increase market share, and optimize reimbursement. Press Ganey works with clients from across the continuum of care – hospitals, medical practices, home care agencies, and other providers – including more than 50% of all U.S. hospitals. For more information, visit www.pressganey.com.
###
---
About SUNY Downstate Medical Center
SUNY Downstate Medical Center, founded in 1860, was the first medical school in the United States to bring teaching out of the lecture hall and to the patient's bedside. A center of innovation and excellence in research and clinical service delivery, SUNY Downstate Medical Center comprises a College of Medicine, College of Nursing, School of Health Professions, a School of Graduate Studies, School of Public Health, University Hospital of Brooklyn, and a multifaceted biotechnology initiative including the Downstate Biotechnology Incubator and BioBAT for early-stage and more mature companies, respectively.
SUNY Downstate ranks twelfth nationally in the number of alumni who are on the faculty of American medical schools. More physicians practicing in New York City have graduated from SUNY Downstate than from any other medical school.
---