About the Curriculum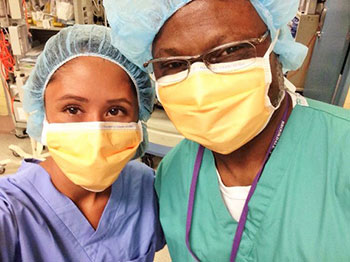 The SUNY DHSU PA program curriculum integrates the basic sciences, social sciences, medical sciences and clinical experiences to provide a comprehensive introduction to the practice of medicine.
The four semester didactic phase consists of lectures, laboratory, on-line and traditional courses, as well as practical, simulation and community service experiences designed to provide PA students with the foundation necessary to comfortably transition to practical patient care experiences.
The clinical phase consists of ten supervised clinical clerkships, at a broad range of clinical affiliate institutions. The clinical phase provides senior students with a valuable opportunity to develop and refine their professional development and clinical skills. Graduates of the program are equipped with the set competencies as defined by the Physician Assistant profession prior to entry into professional practice in any defined MD-PA team. In addition to meeting the specific needs in New York State's health work-force, graduates of our program also practice in settings designed to help close the primary care gap of New York State's medically underserved and underrepresented populations.
Students are not required to solicit clinical sites in order to complete the clinical phase of the program. The program maintains a directory of clinical sites to which students will be placed during their clinical year of study.
The curriculum, which consists of seven consecutive semesters, is designed to fulfill the program and the institution's mission. To foster the students' spirit of collaboration with faculty and students from other health care professions, interdisciplinary courses are offered throughout the curriculum. The objectives, learning experiences, and assessment methods of each academic and clinical course provide the opportunity for students to gain the knowledge, perspectives and skills necessary to attain the curriculum goals. Recognizing that our students are adult learners who are responsible for their own learning, the faculty provides a climate that facilitates the acquisition of knowledge and skills essential to safe clinical practice.
Learning is sequenced to be progressive and influenced by previously attained knowledge and skills. Program-defined competencies including clinical problem-solving, critical thinking skills, medical knowledge, patient care, interpersonal and communication skills and professionalism, in addition to the teaching-learning process, and the rights and dignities of patients are introduced early and threaded through all the Physician Assistant courses.
Several PA courses integrate direct instruction with web-assisted learning, utilizing Blackboard.