Community Engagement & Outreach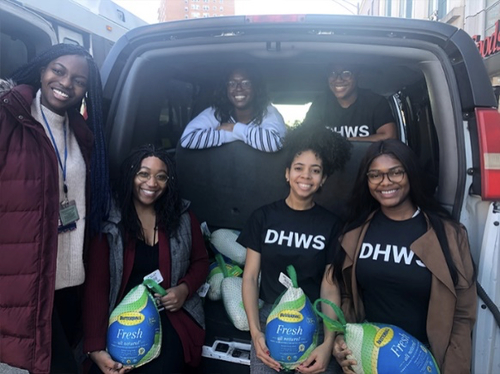 SUNY Downstate College of Medicine is located in Flatbush, Brooklyn one of the most culturally vibrant and diverse communities in New York City. Community engagement is a core component of our academic mission. It is central to building strong community academic partnerships, fostering trust, supporting community capacity, recognizing and leveraging community knowledge.
Students and faculty partner with community organizations in promoting health and education through community-based mentorship programs, health screenings, food drives, and conferences.
Community-based Mentorship – Our students partner with local schools to mentor students in high school and elementary school and expose them to opportunities in the health professions.
Community-based Screenings – Our students and faculty partner with community-based organizations to conduct health screenings for chronic conditions.
Community-based Vaccination – Students and faculty partner with local health centers to implement preventive health services and vaccination programs.
Community-based Food Drives – Downstate students work with community partners to collect food donations and prepare hot meals for local family shelters.
Community Advocacy – We stand in solidarity with our community in addressing structural racism. Students participate in creating policies, educational seminars, and social media events that promote health equity and social justice.
Strengthening Community Partnerships
At Downstate, there are many opportunities for those seeking to further develop community-based leadership and advocacy skills and foster relationships with community organizations, community leaders, and local government officials.
Arthur Ashe Institute for Urban Health
Established in 1994, the Arthur Ashe Institute for Urban Health has served as voice for our community. The institute is located within SUNY Downstate and promotes community health through pipeline programs, health disparities research programs, policy-making, and advocacy in areas that are deemed as priority by our community.
Website: https://www.arthurasheinstitute.org/
Brooklyn Health Disparities Center
The Brooklyn Health Disparities Center develops and implements evidenced-based and community-driven programs to reduce health disparities in racial and ethnic minority and immigrant communities in Brooklyn. BHDC conducts translational research that blends basic, clinical, behavioral and community participatory research approaches.
Website: http://www.bhdc.nyc/
The Brooklyn Free Clinic (BFC)
Brooklyn Free Clinic is a student-run organization that provides free health care to residents in our community who are uninsured. Under the guidance of volunteer physicians and faculty advisors, our students help provide care and health maintenance screenings. They also provide access to a network of specialists who have volunteered to treat patients at no cost to patients. Students who volunteer at the clinic are highly motivated learners dedicated to community service. Their goal is to partner with members of the Brooklyn community and empower local leaders to make the Borough of Brooklyn a haven for wellness.
Website: https://www.brooklynfreeclinic.org/
Downstate Asylum Clinic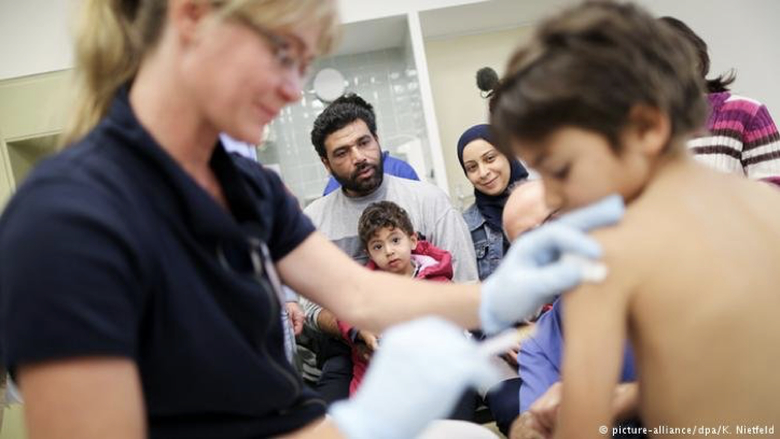 New York City is home to thousands of refugees who arrive here seeking asylum from persecution, violence, torture, and war. Downstate's Asylum clinic was established by students in Downstate's Physicians for Human Rights chapter and the Anne Kastor Brooklyn Free Clinic to assist members of our community who are seeking asylum and seeking immigration relief in the United States. The goal is to grow the number of volunteer physicians, clinicians, and mental health professionals who provide medical forensic evaluations for refugees.
Website: https://www.downstatephr.com/
The Health & Education Alternatives for Teens (HEAT) program was founded in 1992 to offer a full-service clinic that focuses on the reducing health disparities for LGBTQ adolescents and young adults, ages 13-29 years. The program is committed to providing age-appropriate education, social and medical services, peer support, and comprehensive health care for adolescents and young adults – straight, gay, bisexual, transgender, and from all ethnic backgrounds.
The program co-founded in partnership with Life of Hope, the Department of Obstetrics and Gynecology at SUNY Downstate aims to reduce maternal morbidity and mortality gap and improve outcomes in the Black immigrant community in NYC. This program is committed to addressing the root causes of this issue by providing culture-centered education, counseling, and materials, building empathy and trust, and offering quality healthcare geared towards the immigrant community. The programs focus started with the Haitian community which has the highest rates of Severe Maternal Morbidity in NYC.
Website: https://www.lohnyc.org/
Lupus Patient Navigator Program
The Lupus Patient Navigator program is funded by a grant from Aurinia Pharma to address barriers to health care for individuals living with the autoimmune disease systemic lupus erythematosus and lupus nephritis in communities of diversity and at-risk populations. This program empowers medical students to follow patients and their families to provide one-on-one guidance, to help patients navigate their treatment. Students work with patients and families to answer questions and provide extra support with referral and access to resources.
Kings Against Violence Initiative (KAVI)
King's Against Violence Initiative (KAVI) is a youth violence intervention and prevention program working on solutions to tackle issues of violence within the community. Dr. Gore is also an Emergency Medicine physician and a Technology, Entertainment and Design (TED) resident and is also the Executive Director and Founder of KAVI.
Website: https://kavibrooklyn.org/
Educating the Next Generation of Community Leaders
The Health Equity Advocacy and Leadership (HEAL) Pathway is one of several optional specialized longitudinal pathways. HEAL provides the opportunity to work with community partners, to develop skills in conducting health equity and health disparities research, apply community-based participatory research as an approach, and organize community advocacy events.