Message to All School of Health Professions Alumni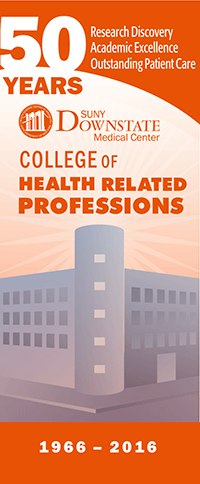 The School of Health Professions (SOHP) has a long tradition of excellence in educating health care professionals dating back to 1966, and SOHP alumni have been instrumental in creating that 50-year legacy. The SOHP continues to need your assistance. Your help in communicating with fellow alumni will go a long way toward strengthening the connection to our large alumni network. Having alumni involvement in the SOHP is critically important because you have a valuable perspective on the quality of our product (i.e., the education you received here), as you use it to advance your own career in the real world. We are striving to have as much alumni engagement as possible as mentors, preceptors, to augment network building for our currently matriculating students, and as a way to ensure meaningful engagement in the many professional and geographic communities we serve in the SOHP.
It is our hope to develop a viable SOHP Alumni Association to provide a mechanism through which alumni can partner with our college to help promote programs to prospective students, as well as contribute time, talent, and financial support for the enhancement of SOHP programs. We will soon be embarking on the next phase of the SOHP's strategic planning process for 2016-2020 and we would like your involvement in the effort. Additionally, we are in the process of establishing an open line of communication with all alumni. One way we plan to accomplish this is by beginning a quarterly Alumni Chat with the Dean session. Such sessions will be a great way for SOHP alumni who live and work proximally to Downstate to have an ongoing conversation with the college about your ideas.
We also will soon begin production of a semi-annual SOHP newsletter that will have a section dedicated to alumni news and updates. In the near future, we will begin honoring SOHP alumni in the newsletter who make unique and meaningful contributions to their profession and community via an alumni spotlight. The bottom-line is that we want to begin to establish a genuine partnership with our alumni that will over time lead to more meaningful relationships and collaborations.
Please contact me directly if you have ideas that we need to hear (allen.lewis@downstate.edu). Also, please contact the Assistant Dean of the SOHP, Mr. Phillip Bones (SOHPAlumni@downstate.edu), for more information. We would love to have you involved.
We need your help. Let's get started!
Sincerely,
Allen Lewis, PhD, CRC, Dean
School of Health Professions
---
SOHP Alumni Association Inaugural Event 2017
The SOHP Alumni Association was formed for the benefit of the alumni of the School of Health Professions of SUNY Downstate Medical Center. Its main purpose is to help alumni keep in touch with the College, its programs and other alumni. Alumni from the six programs of SOHP: Diagnostic Medical Imaging, Medical Informatics, Midwifery, Occupational Therapy, Physical Therapy and Physician Assistant are encouraged to join. As professionals in their respective fields, SOHP alumni also have a contribution to make towards the education of future professionals in SOHP programs.
Alumni Association members have access to the Library on campus and can join the Student Center. The Association is growing and in the future, there are plans to offer more programs and benefits to its members. The support of each one of our alumni is needed to develop the Association.
SOHP Alumni Association 2017 Video