Senior Vice President's Biography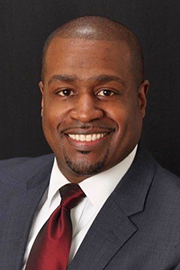 Keydron K. Guinn, Ph.D., MA, MBA, serves as Senior Vice President and Chief of Staff. He is also Interim Vice President for Human Resources. As a member of the President's Executive Cabinet, Dr. Guinn works closely with other senior University and Hospital executives, including the deans of the University's five colleges and schools. He is also the liaison for University and hospital partners, including the Arthur Ashe Institute for Urban Health, the Brooklyn Center for Health Disparities, and other institutional and community leadership organizations.
Before Downstate, Dr. Guinn was the Associate Dean in the College of Liberal Arts at Morgan State University. He managed student and academic affairs, assisted in the management of 11 academic units, and worked with the Dean to develop and manage the College's budget. He also served on numerous University committees and initiatives, and taught courses in the Department of Sociology.
Before joining Morgan State, Dr. Guinn was the Interim Dean in the School of Social and Behavioral Sciences at Solano Community College in Fairfield, CA. He managed five academic departments and was responsible for turning around the School's financial and academic during his brief tenure.
Previously, Dr. Guinn served at Meharry Medical College in Nashville, TN, as Assistant Dean and Interim Executive Director of the Robert Wood Johnson Foundation Center for Health Policy. He coordinated the Center's national research agenda, led the National Advisory Committee, and worked alongside academic thought leaders in health policy from Meharry Medical College, Vanderbilt University, the University of North Carolina at Chapel Hill, the University of Michigan, and Johns Hopkins University, among others.
As Assistant Dean in Meharry's School of Graduate Studies and Research, Dr. Guinn helped to establish a certificate program in health policy while holding associate professorships in the Schools of Dentistry (Dental Public Health) and Graduate Studies and Research where he taught courses in geriatric dentistry and health policy, respectively.
Dr. Guinn also taught graduate courses at Southern University in Baton Rouge (LA) while also serving as Rural Sociologist and Interim Director of the Southwest Center for Rural Initiatives (an entity of the Southern University's Agricultural Research & Extension Center). As Interim Director, he led educational community programming in the seven-parish region on end-of-life issues and youth-focused programs.
Dr. Guinn is a former columnist with bylines on more than 60 editorials about social justice issues in several Gannett publications, the Vicksburg Post, and the Louisiana Weekly. Academic works have appeared in the American Journal of Medicine, Disability and Health Journal, and The Journal of Extension. In addition, Dr. Guinn has delivered numerous public speeches on various topics at national conferences, including the American Public Health Association, Association of American Medical Colleges, Association of Black Sociologists, and the Southern Rural Sociological Association.
Dr. Guinn is a graduate of Jackson State University (MS). He received his BS and MA degrees in Criminal Justice and Sociology, respectively. He later earned a Ph.D. in Medical Sociology at Wayne State University (Detroit, MI) and an MBA from Missouri State University (Springfield, MO). His specific research area is focused on end-of-life issues, specifically related to advanced directives. Dr. Guinn holds a full professorship in the School of Public Health, Department of Health Policy and Management at SUNY Downstate, and a courtesy professorship in the School of Nursing.
Dr. Guinn serves as Assistant Treasurer and board member of the Medgar and Myrlie Evers Institute in Jackson, MS.