National Humanism in Medicine Medal
SUNY Downstate President Dr. Wayne J. Riley Acclaimed for Humanism in Medicine; Receives National Medal from the Arnold P. Gold Foundation alongside Drs. Anthony Fauci and Eric Topol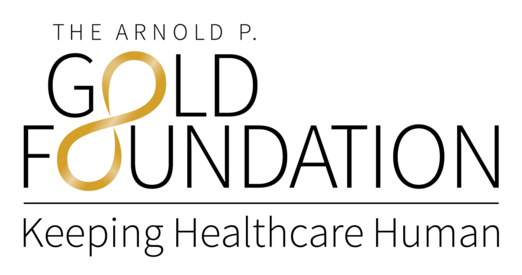 In a night dedicated to recognizing the courage and compassion of healthcare professionals during the COVID-19 pandemic, the Arnold P. Gold Foundation presented SUNY Downstate President Dr. Wayne J. Riley with its National Humanism in Medicine Medal. In addition, Dr. Anthony Fauci, Chief COVID Advisor to President Biden and Director of the National Institute of Allergy and Infectious Diseases at the NIH, and Dr. Eric Topol, Founder, and Director of the Scripps Translational Institute, Executive Vice President of Scripps Research, and Editor-in-Chief of Medscape, were co-awardees.
The Medal was presented at the Foundation's 2021 Annual Gala, held virtually on June 10, 2021. During the ceremony, the Gold Foundation also recognized over 200 Champions of Humanistic Care, including three from Downstate's onsite teaching hospital, University Hospital of Brooklyn.,
"Our mission has never shone brighter or been more important," said Dr. Richard I. Levin, President and Chief Executive Officer of the Gold Foundation. "Tonight, we recognize three titans of medicine. We have new hope and gratitude for the difference that humanism has made in the year of COVID-19."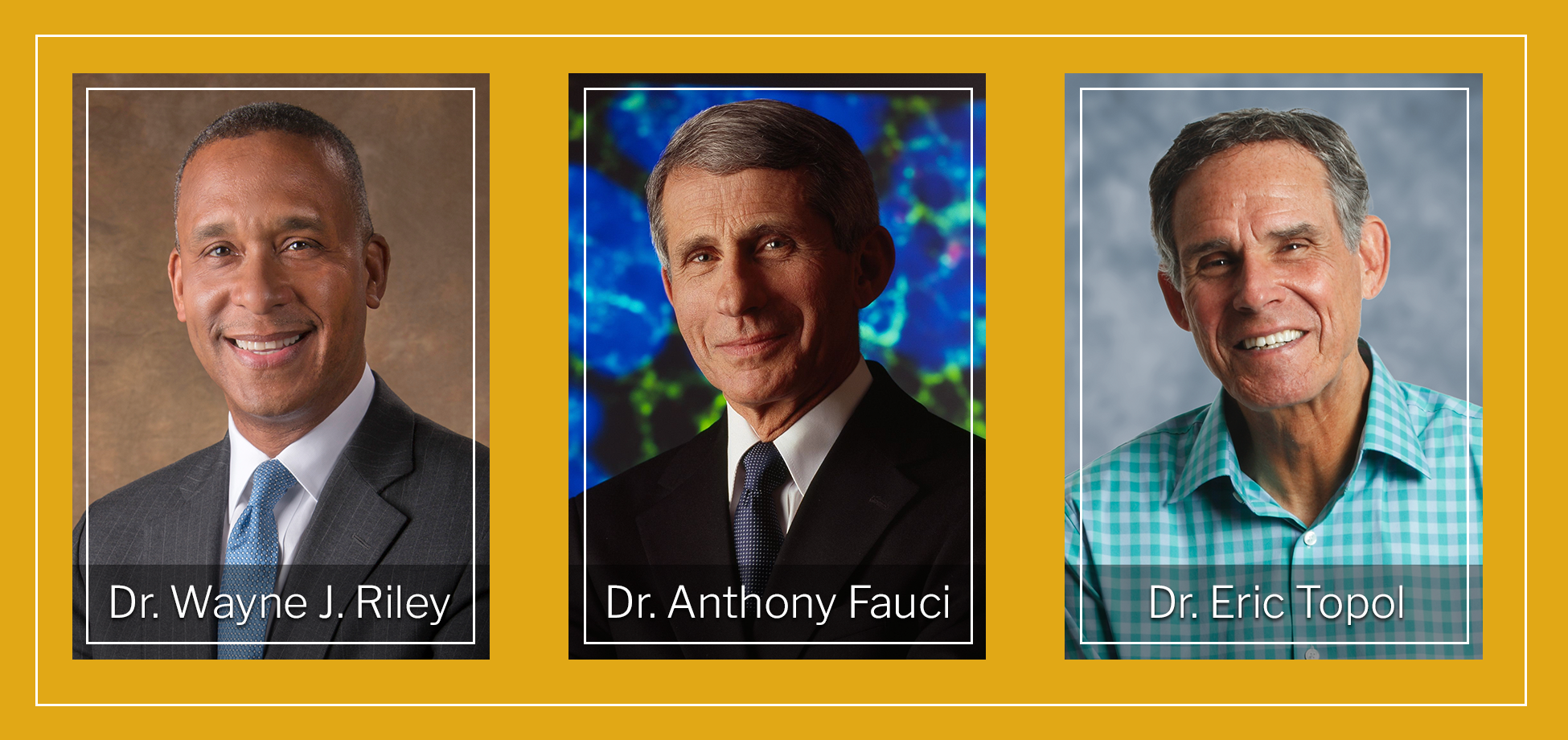 Wayne J. Riley, M.D., MPH, MBA, MACP, is the 17th President of SUNY Downstate Health Sciences University and Chair of the New York Academy of Medicine Board of Trustees. He is a Gold Humanism Honor Society member and a Trustee and Secretary of the Gold Foundation. Dr. Riley has held a series of high-impact positions over the course of his career in institutions steeped in the tradition of service to high-need communities. Dr. Riley, who was appointed in 2017, heads an academic/research institution with national and global impact while clinically serving a community in Central Brooklyn—among New York City's most vulnerable and most marginalized—and one that has been severely affected by the pandemic.
Designated as a COVID-only hospital at the height of the pandemic by Governor Cuomo, Dr. Riley worked closely with the leadership of University Hospital of Brooklyn—Downstate's teaching arm—to redeploy specialists into highly focused cross-disciplinary teams, to find creative ways to expand critical care capacity, to ensure that acutely ill patients had access to compassionate care and evolving treatments, and to provide supportive mental health services to essential and frontline staff.
On the academic side, Dr. Riley worked with the deans of Downstate's five schools and colleges to ensure that they could provide safe methods of continued study for students and encouraged researchers to share their data and findings with academic medical centers nationwide.
Externally, Dr. Riley sits on Governor Cuomo's Vaccine Equity Task Force; recently, he joined with other Black leaders to create a task force to ensure the vaccine is readily accessible to Black New Yorkers while also addressing concerns in Black communities about the vaccine's safety and efficacy. In addition, he has been relentless in addressing audiences across the country on the importance of vaccination, particularly in underserved communities.
Dr. Riley was introduced to Gala attendees by Dr. Risa Lavizzo-Mourey, past President and CEO of the Robert Wood Johnson Foundation, the largest philanthropic organization dedicated to health in the United States.
Calling Dr. Riley "my good friend and a champion, strategist, and leader for social justice and racial equality," Dr. Lavizzo-Mourey recalled how, before beginning his career in medicine, Dr. Riley worked alongside legends of the Civil Rights movement as Deputy Mayor of New Orleans. She characterized Dr. Riley's passion for equality as a defining hallmark, saying, "He has dedicated his career to making health care more equitable and to advancing health care's capacity to do the right thing."
Dr. Lavizzo-Moureyc continued by asking Gala attendees to travel back with her to February and March of 2020 and recall how New York City was the epicenter of the epidemic. "We did not have a clue how to manage this new SARS infection. People were dying, and the city, the nation, the world, were petrified. Governor Cuomo wisely designated Downstate's teaching hospital to be a COVID-only hospital, and overnight, Dr. Riley had to marshal the faculty, the nurses, all the health professions, the staff, and students to convert an academic health center into an infectious disease hospital that could handle the seemingly endless surge we were experiencing."
"It became clear early on that the fault lines along race and social class that have long existed in health care were being laid bare and exposing the same old unconscionable inequalities," she continued. "Again, Dr. Riley became the champion for equity. He spoke out, and he called for the resources to address those unmet needs. And in the wake of George Floyd's murder, he kept the spotlight on racism in healthcare.
In bestowing the National Humanism in Medicine award, Dr. Levin recognized Dr. Riley for his "exceptional life of leadership in academic medicine in America and his unrelenting advocacy for public health, health equity, and antiracism."
"I accept this award with deep humility and respect, and am humbled beyond comprehension," said Dr. Riley, noting that he considered the honor a reflection and validation of the choice he made to serve social justice by becoming a physician and healthcare advocate.
It is a life path that he recommends to those coming up behind: "I often tell students that the health professions are a wonderful way to spend a life and to build a life, he said, "not only for yourself personally, but for the communities and healthcare settings where you will work and serve."
Dr. Riley noted that his work with the Gold Foundation has been deeply fulfilling and praised the vision of its founders, Drs. Arnold and Sandra Gold. He remembered the early days, sitting with them at the kitchen table, and how they worried about losing humanistic qualities in medicine. This concern led to the formation of an organization that has had a deep and enduring impact on the practice of medicine and continues to address the "important issues of our time."
"I believe, now more than ever, that racism is anti-humanistic to the care of human beings and the creation of healthier communities," concluded Dr. Riley. "And it is my hope that the wonderful work of the Arnold P. Gold Foundation will continue for eons to come."