By Public Transportation
By Railroad
Long Island Railroad: Take any train to the Jamaica station. Change to Brooklyn-bound train (track 3). Take to the Flatbush Avenue terminal. Follow subway directions from there.
Metro-North Railroad: Take any train to Grand Central Terminal. Change to Brooklyn-bound 4 or 5 trains. Follow subway directions from there.
By Subway
Take the IRT Flatbush Avenue Line (#2 Seventh Avenue or #5 Lexington Avenue) trains to the Winthrop Street station. [Take any IRT Brooklyn-bound train (#2, 3, 4, or 5) to Nevins Street in Brooklyn, changing there for a #2 or #5 marked "Flatbush Avenue"]. Stay toward the front of the train.
Exit at Nostrand and Parkside avenues. Cross Nostrand Avenue and walk one block east on Parkside Avenue until it ends at New York Avenue. Cross New York Avenue. Turn right onto New York Avenue. Cross Clarkson Avenue and walk south until the entrance at 430 Clarkson Avenue.
Nights and outside of rush hours, take the subway to Church Avenue.Walk three short blocks east on Church Avenue to New York Avenue, left three blocks to Clarkson Avenue, right to 450 Clarkson Avenue. Or transfer to an eastbound B-35 bus to the northbound B-44 at Church and New York avenues. (Downstate students and employees can call 718-270-2626 to arrange for transportation from Church Avenue.)
By Bus
The B-12 and northbound B-44 buses stop at the corner of Clarkson and New York Avenues.

The following lines connect with the B-12 along Clarkson Avenue: B-41, B-44, B- 46, and B-49.
Notice:
During the construction of our new facility the entrance at 450 Clarkson Avenue will be closed.
Please use the alternate 430 Clarkson Avenue entry.
Please follow diagram below. The 430 Clarkson Avenue Visitor Entrance is off of New York Avenue.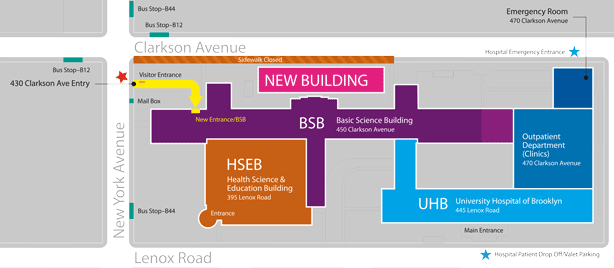 SUNY Downstate