Patient Referrals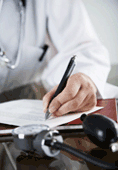 Our center provides expertise in all aspects of gastrointestinal disease management in a patient friendly multidisciplinary environment. Centers of Excellence have been established in Esophageal Diseases and Motility Disorders, Advanced Imaging, Pancreaticobiliary Diseases, Gastrointestinal Oncology and Liver Diseases.
Our state-of-the-art outpatient endoscopy center provides improved and efficient endoscopy services for such cutting edge procedures such as:
High resolution motility studies.
24 hour pH studies.
EUS, ERCP.
Endoscopic Ablation techniques (i.e. Barrx RFA) for treating high grade dysplasia w/Barrett's esophagus.
EMR for early esophageal and gastric cancers.
Confocal Laser Endomicroscopy for early detection of cancer.