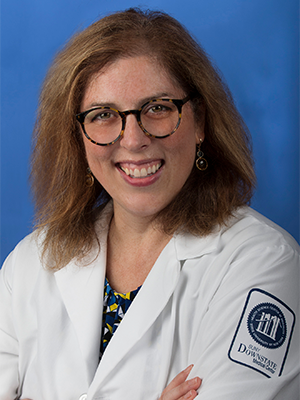 Caroline Rochon, MD, FACS, FRCSC
Chief, Division of Transplantation Surgery
Department of Surgery
(718) 270-3168
(718) 270-3843
Dr. Rochon attended McGill University in Montreal, where she earned her undergraduate and medical degrees and completed her surgical residency. She then completed the Solid Organ Transplantation Fellowship at New York Medical College in Valhalla, New York, and has practiced medicine for over 20 years.
Prior to coming to SUNY Downstate, Dr. Rochon was a Director of Kidney Transplantation Program at Hartford Hospital in Connecticut / Assistant Professor of Surgery at University of Connecticut. Under Dr. Rochon's leadership, transplant program doubled its volume within three years.
Dr. Rochon currently serves on several boards and committees, including the American Society of Transplant Surgeons, the American Association of Physician Leadership, the International Pediatric Transplant Association and the American College of Surgeons.
Dr. Rochon has a goal of improving access to kidney transplants, increasing awareness about living and deceased kidney donation, and enhancing successful transplant rates for patients with chronic kidney disease and end-stage renal disease at SUNY Downstate Transplantation Program.
Kutzler HL, Martin ST, O'Sullivan DM, Rochon C*. Compound Effect of Kidney Donor Profile Index and Cold Ischemic Time on 1-Year Kidney Transplant Recipient Outcomes. Transplantation Proceedings. 2019 Dec;51(10):3244-3251
Kutzler HL, Collins K, Maneckshana B, Rochon C, Einstein M, Mnayer L, Rezuke WN, Sheiner P, Serrano OK. Aggressive Epstein-Barr virus-negative B-cell post-transplant lymphoproliferative disorder in a hepatitis C-negative liver transplant recipient who received a hepatitis C-positive graft: Implications for D+/R- hepatitis C virus sero-conversion. Transplantation Infectious Disease. 2019 Oct;21(5)
Kwon YK, Cheema FA, Wagner JR, Gordon R, Sheiner PA, Maneckshana BT, Rochon C. Pulsatile Hematuria From Procurement Core Needle Biopsy: A Case Report. Transplant Proc. 2018;50 (10):3957-3960.
Blake-Popham TL, Vakayil V, Kutzler H, Rochon CL, Sheiner PA, Serrano OK. Donor-Recipient Matching to Optimize the Utility of High Kidney Donor Profile Index Kidneys. Transplant Proc. 2020 Dec 24:S0041-1345(20)32883-9. doi: 10.1016/j.transproceed.2020.10.040. Epub ahead of print. PMID: 33358526.
Serrano OK, Kutzler HL, Rochon C, Radojevic JA, Lawlor MT, Hammond JA, Gluck J, Feingold AD, Jaiswal A. Incidental COVID-19 in a heart-kidney transplant recipient with malnutrition and recurrent infections: Implications for the SARS-CoV-2 immune response. Transpl Infect Dis. 2020 Dec;22(6):e13367. doi: 10.1111/tid.13367. Epub 2020 Jul 1. PMID: 32533615; PMCID: PMC7323106.
Kutzler HL, Poulos CM, Cheema F, O'Sullivan DM, Ali A, Ebcioglu Z, Einstein M, Feingold AD, Gluck J, Hammond JA, Jaiswal A, Lawlor MT, Morgan G, Radojevic JA, Rochon C, Sheiner P, Singh JU, Sotil EU, Swales C, Ye X, Serrano OK. COVID-19 in Solid Organ Transplant Recipients: Observations From Connecticut. Transplantation. 2021 Jan 1;105(1):e6-e8. doi: 10.1097/TP.0000000000003495. PMID: 33350630.
Complete Complete List of Published Work is here:
https://pubmed.ncbi.nlm.nih.gov/?term=caroline%20rochon&page=3