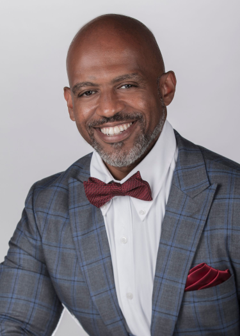 Ernest J. Barthélemy, MD, MPH, MA
Chief, Division of Neurosurgery
Assistant Professor of Surgery, Neurology, and Orthopedic Surgery
Dr. Barthélemy received his Doctor of Medicine from Icahn School of Medicine at Mount Sinai, where he also completed his residency in Neurological Surgery. He completed two postgraduate fellowships at the University of California, San Francisco: a clinical fellowship in Neurotrauma at Zuckerberg San Francisco General Hospital and a global surgery fellowship at the Center for Health Equity in Surgery and Anesthesia.
In addition, he was a Paul Farmer Global Surgery Fellow at Harvard University, receiving his MPH in Global Health and Public Health Leadership at Harvard T.H. Chan School of Public Health in Massachusetts. He received his MA in Applied Physiology from Teachers College of Columbia University and his BA from New York University's Gallatin School of Individualized Study in New York.
As the Chief of Division of Neurosurgery, Dr. Barthélemy will train the next generation of neurologists and surgeons, lending his global professional experience to enhance Downstate's Neurology and Surgery programs by building new initiatives in global neuroscience and surgery. Dr. Barthélemy will participate in clinical and academic mentoring of residents in neurology, surgery, and orthopaedics, while ensuring that the highest quality neurological and neurosurgical services are available to the largest and most diverse possible patient population. Additionally, Dr. Barthélemy's appointment in Orthopaedics will help to expand their spine surgery program and clinical practice.
Dr. Barthélemy has given many lectures, presentations, and teaching engagements worldwide. His extensive scholarly work spans over 40 peer-reviewed English and French publications. In addition, Dr. Barthélemy is a peer reviewer for the World Neurosurgery Academic Journal and is involved in several Professional and society memberships, including the Congress of Neurological Surgeons, the American Association of Neurological Surgeons, and the World Federation of Neurological Societies.
Dr. Barthélemy is the current president and co-founder of the Society of Haitian Neuroscientists, a Haitian Diaspora organization that aims to (1) promote the basic, clinical, and translational neurosciences in Haiti by the creation of the conditions necessary for their advancement, to (2) advance neurological and mental health care in all Haitian communities, and to (3) foster collaborations between Haitian neuroscientists. The organization has 100 members and spans six countries representing virtually every major neuroscience branch.
He is also the current Co-Chair of the Young Neurosurgeons Forum of the World Federation of Neurosurgical Societies, a member of the Global Health Task Force of the International League Against Epilepsy, and a Membership Committee member of the Haitian Medical Association Abroad (AMHE).
Dr. Barthélemy is a general and trauma-subspecialized neurosurgeon whose practice spans a broad spectrum of acute and chronic disorders of the brain and spine. His clinical interests include:
Acute care surgery for brain injury, including:

Subdural Hemorrhage
Epidural Hemorrhage
Intraparenchymal Brain Hemorrhage
Skull fracture
Stroke

Acute care surgery for spinal injury, including:

Spinal fractures and dislocations
Spinal cord injury
Spinal cord compression
Cauda Equina Syndrome

Multi-modality monitoring for the injured brain
Neurocritical care
Degenerative diseases of the spine including:

Disc herniation (cervical, thoracic and lumbar)
Spinal stenosis (cervical, thoracic and lumbar)
Cervical spondylosis with myelopathy
Cervical radiculopathy
Lumbar radiculopathy
Adult spinal deformity

Spine tumors
Brain and Skull base tumors:

Metastatic tumors
Meningiomas
Gliomas
Pituitary Tumors

Epilepsy
Hydrocephalus
Dr. Barthélemy's practice includes an array of minimally invasive spine surgery techniques that provide targeted treatment of spinal disorders while minimizing post-operative pain and optimizing recovery and return to function.
Patient Appointments
To schedule a consultation with Dr. Barthélemy, please call 718-270-7207.
Dr. Barthélemy's academic interests include teaching and mentoring residents, medical students and graduate students at the SUNY Downstate College of Medicine, as well as at the SUNY Downstate School of Public Health. As a global surgery researcher and neuroscientist, his projects engage the areas of global neurosurgery, translational neurotraumatology and brain repair. He directs the Downstate Global Neurosurgery Laboratory (DGNL) and Co-Directs the Downstate Global Neuroscience Initiative (DGNI).
Global Neurosurgery is defined as the multidisciplinary practice of improving health outcomes and advancing health equity for all people worldwide who are adversely affected by an unmet need for neurosurgical care. Global Neurosurgery practitioners utilize the tools of social medicine and public health to assure safe, timely, affordable and high-quality neurosurgical care for all who need it.
The DGNL is focused on neurosurgical capacity building and advocacy for health equity in neurosurgically underserved communities of Brooklyn, NY, and in several low- and middle-income countries. Current collaborations of the DGNL include work in Haiti, Cuba, Guyana and other Caribbean nations, as well as in Ethiopia and in Pakistan.
For a list of Dr. Barthélemy's scholarly work, please visit his profile on Google Scholar.