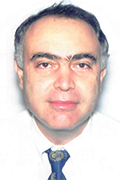 Nikolaos Papamitsakis, M.D.
Clinical Associate Professor of Neurology
Director, Vascular Neurology Fellowship
Department of Neurology
(718) 270-1259
(718) 270-3840
Clinical Subspecialty:
Research Interests:
Management of Acute Stroke
Secondary Stroke Prevention
Unusual Causes of Stroke
Teaching interests:
Neurological education of medical students
Education of residents in Cerebrovascular Diseases and Stroke
Education and Training:
MD 1991 University of Crete, School of Medicine
Residency 1998: Mount Sinai Medical Center, New York, NY
Fellowship in Stroke and Cerebrovascular Diseases 1999: Oregon Health Sciences University, Portland, OR
Research Fellowship in Stroke 2000: Henry Ford Hospital, Detroit, MI
Board Certifications:
Neurology 2000, recertified 2010: American Board of Psychiatry and Neurology (ABPN)
Vascular Neurology 2005, recertified 2015: American Board of Psychiatry and Neurology (ABPN)
Neuroimaging 2013: United Council for Neurologic Subspecialties (UCNS)
Megremis S, Bazopoulos E, Dolapsakis G, Papamitsakis N, Zois E . Duodenal Leiomyosarcoma: a case report. Hellenic Radiology, 26(1): 64-68, 1995.
Papamitsakis N . Acute Stroke Therapy 1998. Resident and Staff Physician (special supplement) Sept.1998 (pp.5-11).
Weinberger J, Papamitsakis N, Newfield A, Godbold J, Goldman M. Plaque morphology correlates with cerebrovascular symptoms in patients with complex aortic arch plaque. Arch Neurol 57 (1): 81-84, 2000.
Papamitsakis NIH, Kuyl J, Lutsep HL, Clark WC. Benign Angioedema after Thrombolysis. J Stroke Cerebr Dis 9 (2): 79-81, 2000.
Burneo JG, Shatz R, Papamitsakis NI, Mitsias PD: Amusement Park Stroke. Neurology 55: 564, 2000.
Burneo JG, Papamitsakis NI, Mitsias PD: Cerebral ventricles are smaller in Hispanic than non-Hispanic patients with Alzheimer's disease. Neurology 56 (1):139-40, 2001. (letter)
Mitsias PD, Jacobs MA, Hammoud R, Pasnoor M, Santhakumar S, Papamitsakis NIH, Soltanian-Zadeh H, Lu M, Chopp M, Patel SC: Multiparametric MRI ISODATA Ischemic Stroke Analysis. Stroke 33 (12): 2839-2844, 2002.
Warfarin-Aspirin Symptomatic Intracranial Disease (WASID) Trial Investigators: Design, progress and challenges of a double-blind trial of warfarin versus aspirin for symptomatic intracranial arterial stenosis. Neuroepidemiology 22 (2): 106-117, 2003
Mitsias PD, Lu M, Morris D, Silver B, Lewandowski C, Papamitsakis NI, Khaligi MM, Ebadian HB, Zhao Q, Soltanian-Zadeh H, Daley S, Hearshen D, Ewing JR, Patel SC, Chopp M.: Treatment of acute supratentorial ischemic stroke with abciximab is safe and may result in early neurological improvement. A preliminary report. Cerebrovasc Dis. 2004;18(3):249-50. Epub 2004 Aug 06.
Mitsias PD, Ewing JR, Lu M, Khalighi MM, Pasnoor M, Ebadian HB, Zhao Q, Santhakumar S, Jacobs MA, Papamitsakis N, Soltanian-Zadeh H, Hearshen D, Patel SC, Chopp M.: Multiparametric iterative self-organizing MR imaging data analysis technique for assessment of tissue viability in acute cerebral ischemia.
AJNR Am J Neuroradiol. 2004 Oct;25(9):1499-508.
Moussouttas M and Papamitsakis N. Combination antiplatelet agents in ischemic cerebrovascular disease. Mt Sinai J Med. 2005 Jan;72(1):16-22.
Moussouttas M, Giacino J, Papamitsakis NI. Amnestic Syndrome of the Subcallosal Artery: A Novel Infarct Syndrome. Cerebrovasc Dis. 2005 May 28;19(6):410-414.
Mitsias PD, Lu M, Silver B, Morris D, Ewing JR, Daley S, Lewandowski C, Katramados A, Papamitsakis NI, Ebadian HB, Zhao Q, Soltanian-Zadeh H, Hearshen D, Patel SC, Chopp M: MRI-guided, open trial of abciximab for ischemic stroke within a 3- to 24-hour window. Neurology. 2005; 65:612-15.
Moussouttas M, Abubakr A, Grewal RP, Papamitsakis N. Eclamptic subarachnoid hemorrhage without hypertension. J Clin Neurosci. 2006 May;13(4):474-6.
Grewal RP, Reddy PL, Dutra AV, Moussouttas M, Papamitsakis N. Genetic Analysis of the PDE4 gene in Ischemic Stroke. J NJ NSI. 2006; 1 (1): 6-8.
Papamitsakis NIH. Mitral Valve Prolapse is a Risk Factor for Stroke. J NJ NSI. 2006; 1 (1): 22-23.
Moussouttas M, Aguilar L, Fuentes K, Anyanwu B, Manassarians H, Papamitsakis N, Shi Q, Visintainer P. Cerebrovascular disease among patients from the Indian subcontinent. Neurology. 2006; 67(5):894-6.