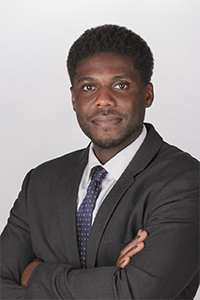 Efekona Nuwere, Ed.D, OTR/L
Chair and Assistant Professor
Occupational Therapy
School of Health Professions
Education:
Doctor of Education (Ed.D), University of Pittsburgh, School of Education

M.S. in Occupational Therapy/B.S. in Health Science, SUNY Stony Brook University
Personal Statement:
Efekona Nuwere, Ed.D, OTR/L is a licensed occupational therapist who holds a doctoral degree in education from the University of Pittsburgh. He has 10+ years of practice experience in acute care, medical/surgical rehabilitation, home health, oncology, assistive technology, and community health promotion. He currently serves as Program Chair at SUNY Downstate's Occupational Therapy Program. He is an experienced educator who uses active learning and inclusive pedagogical methods to help students acquire the knowledge and skills needed to provide client-centered occupational therapy services in multi-cultural environments. His scholarly interest focuses on studying and developing health promotion programs that support the well-being and occupational engagement of clients living in the community.
Nuwere, E., Barone Gibbs, B., Toto, P. E., & Taverno Ross, S. E. (2022). Planning for a Healthy Aging Program to Reduce Sedentary Behavior: Perceptions among Diverse Older Adults. International journal of environmental research and public health 19(10), 6068. https://doi.org/10.3390/ijerph19106068
Nuwere E., Wheeler A., & Darko, J. (2022, March). Increasing fieldwork opportunities for underrepresented occupational therapy students: Pipeline to the future. OT Practice, p. 10-13 https://www.aota.org/-/media/corporate/files/secure/publications/otp/2022/otp-volume-27-issue-3-2022-advancing-success-for-all-students.pdf