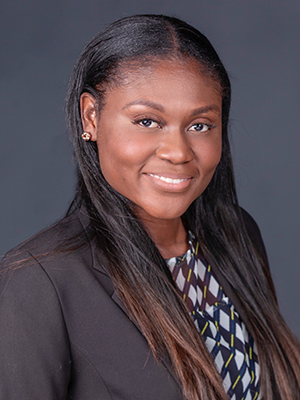 T'Shura Brown, OTD, OTR/L, BCCS
Assistant Professor, Specialization in Early Intervention Program (EISP)
Occupational Therapy
School of Health Professions
Education:
Chatham University: Post Professional Doctorate in Occupational Therapy
Downstate Health Sciences University: Master of Science in Occupational Therapy
Hofstra University: Bachelor of Science in Biology and Chemistry

Advanced Training Certifications
- Approved Provider for NYS Department of Health, Early Intervention
- Bureau of Early Intervention Structured Technical Assistance Training
- Certified Infant Massage
- Handwriting Without Tears
- Brain Gym
Personal Statement:
Dr. Brown has expertise working with patients/clients across the lifespan with a primary focus within the pediatric population in various settings including home, hospital, and school-based practice areas. Dr. Brown's scholarship in teaching and learning has focused on sensory-based programs and strategies to improve on-task behavior and classroom function; NYSIM, NICU and home-visit simulation activities in early intervention; as well as NBCOT review courses. She is experienced with emerging trends in OT practice and teaching, having worked, lectured, and taught on subjects such as access and barriers to care, health equity and health disparities.  
Research Interest
Sensory-based interventions
Executive Dysfunction