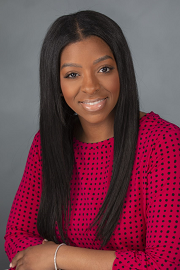 Krystal Brewington, OTD, OTR/L, CPAM

Occupational Therapy
School of Health Professions
Education:
Virginia State University: Bachelor of Science in Health, Physical Education and Recreation
Howard University: Master of Science in Occupational Therapy
Concordia University-Wisconsin: Occupational Therapy Doctorate-Specialty in Upper Extremity and Hand Rehabilitation
Personal Statement:
Dr. Brewington has been practicing Occupational Therapy since 2011. Her specialty areas include upper extremity & hand therapy, specifically orthopedic and sports related injuries, physical dysfunction and physical agent modalities. Initially introduced to hand therapy during her time at Howard University Dr. Brewington's passion continued to expand beyond the clinic. Dr. Brewington has served as a clinician at multiple outpatient rehabilitation offices spanning from Washington D.C. to Brooklyn, NY. She has instructed courses at various universities for Masters of Occupational Therapy and Occupational Therapy Assistant programs. Dr. Brewington serves as a clinical instructor to occupational therapy students and has participated in two medical missions in which she and a team of colleagues provided free Occupational Therapy services to the underserved abroad.
Publications:
Thomas, L., Brewington, K., Roshanak , H., Prusa, P., Neiduski, R. L., & Watry-Christian, M. (2016, July 25). Working in Nicaragua Short-Term Medical Missions, Long-Term Benefits. OT Practice, 21–22
Medical Missions:
Leon, Costa Rica March 2011
Aposentillo, Nicaragua January 2016