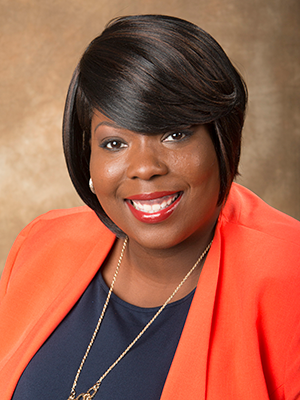 Shakima Wiggins , CNM, MS, LM, IBCLC
Clinical Assistant Professor
Midwifery Program
School of Health Professions
Professor Wiggins graduated from the Downstate Midwifery Program in 2018 receiving her Master's of Science in Nurse-Midwifery and advanced Certificate in Midwifery.
Academic responsibilities:
Course coordinator and Instructor for Advanced Pathophysiology of Acute and Chronic Conditions in Women and their Primary Care, Advanced Physical Assessment of Women, Pelvic Assessment, Antepartum Care, Gynecologic, Reproductive and Sexual Health and Postpartum Care courses; clinical site liaison.
Background & Expertise
Professor Wiggins has focused her practice on the ambulatory and postpartum care aspects of the midwifery scope of practice. She has worked in the care of those living with HIV, and in research, within a dual clinician role, at SUNY Downstate, University Hospital of Brooklyn for much of that work. Professor Wiggins also has an affinity for public health, having extensive experience in the development of non-profits and programming, all aimed at increasing community access to care and education. She continues to work as the founder and lead educator for her own maternal child health non- profit, to implement a model designed to decrease maternal and infant mortality rates among the BIPOC communities of New York City. Professor Wiggins utilizes her expertise in Antepartum Education, group facilitation and postpartum support to serve families that need it the most.
Professor Wiggins has also been committed to educating new professionals in her field. She officially transitioned into a formal academic setting, as a didactic professor at a college of nursing, in 2019 before joining the faculty here, at her alma mater in 2022. Professor Wiggins prides herself on being a strategist that considers the student experience and is committed to fostering mentorship opportunities for the student body within the midwifery education program. She also looks forward to continuing to provide the midwifery model of care via private practice, to patients seeking it outside of labor and birth, all while continuing to help prepare the next generation of midwives to holistically approach the complexity of this work.
Contributions to the Profession
In addition to her membership among the leading national and local Midwifery professional organizations, that include the American College of Nurse Midwives (ACNM), the New York Midwives (NYM) and the New York City Midives, Professor Wiggins is also a member of collaborating organizations in Maternal Child health like the National Association of Nurse Practitioners in Women's Health (NPWH), the American College of Obstetricians and Gynecologists (ACOG) and the New York Lactation Association, (NYLCA). Professor Wiggins served as a Co-founder and board member for the Chocolate Milk Cafe National non-profit organization from 2017- 2020 and she continues to serve as an active board member for the Black Breastfeeding Coalition of New York. Professor Wiggins is proud of her grassroot efforts in forming the New York Midwives of Color (NYMOC) working group and she looks forward to its future growth.