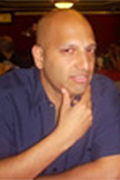 Ian DeSouza
Assistant Professor
Director, AHA Training Center, SUNY Downstate Medical Center Chair, Resuscitation Committee
Community Training Center (CTC)
Medical School:
New York University
Graduation Date:
05/1999
Residency Training:
New York University
Areas of Professional Interest:
Resuscitation and Critical Care
Outside Interests:
international medical outreach, free writing
2007 Marill KA, deSouza IS, Nishijima DK, et al. A Comparison of Amiodarone and Procainamide for the Termination of Spontaneous Sustained Ventricular Tachycardia. Acad Emerg Med 2007 14: S129-a

2006 Marill KA, deSouza IS, Nishijima DK, et al. Amiodarone, as Currently Administered, Infrequently Terminates Sustained Monomorphic Ventricular Tachycardia. Ann Emerg Med 2006:47(3):217-24.

2005 Greenberg MI, Hendrickson RG, Silverberg M (ed.). Greenberg's Atlas of Emergency Medicine. Contributing author: "Flexion Teardrop Fracture" and "Clay Shoveler's Fracture". Philadelphia, PA: Lippincott Williams & Williams, 2005.

2002 Gill JR, Hayes JA, deSouza IS, Marker E, Stajic, M. Ecstasy (MDMA) Deaths in New York City: A Case Series and Review of the Literature. J Forensic Sci 2002;47(1):121-6.

2001 Prolonged QT Segment and Syncope With Loratidine Use.[abstract].Hoffman




RJ, deSouza I, Stetz JE, Chu J, Nelson LS, Hoffman RS. Journal of




Toxicology/Clinical Toxicology 2001;39:505.