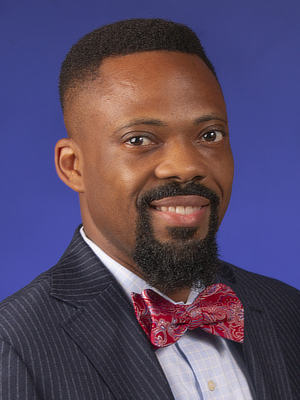 Everton Prospere, MD, MPH
Clinical Assistant Professor
Director, The Geriatric Medicine Fellowship Program, Department of Medicine
Co-Director, The Brooklyn Initiative to Develop Geriatrics Education
Dr. Everton Prospere is an Assistant Professor of Medicine at SUNY Downstate Health Sciences University, where he has been on the faculty since 2003. Dr. Prospere is currently the Director of the Geriatric Medicine Fellowship Program and a Co-Director of the Brooklyn Initiative to Develop Geriatric Education, which is funded by the Health Resources and Services Administration, Geriatric Workforce Enhancement Program. Dr. Prospere has also served as Chief of the Division of Geriatric Medicine, Director of the Medical Consultation Service, Medical Director of the Internal Medicine Physician Assistant Service, and a member of the Institutional Review Board.
Dr. Prospere completed his undergraduate education at the City University of New York Medical School, Sophie Davis School of Biomedical Education, from where he graduated Magna Cum Laude. He received his medical degree from New York University School of Medicine in 1999 and received an MPH from SUNY Downstate Medical Center School of Public Health in 2008. He completed his residency in internal medicine and a fellowship in geriatric medicine at Winthrop University Hospital. Dr. Prospere is triple board-certified in internal medicine, geriatric medicine, and hospice and palliative care.
His career is dedicated to leadership, teaching, and clinical care in the field of geriatric medicine. In 2019, he was honored with the Dr. Samuel L Kountz Jr. Excellence in Mentoring Award. Dr. Prospere also has a large clinical practice in which he provides care to elderly residents of Brooklyn and he participates in community-level health initiatives in schools and faith-based organizations. He considers it a privilege to be impacting lives by treating and caring for older patients and their families, educating and mentoring students and junior faculty, and teaching and equipping community residents to optimize their health and wellbeing.
Education and Training:
Master in Public Health, SUNY Downstate Health Sciences University; 09/2005 - 01/2008)
Fellowship in Geriatric Medicine, Winthrop University Hospital; 07/02 - 06/2003
Residency in Internal Medicine, Winthrop University Hospital; 07/2000 - 06/2002 Doctor of Medicine
Doctor of Medicine (MD), New York University School of Medicine; 07/1997 - 05/1999
Bachelor of Science in Biomedical Education, City University of New York Medical School, Sophie Davis School of Biomedical Education; 07/1992 - 06/1997
Licensure
Medicine and Surgery, New York State, 2003 to present
Certification
The American Board of Internal Medicine:

Certified Diplomate in Internal Medicine; 2003 to present
Certified Diplomate in Geriatric Medicine; 2004 to present
Certified Diplomate in Hospice & Palliative Care; 2016 to present
Position / Titles
Co-Director, Brooklyn Initiative to Develop Geriatric Education, 07/01/2019 to present
Director of Geriatric Medicine Fellowship Program, 03/2012 to present
Chief of Division of Geriatric Medicine, 10/2010 to 06/2016
Assistant Professor, Department of Medicine, 09/2003 to present
Supervising Attending in Transitional Care Clinic, 01/2016 to 06/2018
Director of Internal Medicine Clinic, 06/2014 to 06/2018
Director Medical Consult Service; 10/2007 to 06/2014
Medical Director of Physician Assistant Service, 04/2006 to 04/2013
Member of Institutional Review Board, 01/2017 to 01/2018
Honors & Awards
Dr. Samuel L Kountz Jr. Excellence in Mentoring Award, 02/2019
Delta Omega Honorary Society In Public Health, 2014 to present
Society Memberships
Member of American Geriatric Society, 2013 to present
Delta Omega Honorary Society In Public Health, 2014 to present
Member of Gerontological Society of America, 11/2019 to present
National Association for Geriatric Education (NAGE), 11/2019 to present
Cohen, Carl I. MD; McKenzie, Sharon E. PhD; Rahmani, Morteza MD; Singh, Jasvir MD; Prospere, Everton MD. Historical Changes in the Severity of Dementia and Accompanying NEuropsychiatric Symptoms in Persons Presenting for Evaluation in a Multiracial Urban Dementia Center.

Alzheimer Disease & Associated Disorders:

October-December 2012 - Volume 26 - Issue 4 - p 352-357
Grants:

HRSA 1 U1QHP33077­01­00 Cohen (PD)

Geriatric Workforce Enhancement Program

$750,000/year x 5 years

A five-year award to enhance interprofessional geriatrics education and healthcare in the Brooklyn, NY. This program targets healthcare trainees across the professions and Brooklyn's primary care providers.

Role: Co-Director

NYS DOH01-COEAD-2015 Cohen (PD)

Center of Excellence for Alzheimer's Disease at SUNY Downstate Medical Center.

A five-year effort to expand and improve the clinical services, care quality, and care outcomes for patients / caregivers with Alzheimer's Disease and Related Dementias across the New York City region.

Role: Faculty

Bureau of Health Professions, HRSA Grant for "Fellowship Training in Geriatric Medicine, Geriatric Dentistry and Geriatric Psychiatry."

Dollar amount: $3,686,743

Role in Grant: Co-Director

07/2019-06/2024

1/2016 – 12/2020

2010-2016