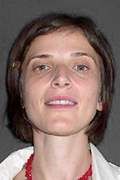 Agnieszka Gliwa, MD
Fellowship Program Director
Endocrinology
Education and Training:
Positions held:

Clinical Assistant Professor of Medicine, Staten Island University Hospital 2003-2009

Fellowship:

Endocrinology, New York University, New York, NY 2001-2003

Residency:

SUNY Downstate Medical Center, Brooklyn, NY 1998-2001

Medical School:

Jagiellonski University, Krakow, Poland 1991-1996
Career / Research Interests:
Principal Investigator
"What are the focal findings in patience with autoimmune thyroid disease?" NYU School of Medicine, Division of Endocrinology, July 2002-July 2003
Sub-Investigator
"Control of cardiovascular risk factors in patients with diabetes and hypertension at urban medical centers."
State University of New York, Division of Endocrinology, July 2000-September 2000.
Field Researcher
"European thyromobile campaign"
Jagiellonski University , Division of Endocrinology, April 1997
R. Pryam, G. Mahajan, A. Gliwa. "Primary hyperparathyroidism: Skeletal and non-skeletal effects, diagnosis and management." Maturitas, 2011 Nov; 70(3):246-55
D. Wallace, A. Gliwa. "Hyperthyrodism chapter" E-Medicine 2008 March.
SI McFarlane, H. von Gizycki, M. Manieram, Y Gebreegziabher, A. Gliwa, JR Sowers. "Alcohol Consumption and blood pressure in Adult US population: Assessment of Sex and Race related effects." J. Hypertens. 2007 May; 25(5):965-70.
SI McFarlane, A. Gliwa, C Bubb, J. Nicasio, Y,Gebreegziabher, M. Deshmokh, J. Shatzkes, F. El-Atat & D. Mellish. "Predictors of sliding scale insulin use by housestaff in the management of hospitalized patients with diabetes mellitus." Therapy, 2006 Vol 3, No. 3.
SI McFarlane, SJ Jacouber, JP Castro, A. Wui, A. Gliwa, J. Kaur, D. Chugh, JR Sowers. "Control of Cardiovascular Risk Factors in Diabetes at Urban Academic Medical Centers." Diabetes Care 25(4): April 2002, 718-723
SI McFarlane and A. Gliwa. "Estenosis de la arteria renal: Diagnostico y retos terapeuticos Year Book in Hypertension (Spanish), Chapter 8 pages 189-206. Atlas Medical Publishing, Ltd, London, UK.
Abstracts
S. Narsyana, A. Gliwa. :Medical Management of Pheochromocytoma in a Pregnant Patient with MEN2A." Endocrine Society, Annual Meeting, Boston, June 4-7, 2011.
S. Narayana, A. Gliwa. "Acute Myeloid LeukemiaAssociated in Patient with Diabetes Insipidus, Central Hypothyroidism and Hypogonadism." Endocrine Society, Annual Meeting, Boston June 4-7, 2011
B. Iyer, A. Gliwa, "Successful Remission of Type B Insulin Resistance with Immunosuppressive Therapy." AACE, Annual Meeting, Boston April 20-25, 2010.
A. Gliwa, P. Terry: "A multidisciplinary Protocol Specifying a basal/Bolus Subcutaneous Insulin in Transplant Unit". AACE, Annual Meeting, Boston April 20-25, 2010
L. Marksman, A Gliwa: "Spontaneous Resolution of Type B Insulin Resistance Syndrome in a Post-partum Woman with Unspecified Connective Tissue Disease" AACE, Annual Meeting, Houston April 20, 2009
S. Alfaro, M. Banerji, S. Boateng, L. Cohen, S. Dham, A. Gliwa, R. Hewitt, S. Hirsch, L. Jeu, J. McDonald. "Inpatient Glycemic Control Initiatives: Strategies for Change "12th Annual Nursing Research and Evidence-Based Practice Conference. June 20, 2008.
O. Murad, A. Gliwa, A Khalfin, S. Quyyumi, J. Rothman. :Subclinical Cushing's Syndrome Secondary to Adrenal Metastasis." American Association of Clinical Endocrinologists (AACE) 15th Annual Meeting and Clinical Congress, Chicago, IL, April 26-30, 2006