Featured Story
SUNY Downstate Gets Ready for COVID-19 Surveillance Testing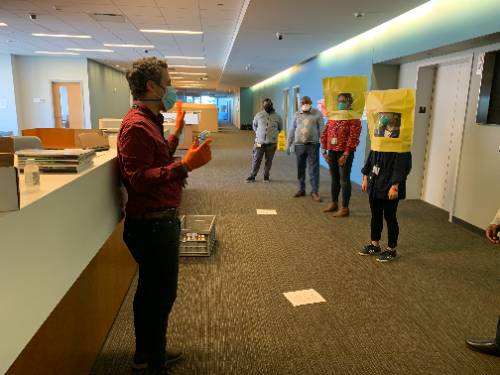 SUNY Downstate is ramping up its effort to control the spread of coronavirus.
Following the Memorandum of Understanding between SUNY Chancellor and the Labor Unions as well as at the direction of SUNY Downstate President, Wayne Riley, MD, MPH, MBA, MACP, Downstate is in preparation to begin an University-wide Surveillance Testing Program that aims to rapidly detect and monitor COVID-19 in the Downstate campus community. On November 5th, Downstate conducted a test run on a selected group of students, faculty and staff.
The pooled surveillance testing, which has been used on other State University of New York (SUNY) campuses, is designed to look at samples of the campus population and give an estimate of infection rates in the school communities. Selected individuals are being notified via email and asked to create a COVID-19 Surveillance Account to schedule testing appointment. The email also includes a link to an instructional video demonstrating the swabbing technique. On the day of the scheduled testing, the selected individuals report to the testing location with their SUNY Downstate ID and mobile phone and are given a test kit to collect their saliva sample. The saliva from multiple individuals will then be pooled and tested together. For any pool tests that return positive, a reflex test may be performed on each individual sample in the pool. The initial goal of the Surveillance Testing Program is to collect at least 125 saliva samples per week.
SUNY Downstate Campus Safety Monitoring Workgroup, which consists of key Downstate administrators and faculty members across all colleges and schools on campus, has been working diligently to develop a comprehensive strategy that focuses on identifying potential hotspots and mitigating the spread of COVID-19. In accordance with New York State Governor, Andrew M. Cuomo, if a college campus reaches 100 confirmed cases or five percent of the campus' population tests positive, all in-person activities must be suspended for two weeks and moved to remote learning. With the oversight of the Workgroup, SUNY Downstate is attempting to prevent such a scenario by keeping a close watch on the virus. The Surveillance Testing Program is an important initiative to achieve this goal.
"We owe our ability to provide a rapid response to COVD-19 and the evolving public health guidelines to a committed group of students, staff and faculty whose service to Downstate has been exceptional during this time of uncertainty. COVID-19 has imposed considerable stress on our personal, academic, and professional lives. It has been inspiring to see my colleagues and especially our students step up and respond to this unprecedented public health challenge," said Aimee Afable, PhD, MPH, Associate Dean for Community Engagement and Associate Professor for the Department of Community Health Sciences, who serves as the Campus Surveillance Officer.
The Surveillance Testing Program is scheduled to commence on November 9th, 2020. In an effort to strive for a smooth testing process and identify and resolve potential challenges, Kitaw Demissie, MD, PhD, Dean and Professor for the School of Public Health, invited a group of SUNY Downstate community members to participate in a test run on November 6th, 2020. Participants included key Downstate administrators, President Riley, Dr. Demissie, and other School Deans and Leaders. "It has been an active and intense journey since March," stated Dr. Demissie. "But I am thankful for the commitment from all divisions and people across campus, working collaboratively to hold the coronavirus at bay."