Welcome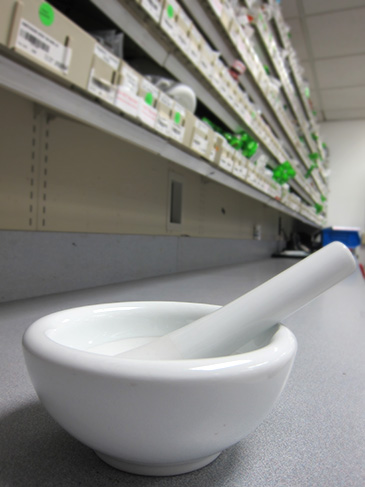 The Department of Pharmacy at the Univeristy Hospital at Downstate Health Sciences University welcomes you to our website! Please feel free to browse and explore information regarding the comprehensive pharmaceutical services we deliver, as well as our residency training programs.
Sincerely,
I. Ian Richards , PharmD
Director of Pharmacy
Fill your prescriptions onsite with us! CALL US: 718-270-MEDS (6337)
About the Department of Pharmacy
The University Hospital at Downstate Health Sciences University is a leading tertiary-care academic medical center. The Department of Pharmacy provides clinical and operational pharmacy services to inpatients at the University Hospital of Brooklyn, the Bay Ridge division, and associated on-site ambulatory clinics. We collaborate closely with physicians, nurses, hospital administrators, and other healthcare professionals to ensure the safe and effective use of medications.
Our dedicated team includes administrative leaders, clinical pharmacists, staff pharmacists, pharmacy technicians, and support staff. We work seamlessly to deliver highly compassionate and personalized pharmacotherapy to our patients, all while incorporating medication safety into everything we do. We leverage the use of an electronic medical record, clinical decision support system, automated dispensing cabinets, barcode medication administration, and additional pharmacy automation/technology to further enhance our services.
The Department of Pharmacy is also committed to pharmacy education and training. We are affiliated with local colleges of pharmacy and serve as an experiential site for both introductory and advanced pharmacy practice experiences. The Department offers a PGY1 Pharmacy Residency and a PGY2 Infectious Diseases Pharmacy Residency. Residency training has a long history at Downstate Health Sciences University, and we have assisted in the development of highly qualified independent practitioners who deliver patient-oriented and evidence-based pharmaceutical care in a variety of specialties and environments. Pharmacists completing this program will be capable of conducting their practice with a high level of maturity and leadership, and be able to effectively execute practice-related projects to improve patient care and the medication-use process.
The Department of Pharmacy at the University Hospital of Brooklyn is staffed 24-hours by approximately 30 pharmacists and 30 pharmacy technicians / support staff. Pharmacists are considered integral and respected members of the multidisciplinary health care team, and participate in numerous hospital-wide clinical and leadership initiatives.
Mission of the Department of Pharmacy
To provide comprehensive pharmaceutical and medication management services to our patients, while promoting safe and cost-effective drug therapy by incorporating patient-oriented, evidence-based medicine
To optimize the medication-use process in an interdisciplinary fashion in order to promote patient safety, rationale drug utilization, and continuity of care
To educate patients and fellow healthcare providers on safe and appropriate use of medications, and to ensure delivery of high-quality pharmaceutical care through the training of future generations of pharmacy professionals
To participate in patient-centric research and usage evaluations to continually advance the safety and effectiveness of the medication-use process
To accomplish all patient care duties and responsibilities with professionalism, dignity, compassion, and respect, and to foster an inclusive and collaborative environment
Vision of the Department of Pharmacy
The Department of Pharmacy at SUNY Downstate Health Sciences University strives for excellence in all facets of pharmacy practice and seeks to be a model leader in the delivery of pharmaceutical care, education, and academic research. Through our endeavors, we will continue to improve and optimize medication-related outcomes in the patients and communities we proudly serve.
Provision of Services
Our pharmacists participate in many facets of patient care and leadership initiatives:
Promoting safe and effective use of medications by incorporating pharmacokinetic/pharmacodynamic principles, evidence-based medicine, and patient-specific factors
Monitoring of pharmacotherapy, adverse effects, and clinical outcomes
Providing medication reconciliation services and discharge counseling to patients and caregivers
Delivering formal presentations and in-services to medical, nursing, and pharmacy staff
Conducting medication-use evaluations and clinical research projects
Providing didactic lectures to medical students, physician assistant students, and nursing students
Developing medication guidelines, policies, and procedures to ensure appropriate and cost-effective use of agents
Participating in hospital-wide and specialty-specific committees and performance improvement initiatives