Cerebrovascular Disease And Stroke
Overview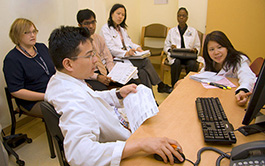 Overview The Division of Cerebrovascular Disease and Stroke provides
comprehensive and state-of-the-art stroke care and advanced teaching and research in all aspects of cerebrovascular disease. The Stroke Unit at SUNY Downstate Health Sciences University is a New York State Department of Health Designated Stroke Center.
Features
Listed below are some of the many features of our division.
Expertise in neurovascular imaging, including a dedicated vascular laboratory that is currently being established.
Interventional neuroradiological and neurosurgical procedures for all types of cerebrovascular disorders.
Access to neurological intensive care.
Clinical trials (acute stroke treatment and stroke prevention).
ACGME-accredited Vascular Neurology fellowship
Collaboration with SUNY Downstate laboratories conducting research into the basic science, translational and clinical neuroscience of stroke.
Collaborations with epidemiologists at the newly established School of Public Health at SUNY Downstate Medical Center.
Partnerships
In addition, the Division works in close conjunction with other hospitals within Brooklyn, sharing meetings and educational programs.
Faculty
Steven Levine, M.D., Stroke Division Director
Daniel Rosenbaum, M.D.
Alision Baird, M.D.
Nikolas Papamitsakis, M.D.
Staff
Sherene McIntyre, R.N., Nurse Coordinator
Maribel Bello, Support Staff
The clinical Stroke Division is currently staffed by 3 stroke attending physicians, rotating general neurologists, 2 fellows, rotating neurology residents, a dedicated stroke nurse and a secretary.
Visit the Stroke Center website