Nephrology Fellowship Program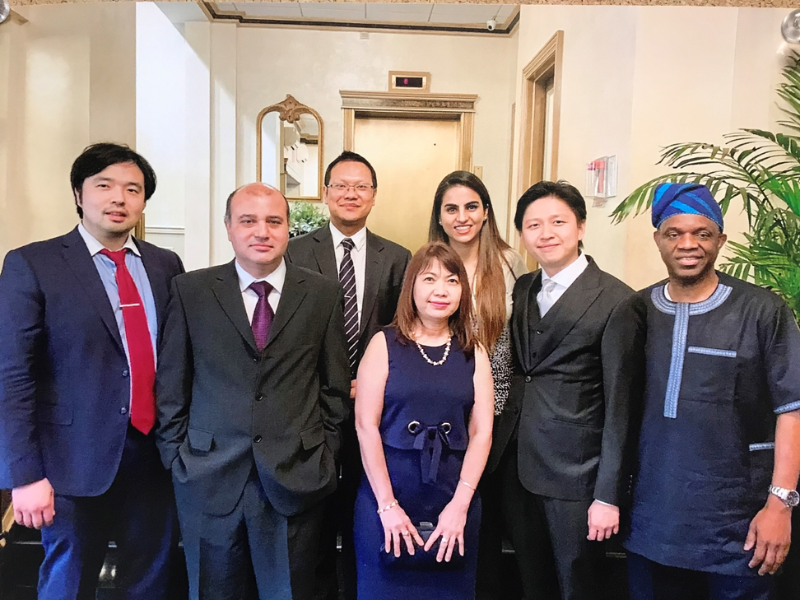 Located in the geographic center of Brooklyn - New York City's largest borough - this university-based teaching program aims to prepare both practitioners and investigators to enter the exciting and fast evolving field of kidney disease and its management. Brooklyn is the home of Walt Whitman, Thomas Wolf, Arthur Miller, Barbara Streisand, Danny Kaye, Jackie Robinson, Austin Flint, Jean Redman Oliver, Barry M. Brenner, the Brooklyn Dodgers, the Brooklyn Academy of Music, the Brooklyn Museum, the Brooklyn Botanical Gardens, Coney Island and Sheepshead Bay. Brooklyn scintillates with creative talent in the arts and sciences and has produced more medical department chairpersons than any other region of the country.
An unusual aspect of this program is the fellow's exposure to Federal [Brooklyn Veterans Administration Hospital (907 beds + 3 ICUs], State [University Hospital of Brooklyn (342 beds + 3 ICUs)], and municipal (City) [Kings County Hospital Center (600 beds + 5 ICUs)]. Program graduates now direct renal programs in Asia, South America, Europe, Africa, and throughout the United States.
A total of 14 nephrologists are directly involved in the nephrology training program. Additional basic science and clinical faculty participate in fellow instruction through collaborative research projects. Subodh J. Saggi, MD, MPH, Professor of Clinical Medicine and Chief of Nephrology, serves as fellowship director to blend the multiple facets of rotations, training, investigation, and meeting attendance into an effective program.
Description of Training Program
The Nephrology Training Program at Downstate Health Sciences University began in 1964 and has operated continuously since. As of July 1, 2004, there will be ten (10) fellows enrolled in a two-year program. An optional third year, devoted to investigation, is contingent on gaining funding for suitable projects. Institutions participating in Downstate's Nephrology Training Program include:

Kings County Hospital Center (KCHC, 6 months)
KCHC provides a busy inpatient and outpatient consulting service for management of acute and chronic kidney failure as well as performance of acute hemodialysis (HD), and peritoneal dialysis (PD), and continuous renal replacement (CRP) therapy, femoral cannulations and percutaneous kidney biopsies. The renal fellow is responsible for coordinating medical care of all ESRD patients. CKD care is afforded in two renal clinic sessions each week. At all times, supervision of the renal fellow is the responsibility of an attending nephrologist.

University Hospital of Brooklyn (UHB, 9 months)
UHB provides a full menu of renal diseases including kidney transplant related experience. Acute dialysis care is a key focus of the service, and exposure to continuous renal replacement therapy is extensive throughout the year. Off site management of severely ill patients is conducted in the Cardio-Thoracic Intensive Care Unit, the active Medical Intensive Care Unit and a busy Cardiac Catheterization/ Intervention laboratory. When the fellows are in UHB they rotate in 3 different nephrology services, which includes consult, transplant and vascular access services rotations.

Brooklyn Veterans Hospital (BVH, 6 months)
With two assigned renal fellows, the BVH rotation focuses on managing ambulatory renal patients. This rotation supervised by Dr. Goldwasser and Mari-Alex Michel provides intensive training in the mechanics and medical support of patients on chronic hemodialysis. In addition, the fellow provides primary care for the veterans with renal transplants. The two fellows take calls alternatively.

UHB Transplant (3 month)
The Transplant Service performs approximately 90 kidney transplants each year and provides hemodialysis vascular access for patients at KCHC and UHB. Renal fellows do daily rounds with a supervising transplant nephrologist. First year fellow does 1-month training and 2nd year fellow does 2 months training in transplant.
Mount Sinai Hospital (1 Month)
Nephrology second year fellows to rotate through the Home Dialysis Program at Mount Sinai School of Medicine/Mount Sinai Hospital for their training in home dialysis, which includes Home Peritoneal Dialysis as well as Home Hemodialysis. Downstate fellows will be trained in learning how to screen appropriate candidates for Home Dialysis, learn different types of procedures needed to accomplish access to either peritoneal membrane for Home Peritoneal Dialysis or vascular access appropriate for home hemodialysis therapies. Fellows will be trained with Dr. Jaime Uribarri, Home Dialysis Director. Fellows will also spend time in their outpatient Interventional facility to see PD catheters being placed under fluoroscopy, as well as observe in the Operating Room laparoscopic placement of PD catheters. Fellows will learn how to manage catheter post operatively, how to start low volume peritoneal dialysis immediate post op if needed.
Interventional Nephrology (1 month)
The fellow will gain the required knowledge and experience in managing all kinds of vascular access problems. The fellow is responsible for all dialysis patients at UHB and attends the weekly home dialysis clinics at Parkside.
Clinics:
Each fellow is expected to attend several outpatient continuity clinics: UHB, KCH, and VA outpatient clinics. The Transplant Clinics are attended when the fellow participates on those respective services.
UHB Clinic:
Typically, each fellow sees 4-8 CKD patients during a 1/2-day clinic and follows them over a two-year period, under the supervision of Dr. Barbara G. Delano and other attendings.
KCH Clinic:
Typically, each fellow sees 4-8 CKD patients during 1/2-day clinics on Mondays and Wednesdays and follows them over a two-year period, under the supervision of Dr. Mary Mallappallil and Dr. Akten
VA Clinic:
The fellow sees 4-8 patients during a 1/2-day clinic for each fellow every week. The fellows rotating at the VA attend this clinic, under the supervision of Dr Marie-Alex Michel and Phillip Goldwasser
Transplant Clinic:
The fellow sees 4-6 transplant patients during 1/2-day clinic under the supervision of Drs. Salifu, Saggi and Markell.
Calls:
Weekday calls begin at 5:00 PM and ends at 8:00 PM. Weekend calls begin on Friday at 5:00PM ending at 8:00AM Saturday and then next fellow usually senior covers the Sunday 8 am to 8 am Monday. However, to comply with the 10 hour and 16 hour rules (see below) the fellow leaves the hospital at completion of their work and comes back at 10 hours later in the next morning. All telephone calls from patients at night and on weekends from their homes should be discussed with the attending on call. The fellows are on call an average of five times per month.
Didactic Training:
Clinical conferences, seminars, small discussion groups, journal clubs and one-on-one instruction are integral parts of the Nephrology Fellowship Program. The schedule of conferences includes:
Mondays, Thursdays and Fridays 11:00AM - 12:00PM (Morning Report)
Tuesday 3:00PM - 4:00PM (Journal Club or Biopsy conference Nephrology Grand Rounds), 4:00PM - 5:00PM (Nephrology Grand Rounds Journal Club or Biopsy conference)
Thursdays 11:00AM – 12:00PM (Fluid and Electrolytes)
Thursdays 8:00AM (Medicine Grand Rounds)
Duty Hours
The SUNY Downstate Health Sciences University Fellowship in Nephrology program complies fully with the ACGME duty hour guidelines. These guidelines are summarized as follows:
Duty hours are limited to 80 hours per week averaged over a 4-week period.
Fellows will be provided 1 day in 7 free from all educational and clinical responsibilities, averaged over a 4-week period.
Continuous on-site duty must not exceed 24 consecutive hours. Fellows may remain on duty for up to 6 additional hours to participate in didactic activities, transfer care of patients, conduct outpatient follow-up clinics, and maintain continuity of patient care.
No new patients may be accepted after 24 hours of continuous duty.
Adequate time for rest and personal activities will be provided. This will consist of a 10-hour time period provided between all daily duty periods.
Nephrology fellow work hours are subject to the 80 hours per week limit as stated above. Although call is taken from home, fellows may be required to return to the hospital to assist in the care of a critically ill patient or to perform a procedure. The hours the fellow spends in the hospital count toward the 80-hour limit for the week.
All fellows are required to submit their duty hours weekly in new-innovation. The duty hours are regularly monitored by the program coordinator and the program director.
First year fellow takes Friday and Saturday call and Second year fellow takes Sunday calls.
Clinical Rotations
Kings County Hospital consultations
6 months

University Hospital consultations
4 months

Veterans Administration
6 months
Clinical Rotations for the two years are divided among the participating affiliate hospitals as shown below:
| | |
| --- | --- |
| Kings County Hospital consultations | 6 months |
| University Hospital consultation | 4 months |
| Veterans Administration | 6 months |
| Renal Transplantation | 3 months |
| Research and Elective | 2 months |
| Ambulatory/Home HD MSH | 1 months |
| Dialysis/Interventional | 2 month |
| Total | 24 months |
Vacation time is taken during research & elective or ambulatory months.
Sample of Weekly Activities for Fellows (PDF) »
Outpatient Experiences:
Weekly to biweekly Clinic - 22 months
Applications/Information:
Only completed applications, including letters of recomendation and board scores will be considered.
Dr. Moro O. Salifu
Chief, Division of Nephrology
Director, Nephrology Fellowship and Interventional Programs
Dr. Eli A. Friedman
Distinguished Teaching Professor of Medicine
Deputy Chair, Department of Medicine
SUNY Health Science University
450 Clarkson Avenue Box 52
Brooklyn, New York 11203
Phone: (718) 270-1584
FAX: (718) 270-3327
For more information contact: jcolumbo@netmail.hscbklyn.edu
Other Nephrology Resources: