Why Become an MD?
As the world wrestles with COVID, it's especially clear: We need physicians with a passion for service and humanity. As a physician, you're heroically on the front line of saving lives—often putting your own at risk.
Why Become an MD at SUNY Downstate?
Modern medical education began at SUNY Downstate. More than 150 years ago, medical students left the classroom and began learning by patient bedsides. That development transformed how physicians learn.
Medicine has transformed constantly since then, of course. And so have we. Our Integrated Pathways Curriculum weaves clinical and basic science through all four years of your education. It means that you'll think as a doctor from your first day of class. And it ensures that you'll be primed to learn through your entire career.
As a medical student in Brooklyn's only academic medical center, you'll collaborate with physicians, nurses, researchers, public health scientists, advanced practice providers, and others. By seeing healthcare through so many prisms, you'll become a better, more caring physician.
What You Will Learn
Our primary goal is to develop excellent physicians. By the time you graduate, you'll have the scientific, cultural and social background needed to thrive in the field.
Equity in healthcare is a guiding principle for the College of Medicine. You'll work closely with patients and providers in and around Brooklyn, a community of 2.3 million people. Here, you'll learn to deliver culturally sensitive, identity-specific healthcare.
Our Integrated Pathways Curriculum mixes clinical experience with basic science.
You'll master the six core competencies of a physician: systems-based practice; professionalism; interpersonal and communication skills; practice-based learning and improvement; patient care; and medical knowledge.
SUNY Downstate is home to more than a dozen centers specializing in areas such as Alzheimer's disease, asthma and HIV.
---
Careers & Outcomes
By the time you graduate, you'll have spent years working with advisors and mentors who help you chart your career path. Whether you want to practice general or specialty practice, research, medical administration or academic medicine, you can get there through Downstate.
Job Titles
Hospital-Based Physician
Private Practice Physician
Professor
Public Health Worker
Health Journalist
Employers
Northwell Health
NYU Langone Health
Weill Cornell Medicine
Montefiore Medical Center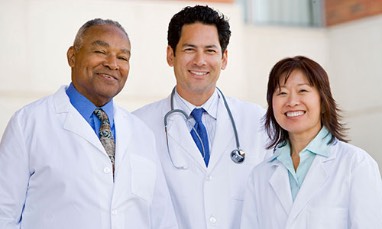 Meet Our Faculty
Our faculty, physicians, and researchers are recognized internationally. They walk in big footsteps: Our faculty have included the first African-American kidney transplant surgeon in the U.S., a Nobel laureate, and an inventor of the MRI. Downstate faculty continue to push frontiers, pursuing bold research such as the elimination of health disparities and targeted therapies.
Work on your schedule.
Resources at the College of Medicine include 24/7 access to study carrels, the gross anatomy lab and a portion of the medical library.
Learn the art of empathy.
Classroom lectures include presentations from patients, who provide insight into ways medical conditions affect their lives, and what they expect out of physicians.
Conduct meaningful research.
Downstate students publish research in prestigious peer-reviewed journals at a rate above the national average. You'll have access to research projects on topics including infectious diseases, immunology and hepatology.