Evaluation & Management Services Guidelines
What's new for Evaluation and Management (E/M) Visits
As part of the Centers for Medicare and Medicaid Services' (CMS) ongoing updates to E/M visit codes and related coding guidelines to reduce administrative burden, CMS has adopted additional changes for 2023. Similar to the approach CMS finalized in 2021 for office/outpatient E/M visit coding and documentation, CMS has now finalized and implemented the American Medical Association (AMA) CPT changes in coding and documentation for Other E/M visits, which include hospital inpatient, hospital observation, emergency department, nursing facility, home or residence services, and cognitive impairment assessment. The revised coding and documentation framework contain CPT code definition changes (revisions to the Other E/M code descriptors), including:
New descriptor times (where relevant).

Revised interpretive guidelines for levels of medical decision making.

Choice of medical decision making or time to select code level (except for a few families like emergency department visits and cognitive impairment assessment, which are not timed services).

Eliminated use of history and exam to determine code level (instead there's a requirement for a medically appropriate history and exam).
The following links will be helpful in understanding the new guidelines.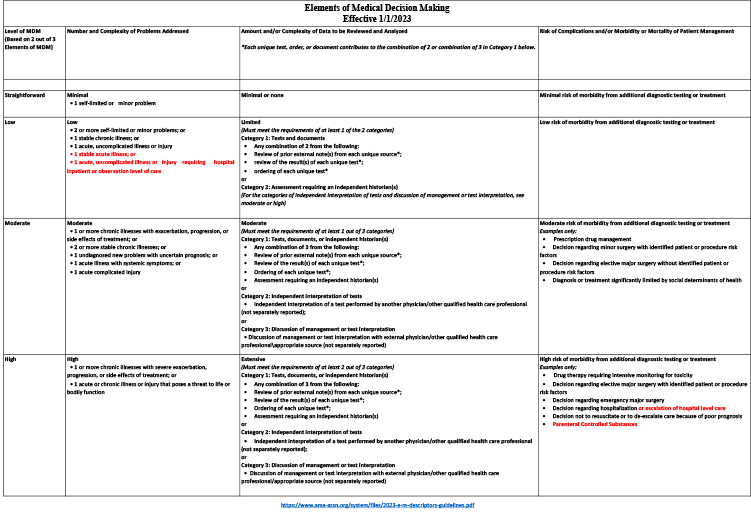 Please feel free to contact the Office of Compliance & Audit Services at compliance@downstate.edu with any questions, or if you need any assistance.