National Minority Health Month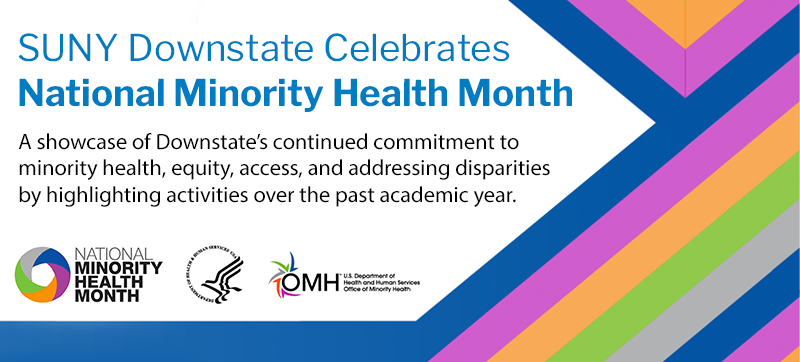 April is National Minority Health Month, a time to raise awareness about health disparities that continue to affect minority populations and encourage action through health education, early detection, and control of disease complications.
This page is dedicated to providing information on Downstate's commitment to minority health, equity, access, and addressing disparities by highlighting activities over the past academic year. During the month of April, we'll be building it out further with more information.
Please help us fully populate this page with information about people, community outreach, lectures, symposiums Grand Rounds (recorded zoom links welcome), research and grant funding.
Submit your recommendations to ellen.watson@downstate.edu
Check back regularly to see what's new!
Marlene Camacho-Rivera, SCD, MS, MPH, Assistant Dean for Student Engagement and Success and Assistant Professor in the School of Public Health was appointed Assistant Dean for Student Engagement and Success for the School of Public Health in February 2021. Dr. Camacho-Rivera's research focuses on designing community-engaged interventions to reduce chronic disease disparities in urban and racial and ethnic minority communities. Dr. Camacho Rivera was recently awarded a SUNY Prepare Innovation and Internship Program seed grant to conduct research on barriers to COVID-19 vaccination among high risk groups.
Camille A. Clare, M.D., MPH, was appointed Chair of the Department of Obstetrics and Gynecology, effective January 2021, and is leading Downstate's efforts to improve access to key services for women and underserved populations in Brooklyn. Dr. Clare is a sought-after speaker for her expertise in diversity, equity, and inclusion, especially in obstetrics and gynecology and on national issue of addressing disparities in maternal healthcare and morbidity.
David Kaufman, Ph.D., FACMI, Clinical Associate Professor in the School of Health Professions, was awarded a grant of $895000 from the Agency for Healthcare Research and Quality (AHRQ) to fund research on "Evaluating and Enhancing Health Informatics Technology for COVID-19 Response Workflow in a Specialized COVID-19 Hospital in a Medically Underserved Community.
W. Marcus Lambert, Ph.D., officially started April 1st as the Associate Vice President for Research Strategy and Operations. He is a nationally sought-after speaker on diversity in the scientific workforce and is contact PI on an NIH-funded initiative to increase the number of Ph.D. students from underrepresented backgrounds.
Wren Lester, Ph.D., Chief Experience Officer and Director of Patent Relations, was selected to join Press Ganey's Diversity, Equity & Inclusion (DEI) Client Advisory Council, reflecting her key role in driving these elements at University Hospital of Brooklyn, and insuring that patients receive compassionate, culturally sensitive care.
Seah H. Lim, M.D., Ph.D., FRCP, FACP, was appointed Division Chief of Hematology and Oncology at University Hospital of Brooklyn, effective August 3, 2020, and is helping to grow Downstate's cancer care mission, including its precision cancer medicine program, which is critical to addressing cancer disparities in Brooklyn communities. He is also an expert in sickle cell, another disease that disproportionately affects our communities.
Brian K. McNeil, M.D., MBA, FACS, was appointed Associate Dean for Clinical Affairs in the College of Medicine in August 2020. Dr. McNeil, who as Urology Chief at UHB has worked to improve access to health care to vulnerable populations focusing on urologic care in medically underserved communities, now working to more broadly level the playing field by insuring that new generations of physicians are attuned to the need to serve underserved communities, especially in areas of concentrated poverty.
Downstate President Wayne J. Riley, M.D., MPH, MBA, MACP, was appointed by Governor Cuomo to New York State's Vaccine Equity Task Force in December 2020. The Task Force's focus is to ensure thqt vulnerable and underserved communities are part of the stte's vaccination program and enurse equitable distribution statewide.
Jameela J. Yuseff, M.D., MPH, MSHCDL, FACP, has been appointed Chief Medical Officer of Downstate's University Hospital of Brooklyn, effective April 1st. A descendant of Guyanese immigrants who is strongly connected to the Central Brooklyn community, Dr. Yuseff is the first woman to hold this position in UHB's history. Her vision includes addressing longstanding health disparities and advancing a culture of quality and safety.
Camille A. Clare, M.D., MPH, Chair of Obstetrics and Gynecology, moderated "Beyond Tuskegee: COVID-19 Vaccine Confidence and Equity" a panel for physicians and the community on March 30, sponsored by the Provident Clinical Society, a local affiliate of the National Medical Association.
Allen Lewis, Ph.D., CRC, Dean and Professor of the School of Health Professions, launched "The SOHP's Dean's Lecture Series on Culture," with the goal of improving health outcomes within the culturally diverse and vulnerable populations that Downstate serves.
Christina Pardo, M.D., MPH, Assistant Professor and Director of Health Equity in the Department of Obstetrics and Gynecology, who has been a leading campus voice in the fight for racial equity in maternal health, received an Honor and Merit award from the Consulate General of the Republic of Haiti for her support and well being of the Haitian community on March 8th. Last year, Dr. Pardo was featured by PIX 11 News in its spotlight on "Birthing While Black."
Moro Salifu, M.D., MBA, MPH, MACP, Professor and Chair of Medicine, delivered the keynote at the 31st Annual Symposium of the Greater New York Hospital Association, presenting on ghe COVID-19 response and how the epidemic has affected minority populations.
Teresa Smith, M.D., Associate Dean of Graduate Medical Education and Affiliations and Designated Institutional Official participated in a podcast with the Greater New York Hospital Association to share the GME perspective during the pandemic.
The School of Public Health hosted "COVID-19 Risk and Health Equity: Public Health Perspectives from Brooklyn," on April 6, to discuss the evolving community experience in the covid-19 era. The discussion was moderated by Lori Hoepner, Dr. PH, MPH, Assistant Professor of Environmental and Occupational Health Sciences, and W. Marcus Lambert, Ph.D., Associate VP of Research Strategy and Operations.
Downstate's Sixth Annual Cancer Health Disparities Symposium on March 5 addressed the roles healthcare providers, scientists and community groups can play in mitigating the cancer health disparities in communities of color.
The Arthur Ashe Institute for Urban Health recognized Dr. Anthony Fauci for his leadership on COVID-19 and posthumously honored James A. Mahoney, M.D., Assistant Clinical Professor of Medicine, who put his life on the line to join other first responders in providing critical care to our most vulnerable patient communities during the peak of the COVID-19 pandemic in Spring 2020, during its annual gala on October 14th.
The Department of Family and Community Medicine, in collaboration with the Department of Obstetrics and Gynecology, relaunched its Maternal Care Services at two sites: the Family Practice site in Suite B, and the Family Health Services at 840 Lefferts Avenue to help bridge disparities gaps in prenatal care.
Downstate's Special Treatment and Researh (STAR) Program launched the #FasterThan campaign, a new marketing campaign to raise awareness about the hepatitis C virus, to promote testing for this illness.
President's Multidisciplinary Investigator Seminar (PREMIS) Series: "A Conversation with Dr. David Satcher: Notes on Learning While Leading," was held on December 9, 2020.
"A Conversation with Richard Rothstein: The Color of Law" was held on October 22, 2020
Research Day is an annual event sponsored by the School of Graduate Studies. This year it will be held virtually. Of the 300 plus presentations, quite a few focus on minority health, disparities, and equity, as detailed below, and encompass a broad range of Downstate Schools, Colleges, Departments, and programs.
| | | | | |
| --- | --- | --- | --- | --- |
| Name(s) - Click for Presentation | Department/School | Advisor, Department | Classification | Title - Click for Abstract |
| | Resident Internal Medicine PGY2 | MaryAnn Banerji, Endocrinology | Clinical Research | Sugar Is Not Always Sweet: Exploring the Relationship Between Hyperglycemia and COVID-19 in a Predominantly African American Population |
| | Resident Pediatric endocrinology PGY6 | Vivian Chin, Pediatric endocrinology | Clinical Research | Hyperglycemic Emergencies in Minority Children with Diabetes |
| Mariam Majzoub | Resident Allergy and Immunology PGY5 | Rauno Joks, Allergy and Immunology | Clinical Research | Risk Factors for Mortality from COVID-19 in a New York Inner city Epicenter |
| | College of Medicine Student | Jason Lazar, Cardiology | Clinical Research | Nocturia and Electrocardiographic Abnormalities Among Patients at An Inner-City Cardiology Clinic |
| | College of Medicine Student | Mariana Markell, Nephrology | Clinical Research | Unemployment and Shared Decision Making in an Inner-city Population of Dialysis and Kidney Transplant Patients |
| | College of Medicine Student | Mariana Markell, Nephrology | Clinical Research | Gender Differences in Attitudes Toward a COVID-19 vaccine in an Inner-City Patient Population |
| | College of Medicine Student | Mariana Markell, Nephrology | Clinical Research | Attitudes Towards Healthcare and the COVID19 Vaccine in an Inner-City Population of Chronic Kidney Disease (CKD) and Family Medicine (FM) Patients |
| | College of Medicine Student | Mariana Markell, Nephrology | Clinical Research | Attitudes Towards Policing in Inner-City Population of CKD, Dialysis, Kidney Transplant, and Family Medicine Patients |
| | College of Medicine Student | Mariana Markell, Nephrology | Clinical Research | The Impact of Comorbidities, Stress, and the COVID-19 Pandemic on Male Sexual Health in an Inner-City Patient Population with Chronic Kidney Disease (CKD) |
| | College of Medicine Student | Mariana Markell, Nephrology | Clinical Research | Differences of Beliefs, Knowledge and Practices Regarding COVID19 in Older vs Younger Inner-city Patients with Chronic Kidney Disease (CKD) or Kidney Transplant (KTx) |
| | College of Medicine Student | Crystal Marquez, Family Medicine | Clinical Research | Development of a Social Determinants of Health screening protocol during the COVID-19 Pandemic |
| | College of Medicine Student | Christina Pardo, Obstetrics and Gynecology | Clinical Research | Assessing social determinants of health among obstetric patients in Brooklyn during the COVID-19 pandemic |
| | College of Medicine Student | Christina Pardo, Obstetrics & Gynecology | Clinical Research | Comparison of Socioeconomic Needs between Pregnant and non-Pregnant patients in a Low-Resource Neighborhood During Covid-19 |
| | College of Medicine Student | Andrew Winer, Urology | Clinical Research | Role of Multiparametric Magnetic Resonance Imaging in Prostate Cancer Diagnosis in Men of African Descent |
| | College of Medicine Student | Andrew Winer, Urology | Clinical Research | The Role of Genomic Testing to Guide Active Surveillance Strategies for Black Men with Low and Intermediate Risk Prostate Cancer |
| | | | | |
| | School of Graduate Studies - Molecular & Cellular Biology Student | Ming Zhang, Anesthesiology and Cell Biology | Clinical Research | Abnormal C5 production and activation contributes to the mortality of COVID-19 patients |
| Ernie Cote | School of Graduate Studies - Neural & Behavioral Science Student | Juan Marcos Alarcon, Pathology | Neural & Behavioral Science | Impacts of Early Life Stress on the Neurobiology of Depression |
| | College of Medicine Student | Michele Pato, Psychiatry | Neural & Behavioral Science | Childhood adversity and psychotic experiences among ethnic minorities with schizophrenia |
| | Bridges to Medicine Masters of Physiology | Mary Valmont , Arthur Ashe Institute for Urban Health | Other - Education | COVID-19 Reveals Educational Inequalities of Distance Learning Experiences and First-Year College Enrollment for Black High School Seniors |
| Michele Waldman, Kendall Berry, Tara DeRosa and Karen Kachko | College of Health Related Professions Student | Krystal Brewington, Occupational Therapy | Other - Needs Assessment | Implementation of a Service Learning Occupational Therapy Program in Nicaragua |
| Ryan Doherty, Clinton Akalonu, Nathalie Cadacio and Samra Qadeer | College of Health Related Professions Student | Vikram Pagpatan, Occupational Therapy | Other - Needs Assessment/Program Development | Occupational Therapy Program Development for SUNY Downstate's Student-Run Free Clinic |
| | College of Medicine Student | Mariana Markell, College of Medicine | Other - Nutrition | Dietary Changes After the Covid19 Pandemic in Inner-City Chronic Kidney Disease (CKD) and Kidney Transplant (KTx) Patients: Lower Caloric and Protein Intake |
| Alzina Fok, Akilina Belskaya, Liana Buchinsky, Elizabeth Carey and Michelle Wu | College of Health Related Professions Student | Nancy Kline, Occupational Therapy Department | Other - Occupational Therapy Research | Leadership in Occupational Therapy: Influencers of the Field |
| | Hunter College / SUNY Downstate Summer Program in Translational Disparities and Community Engaged Research Program (SPRINTER) | Tina Adjei-Bosompem, Office of Diversity Education and Research | Public Health | |
| | College of Medicine Student | Carla Boutin Foster, Office of Diversity Education and Research | Public Health | The Brooklyn United to Improve Lifestyle Management in Diabetes (BUILD) Toolkit: Using Community-Based Participatory Research to Develop and Evaluate Diabetes Self-management Educational Material |
| | School of Public Heath Student | Carla Boutin-Foster, Office of Diversity Education and Research | Public Health | Social Interactions and Mental Health Impact during the COVID-19 Pandemic: An Analysis of the COVID-19 Impact Survey |
| | Research Assistant Coordinator for Dr. Boutin-Foster | Carla Boutin-Foster, Office of Diversity Education and Research | Public Health | Workforce disruption and the mental health impact during the COVID-19 Pandemic: An Analysis of the COVID-19 Impact Survey |
| | College of Medicine Student | Carla Boutin-Foster, Associate Dean, Office of Diversity Education and Research | Public Health | "I want to feel good about myself": Motivations for Weight Loss Among Black Women Enrolled in a Pilot Weight Loss Intervention in Brooklyn, NY. |
| | College of Medicine Student | Eugene Dinkevich, Pediatrics | Public Health | Gender differences in depression prevalence before and during the COVID-19 pandemic in a predominantly Black Adolescent/Young Adult population |
| | College of Medicine Student | Eugene Dinkevich, Pediatrics | Public Health | Effect of COVID-19 Pandemic On Obesity Risk in High Risk Youth In Brooklyn: A Pilot Study |
| | College of Medicine Student | Ellen Ginzler, Medicine | Public Health | Identifying COVID-19 infection rates and outcomes in patients with systemic lupus erythematosus |
| | School of Public Heath Student | Michael A. Joseph, Mailman SPH, Columbia University | Public Health | Increased Odds of Diabetes in Obese Black New Yorkers: Findings from the 2018 New York City Community Health Survey (CHS) |
| | College of Medicine Student | Mariana Markell, Nephrology | Public Health | Perceptions of Inner-City Chronic Kidney Disease (CKD) and Kidney Transplant (KTx) Patients on Colorectal Cancer (CRC) and Colonoscopy |
| | College of Medicine Student | Mariana Markell, Nephrology | Public Health | Beliefs Concerning the COVID-19 Vaccine in an Inner-City Dialysis Population |
| | College of Medicine Student | Mariana Markell, Nephrology | Public Health | The Association Between Complementary Medicine (CAM) Use and COVID19 Perceptions in Inner-City Kidney Patients |
| Galina Udod | College of Medicine Student | Mariana Markell, Nephrology | Public Health | Confidence in COVID-19 Public Health Guidelines Among Inner-City Nephrology Patients |
| | College of Medicine Student | John Shields, Urology | Public Health | Understanding of dietary modification for kidney stone prophylaxis in an Afro-Caribbean Population |
| | School of Public Heath Student | Tonya Taylor, College of Medicine | Public Health | |
| | School of Public Heath Student | Tonya Taylor, College of Medicine, Division of Infectious Disease, and the Special Treatment and Research (STAR) Program | Public Health | Urgent Needs among Vulnerable Populations; A Baseline Analysis of the SUNY Downstate COVID-19 Cohort Study |
| | School of Public Heath Student | Tonya Taylor, College of Medicine, Division of Infectious Disease, and the Special Treatment and Research (STAR) Program | Public Health | Social Determinants of Health and Isolation; A Baseline Analysis of the SUNY Downstate COVID-19 Cohort Study |
| Marline Attallah | School of Public Heath Student | Tonya Taylor, College of Medicine, Division of Infectious Disease, and the Special Treatment and Research (STAR) Program | Public Health | COVID-19 and its impact on Health care reach among different ethnic groups. |
| Tonya Taylor | Assistant Professor, COM/ID and STAR Program | Department of Orthopaedic Surgery & Rehabilitation Medicine | Quality Improvement | |
| | College of Medicine Student | Jean Eloy, Otolaryngology, Rutgers New Jersey Medical School, Newark, NJ | Quality Improvement | Effect of Operative Time on Complications following Thyroidectomy for Thyroid Cancer |
| Venkatesh Sabhae Gangadharappa | Resident Allergy and Immunology PGY5 | Rauno Joks, Medicine | Quality Improvement | |
| | Resident Pediatrics PGY2 | Saema Khandakar, Kings County Department of Pediatrics | Quality Improvement | Addressing Food Insecurity during the COVID-19 Pandemic: A Quality Improvement Project |
| | Resident Medicine PGY2 | Melissa Lee, King County Adult Primary Care Department | Quality Improvement | Breaking Sad: Improving Chronic Illness Through The Impact Collaborative Care Model For Management of Depression In An Urban Underserved Primary Care Practice |
| | Resident Family Medicine PGY3 | Richard Sadovsky, Family Medicine | Quality Improvement | Would a provider-performed PHQ-2 followed by a PHQ-9 improve detection of depression during the pandemic in a clinic at an Urban University Hospital Based Family Practice Center? |
| | Resident Pediatrics PGY3 | Rizwana Shams, Pediatrics | Quality Improvement | Making Breastfeeding Matter Mother Infant Dyad Education and Support in the Ambulatory Clinic |
| | Resident Psychiatry PGY5 | Cathryn Galanter, Child and Adolescent Psychiatry | Social Research | Sleep Trouble in Children of Parents at SUNY Downstate Health Sciences University During the COVID-19 Pandemic: A Cross Sectional Survey |
| | College of Medicine Student | Mariana Markell, Department of Nephrology | Social Research | The Impact of COVID-19 on Grocery Shopping Habits and Social Distancing Attitudes in an Inner-city CKD Patient Population |
---
Check Out Some of Our Websites Dedicated Minority Health, Diversity, and Inclusion:
Office of Diversity Education and Research
Diversity Education & Research
Graduate Medical Education: Diversity Equity and Inclusion Couuncil – Current Projects
SUNY Downstate GME - Current Projects
---