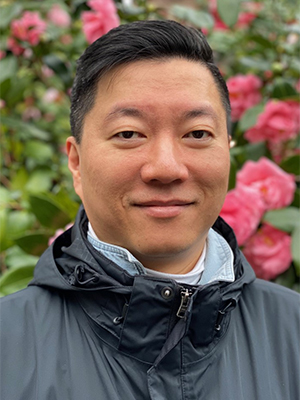 Wellman Cheung, MD, FACS
Clinical Professor
Staff Urologist, The Brooklyn Hospital Center
SUNY Downstate Health Sciences University, Department of Urology
Background and Expertise:
Dr. Cheung is regarded an expert in female urology, pelvic reconstructive surgery, and voiding dysfunction. He also has strong interest in alternative medicine and is licensed in Medical Acupuncture. He is an expert in medical informatics, and he had served as CMIO, CMO as well as medical IT consultant for various private companies.
Dr. Cheung is has co-authored many book chapters, basic science and clinical research articles. He has provided educational material for WebMD/eMedicine, and is a reviewer for numerous scientific journals. Dr. Cheung also holds two patents related to his research in voiding dysfunction and PBMC gene translation.
Education:
1990-1994: Doctor of Medicine SUNY Downstate Medical School Brooklyn, NY
1986-1990: CUNY Queens College, Queens, NY. B.A. Biochemistry
Training:
2000-2001: Fellowship Female Urology, Voiding Dysfunction The Cleveland Clinic, Weston, Fl.
1996-2000: Resident in the Department of Urology, SUNY at Stoney Brook School of Medicine, Stoney Brook, NY
1994-1996: Resident in the Department of Surgery, SUNY at Stoney Brook School of Medicine, Stoney Brook, NY
Ng K, Esdaille A, Ng M, Cheung WW
Review of acupuncture and female urologyJournal of Pregnancy and Reproduction; DOI: 10.15761/JPR.1000113
Cheung WW, Bluth MH, Myers FA Jr
Clinics in Laboratory Medicine article titled, "Ketamine: A Cause of Urinary Tract Dysfunction" Clin Lab Med 36 (4), 721-744. 12 2016.
Cheung WW, Bluth MJ, Khan S, Johns C, Bluth MH
Peripheral blood mononuclear cell gene array profiles in female patients with involuntary bladder contractions Advances in Genomics and Genetics 1: 3 – 7, 2011
Borawski D, Bluth MH, Cheung WW
Prevalence of urinary incontinence and other lower tract urinary symptoms in patients with uterine myomas. Urogynaecologia ; 25:e18, 2011
Cheung WW, Abulafia O, Khan NH, Choi KK, Bluth MH, Vincent MT, Harel M
Prevalence and Characteristics of Overactive Bladder in Women in a Primary Care SettingOpen Access J Urol., 3: 29–34, 2011
Cheung WW, Borawski D, Blank W, Bluth MH
Tran W Prevalence of Overactive Bladder, its Under-diagnosis, and Risk Factors in a Male Urologic Veterans Population
Int J Med Sci.; 7(6): 391–394, 2010
Cheung WW, Bluth MJ, Johns C, Khan S, Lin YY and Bluth MH
Peripheral Blood Mononuclear Cell Gene Array Profiles in Patients With Overactive Bladder
Urology. 75(4):896-901, Apr 2010. doi: 10.1016/j.urology.2009.06.021. Epub 2009 Sep 23.
Cheung WW, Khan NH, Choi KH , Bluth MH, Vincent MT
Prevalence, Evaluation and Management of Overactive Bladder in Primary Care.
BMC Family Practice, 10:8, 2009
Lang E, Colon I, Cheung WW, Thomas R
Cadaver Transplant Ureteroneocystostomy Dehiscence After 5 Years: A Case of Chronic Rejection.
J Urol. 179(5):2008, May 2008. doi: 10.1016/j.juro.2008.01.137. Epub 2008 Mar 19
DeRosalia AR, Cheung WW.
Ectopic Ureter Presenting as Adult Urinary Incontinence.Fed Pract. 24(6):22, 25–26 , 2007
Sherer DM, Cheung WW , Gorelick C, Lee YC, Serur E, Zinn HL, Sokolovski M , Abulafia O
Sonographic and magnetic resonance imaging findings of an isolated vaginal leiomyoma. J Ultrasound Med. 2007 Oct;26(10):1453-6.
Unilateral ectopic right Kidney, an incidental finding during pelvic sonogram. Dabri L , Cheung WW
Natl Med Assoc. 98(10): 1710–1712, Oct 2006
Sherer DM, Gorelick C, Gabbur N, Cheung WW, Lee YC, Serur E, Zinn HL, Zigalo A, Abulafia O
Color Doppler Imaging and 3-Dimensional Sonographic Findings of Urinary Bladder LeiomyomaJ Ultrasound Med. 26(5):667-70, May 2007
Sherer DM, Stimphil D, Hellman M, Zinn H, Bitton C, Angus S, Cheung WW, Abulafia O
Marked maternal ureteropelvic obstruction mimicking a large ovarian mass at 20 week's gestation
J Ultrasound Med. 24(9):1309-12, Sep 2005
Whyard TC, Cheung WW, Sheynkin Y,Waltzer WC, Hod Y
Identification of RS as a Flagellar and Head Sperm Protein
Mol Reprod Dev. 55(2):189-96, Feb 2000
Research Experience:
2012 - 2013
"Lower urinary track urinary symptoms in prostate cancer patient (Chinese American) treated with Radiation" (Flushing Radiation Oncology) Cheung WW Department of Urology SUNY Downstate Medical School Principal Investigator Wellman Cheung MD
2004 - 2005
"significant of peripheral blood mononuclear cell gene array profile in patients with voiding dysfunction" ( Astallas USA) Cheung WW, Bluth MHDepartment of Urology and OB-GYN, SUNY Downstate Medical School, Brooklyn NY 11203 Principal Investigator Wellman Cheung MD
1997 - 1998
"Inhibition of Lymphoctye Reactivity by Renal Cell Carcinoma" ( SUNY Stony Brook Department of Urology) Cheung, WW, Waltzer, W., Malinowski P., Departments of Urology and Transplantation, SUNY at Stony Brook, Stony Brook, N.Y. Principal Investigator Wellman Cheung MD
1991 - 1992
National Institute of Health Research Fellowship (NIH) "Severe Hypoxia Causes Stiffness Dependence on Coronary Flow" Cheung, WW., Kavaler, F., SUNY Health Science Center at Brooklyn, Brooklyn, N.Y. Principal Investigator Wellman Cheung
1989 - 1990
CUNY Research Foundation Fellowship, (CUNY Queens College) "Gene Fusion of Lactase/Cardiolipin Gene in E. Coli" Cheung, WW., Tropp, B., CUNY Queens College, Queens, N.Y.Principal Investigator Wellman Cheung
1987 - 1988
Mount Sinai Research Fellowship, (Mount Sinai School of Medicine) "Fluoresence Quenching Spectroscopy of Oxytocin" Cheung, WW, Laws, W., Mount Sinai School of Medicine, New York City, N.Y. Principal Investigator Wellman Cheung
Research Interest:
"The Significance of Rectal Contractions in Benign Prostatic Obstruction" Cheung WW, Elsergany R, Sakr M, Ghomien G, Department of Urology, Cleveland Clinic Foundation, Florida
Principal Investigator Wellman Cheung MD
"Comparison of Biochemical Disease-free Survival between Iodine-125 and Palladium-103 Brachytherapy for Prostate Cancer" Park TL, Waltzer WC, Cheung WW Principal Investigator Wellman Cheung MD Department of Urology, Department of Radiation Oncology, SUNY at Stony Brook, Stony Brook N.Y. Principal Investigator Wellman Cheung MD
"Sexual Dysfunction in Women: A Community based assessment" Cheung, W., Kasabian, N, Honig, S., Gilbert, B., Department of Urology, SUNY at Stony Brook, Stony Brook, N.Y.
Principal Investigator Wellman Cheung MD
"Histological Analysis of Renal Tissue Following Acute Cryoablation of Renal Tumors in Patients"
Cheung, W., Schulsinger, D., Durand, D., Waltzer, W., Department of Urology, SUNY at Stony Brook, Stony Brook N.Y.
Principal Investigator Wellman Cheung MD
"Regulatory Subunit Protein and Infertility"
Cheung, W., M.D., Hod, Y., Ph.D., Sheynkin, Y., M.D. Department of Urology, SUNY at Stony Brook, Stony Brook, N.Y.
Principal Investigator Wellman Cheung MD
Health Research Training Fellowship, "Congenital Abnormality and Autosomal Translocation" Cheung, W., M.D., Hsu, L., M.D., Dept. of Health, New York City, N.Y. Principal Investigator Wellman Cheung