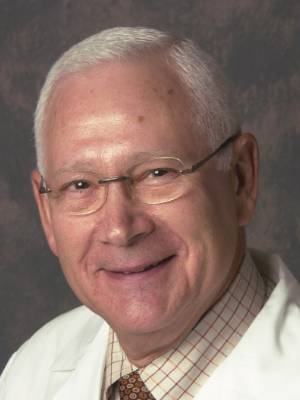 Warren Widmann, MD
Clinical Professor of Surgery
Assistant Dean of Surgical Education
Department of Surgery
Dr. Widmann was born and raised in Brooklyn, not far from Downstate. He graduated from the Yale University School of Medicine, following which he was an intern, resident, and fellow at the Yale-New Haven Medical Center.
Boarded in Surgery, Thoracic Surgery, and Surgical Critical Care, he served for 3 years in the US Army in Germany, then was in private practice at a university affiliated teaching hospital in New Jersey, after which he was the Associate Program Director of the surgical residency at the Columbia University College of Surgeons, then Program Director at Staten Island University Hospital, and is now a Clinical Professor of Surgery and the Assistant Dean of Surgical Education in the SUNY Downstate Health Science University.
Dr. Widmann's research interests have included studies on the hepatic vasculature, development and refinement of cardiac pacemakers, surgical stapling devices, and the use of simulation for surgical training.
Most recently he has focused on surgical education for medical students, residents, and fellows and has developed Board Review Courses. He is on the Editorial Board of the ACS/ABS Score Curriculum.
Widmann W D. SCORE School Hypoxemic Syndromes (Pulmonary Embolism, Pneumonia) The Score Portal: https://www.surgicalcore.org/videoplayer//510000409, January 2022

Widmann WD SCORE School Intubation and Difficult Airway. The SCORE Portal: https://www.surgicalcore.org/videoplayer/510000410 Published January 2022

Widmann W D. SCORE School Abdominal Compartment Syndrome: The SCORE Portal https://www.surgicalcore.org/videoplayer/510000408\Published January 2022

Sequential Participation in a Multi-Institutional Mock Oral Examination Is Associated With Improved American Board of Surgery Certifying Examination First-Time Pass Rate. Fingeret AL, Arnell T, McNelis J, Statter M, Dresner L, Widmann W. J Surg Educ. 73: 95103, 2016

Sustained Increased Entry of Medical Students into Surgical Careers: A Student-Led Approach. Salna M, Sia T, Curtis G, Leddy D, Widmann WD. J Surg Educ. 73:151-156, 2016

Why Should the First Be Last? "Seasonal" Variations in the National Board of Medical Examiners (NBME) Subject Examination Program for Medical Students in Surgery. W.D. Widmann, T. Aranoff, B.R. Fleischer, D. Leddy, M. El-Tamer. Current Surgery 60: 69-72, 2003

Radio-frequency Cardiac Pacemaker. W. D. Widmann, W. L. Glenn, L. Eisenberg, and A. Mauro. Ann. of the N. Y. Acad. Sci., III: 992-1006, 1964
A New Method for Portal Venography: Retrograde Hepatic Flushing. W. D. Widmann, R. H. Greenspan, M.R. Hales,and J. H. Capps. Proc. Soc. Exper. Biol and Med 106: 41: 439-454, 1962