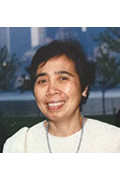 Francisca Velcek, MD, FACS, FAAP
Chief, Division of Pediatric Surgery
Professor of Surgery
(718) 270-1979
(718) 270-2826
Dr. Velcek, Chief of the Division of Pediatric Surgery, received her medical education at the University of Philippines College of medicine in 1966 and completed a general surgical residency at St. Clare's Hospital Medical Center in New York City in 1971. She subsequently completed a pediatric surgery fellowship under Dr. Peter K. Kottmeier at the Downstate Medical Center / Kings County Hospital in Brooklyn.
At the completion of her pediatric fellowship training, she was appointed by Dr. Samuel Kountz, the previous Chair of the Department of Surgery, as the first woman member of the surgical faculty at Downstate in 1975.
She is board certified in general surgery, with special certification in Pediatric Surgery and surgical critical care. From the rank of Assistant Professor she rapidly rose to the rank of full Professor in 1991. She has published over 47 scientific articles in national and international peer review journals and has delivered over 160 invited lectureships in national and international meetings.
She served as President of the Society of Philippine Surgeons in America and is currently a member of the Executive Council of the New York Surgical Society. She also served at Operation Desert Storm in 1991, serving in Walter Reed Army Medical Center as the Chief of Pediatric Surgery and was subsequently awarded the Distinguished Service medal from the US Army together with the commendation medal for services rendered. She retired from the US Army as a Lieutenant colonel of the US Army Reserve Medical Corps.
Dr. Velcek performs the entire spectrum of complicated pediatric surgical operations and has handled significant pediatric thoracic, pulmonary, intra-abdominal, gynecologic and urologic complicated cases with great skill and excellent outcomes. She particularly excels in her ability and willingness to take on the most difficult and high risk cases delivering excellent clinical results. Previously, she served as the Chief of Pediatric Surgery at the Long Island College Hospital since 1988. Dr. Velcek has always been an aspiring role model for medical students and residents. She has been responsible in influencing many of our outstanding residents towards careers in academic pediatric surgery, some of whom have attained leadership positions across the country.
Surgical Interests
Anorectal malformations and diseases, congenital lesions and neonatal pediatric and adolescent gynecologic problems.
Pediatric and adolescent gynecology.
Patient Appointments
To schedule an appointment, please call 718-270-7207.