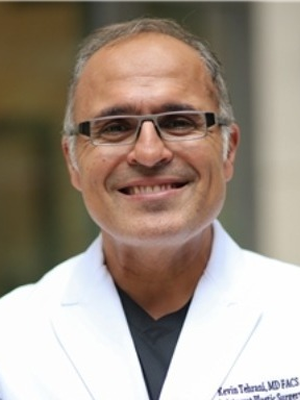 Kevin Tehrani, MD, FACS
Chief, Division of Plastic Surgery
Professor of Surgery
(718) 270-5087
(718) 270-8248
Dr. Kevin Tehrani is a Board Certified plastic surgeon and a Diplomat of The American Board of Plastic Surgery. His practice encompasses all aspects of reconstructive and cosmetic plastic surgery.
Dr. Tehrani's interests in reconstructive surgery include autologous breast reconstruction after mastectomy and abdominal wall reconstruction.
His interests in aesthetic plastic surgery include Lateral Tension Abdominoplasy, Trans Umbilical Breast Augmentation and minimal incision face lifts.
Dr. Tehrani earned his medical degree at SUNY Downstate Health Sciences University and completed his general surgery residency at Beth Israel Medical Center in New York where he was Chief Resident in General Surgery.
Dr. Tehrani continued his postgraduate training in plastic and reconstructive surgery at Kansas University Medical Center where he again served as Chief Resident. Dr. Tehrani is a Chief of the Division of Plastic Surgery at SUNY Downstate Health Sciences University.
He has been honorably discharged from the Naval Reserves Medical Corps where he served as Lieutenant Commander for 9 years. He volunteers his surgical expertise to underdeveloped countries for children with congenital defects.
Patient Appointments
To make an appointment, please call (718) 270-1973. Office Hours by appointment only.
Office Location
450 Clarkson Avenue, 5th Floor, Nursing Station 51