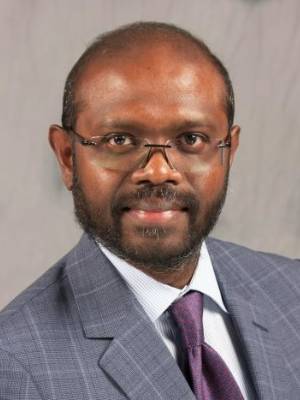 Henry Talus, MD, FRCS
Assistant Professor of Surgery
Division of Surgical Oncology
(718) 270-1421
(718) 270-2826
Dr. Talus received his medical education at the University of Madras, India in 1990 and completed general surgical residencies at Madras Medical College, India and Royal College Of Surgeons, Edinburgh, UK.
Subsequently, Dr. Talus completed surgical training at University of Columbia at Harlem Hospital, New York in 2005. He then completed a colorectal surgery fellowship under Dr. Steven Wexner at the Cleveland Clinic in 2006.
After completion of colorectal fellowship training, he was appointed as a Director of Colorectal Surgery at Kings County Hospital Center in 2007.
Dr Talus is double boarded in both General and Colorectal Surgery. He has published above 20 scientific articles in national and international peer review journals and has delivered invited lectureships in national and international meetings.
Dr. Talus performs the entire spectrum of complicated colorectal surgical operations including minimally invasive surgery for colorectal cancer and complicated Diverticular diseases. His results are outstanding comparing to the national standards. Dr Talus also treats common and complex anorectal problems. He performs Colonoscopies and advanced endoscopic interventions.
Dr Talus offers a full continuum of colon and rectal care including preventive care (colonoscopy screening), diagnosis, treatment and follow-up for conditions including:
Anorectal disorders, hemorrhoids, abscesses, fissures and fistulas
Pelvic floor problems, fecal incontinence, constipation and pelvic organ prolapse, Recto-vaginal fistula
Inflammatory bowel disease, Crohn's disease and ulcerative colitis
Complex Diverticular Diseases
Colon and Rectal Cancer, individualized treatment plans, including staging of the cancer with endo-rectal ultrasound, MRI or colonoscopy and surgery
Dr. Talus' research interests are:
Surgical management of Rectal cancer (Sphincter preserving procedure)
Pelvic floor Dysfunction(Fecal Incontinence)
Surgical Management of Inflammatory bowel disease
Complex anal Fistula
To schedule an appointment, please call 718-270-2688.