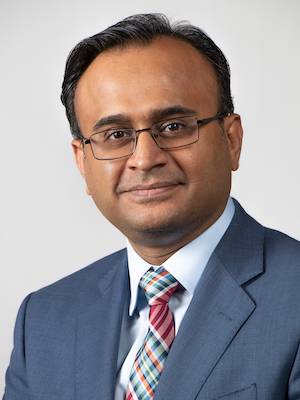 Sumanth C. Suresh, MD, FACS
Interim Chief, Division of Surgical Oncology
Director of Surgical Simulation Center
Associate Program Director, Department of Surgery
(718) 270-1421
(718) 270-2826
Dr. Suresh obtained his medical degree at Kempegowda Institute of Medical Sciences in 2004. He then completed his General Surgery training at St. Mary's Hospital in Connecticut in 2015, and subsequently completed a fellowship in Advanced Gastrointestinal Surgery at the Westchester Medical Center at New York Medical College in 2016. He sought advanced fellowships in Abdominal Organ Transplant and Hepatopancreatobiliary Surgery at Montefiore Medical Center, Albert Einstein College of Medicine and Mount Sinai Medical Center, Icahn School of Medicine. He joined the Department of Surgery at Downstate in 2019.
In addition to his role in the Transplant Program, Dr. Suresh has applied his unique clinical background to develop the newly formed Division of Surgical Oncology at Downstate. He has established strong collaborative relationships between medical oncologists, surgeons, pathologist, gastroenterologist, radiologists, and community physicians, and leads the weekly multidisciplinary tumor board that facilitates high quality care for cancer patients.
Dr. Suresh is passionate about his role as an educator and has won teaching awards every year starting from his very first year at Downstate. He leads the Simulation Lab to enhance trainees' skillset, and also serves as an Associate Program Director for the General Surgery Residency Program.
Wang R, Katz D, Lin HM, Ouyang Y, Gal J, Suresh S, Labgaa I, Tabrizian P, Demaria S Jr, Zerillo J, Smith NK. A Retrospective Study of the Role of Perioperative Serum Albumin and the Albumin-Bilirubin Grade in Predicting Post-Liver Transplant Length of Stay. Semin Cardiothorac Vasc Anesth. 2022 Nov 21:10892532221141138.
Fenig Y, Suresh S, Rochon C. Long-Term Survival after Kidney Transplantation. N Engl J Med. 2022 Feb 3;386(5):499.
Torabi J, Graham JA, Choinski K, Suresh S, Chokechanachaisakul A, Ajaimy M, Kamal L, Akalin E, Kinkhabwala M, Greenstein S, Rocca JP. Young donors with severe acute kidney injury offer an opportunity to expand the donor pool. Am J Surg. 2019 Jul;218(1):7-13.
Selvaraju V, Suresh SC, Thirunavukkarasu M, Mannu J, Foye JL, Mathur PP, Palesty JA, Sanchez JA, McFadden DW, Maulik N. Regulation of A-Kinase-Anchoring Protein 12 by Heat Shock Protein A12B to Prevent Ventricular Dysfunction Following Acute Myocardial Infarction in Diabetic Rats. J Cardiovasc Transl Res. 2017 Apr;10(2):209-220
Suresh SC, Selvaraju V, Thirunavukkarasu M, Goldman JW, Husain A, Alexander Palesty J, Sanchez JA, McFadden DW, Maulik N. Thioredoxin-1 (Trx1) Engineered Mesenchymal Stem Cell Therapy Increased Pro-Angiogenic Factors, Reduced Fibrosis and Improved Heart Function in the Infarcted Rat Myocardium. Int J Cardiol. 2015 Dec 15; 201:517-28
Joshi M, Suresh SC, Shaikh IA, Rana Z, Scholand SJ. Tick-Borne Trauma: An Unusual Presentation of Anaplasmosis. Conn Med. 2013 Aug;77(7):417-20.
Selvaraju V, Joshi M, Suresh S, Sanchez JA, Maulik N, Maulik G. Diabetes, Oxidative stress, Molecular Mechanism and Cardiovascular disease- An Overview. Toxicol Mech Methods. 2012 Jun; 22(5):330-5
Panait L, Suresh S, Fancher TT, Braich P, Sim Y, Dudrick SJ, Ajemian MS. Do laparoscopic colectomy techniques compromise oncologic principles? Chirurgia (Bucur).2011 Jul-Aug; 106(4): 475-8
Panait L, Suresh S, Fancher TT, Braich P, Sim Y, Dudrick SJ, Ajemian MS. Hand- Assisted Laparoscopic Compared to Laparoscopic-Assisted Colectomies: Are We Bending Oncologic Principles? J Surg Res. 2010 Feb; 158(2):271
Mahadevappa B, Suresh SC, Natarajan K, Thomas J. Cystogram with dumbbell shaped urinary bladder in a sliding inguinal hernia. J Radiol Case Rep. 2009;3(2):7-9.
Abstracts/Poster Presentations
Arvelakis A, Haydel B, Suresh S, Huprikar S, Rana M, Durand C, Segev D, Rocha C, Tabrizian P, Moon J, Facciuto M, Schwartz M, Kim-Schluger L, Schiano T. Florman S. Liver transplantation under the HOPE Act: Early single center experience, ASTS Winter Symposium Jan 2019, Miami, FL.
Suresh S, Lubetzky M, Graham, J, Chokechanaichaisakul A, Mohammed O, KinkhabwalaM, Akalin E, Rocca J and Bedi P. Kidney transplantation outcomes from donors with Acute Kidney Injury. Research Day 2017, Albert Einstein /Montefiore Medical Center NY
Suresh S, Lubetzky M, Graham, J, Chokechanaichaisakul A, Mohammed O, KinkhabwalaM, Akalin E, Rocca J and Bedi P. Kidney transplantation outcomes from donors with Acute Kidney Injury. Abdominal Transplant Congress 2017, Chicago, IL
Chysna K, Suresh S, Richi AA, Macaron HS, Palesty A. The Evolving Field of Bariatric Surgery: Comparing Safety and Efficacy among three Bariatric Surgeries in a Community Hospital Setting. Connecticut chapter of American College of Surgeons (CTACS), Farmington, CT 2014.
Selvaraju V, Suresh SC, Thirunavukkarasu M, Sanchez JA, Palesty JA, Maulik N. Enhanced AKAP12/GRAVIN Expression Leads to Myocardial Injury by Disrupting Angiogenic Signal Related to HSP/Thoredoxin-1/VEGF Cascade in Type I Diabetic Rats. Scientific Sessions of the American Heart Association, Chicago, IL, 2014
Suresh SC, Thirunavukkarasu M, Selvaraju V, Sanchez JA, Palesty AJ, McFadden D, Maulik N. Thioredoxin -1 (Trx-1) Engineered Mesenchymal Stem Cell Therapy increased Pro-angiogenic factors reduced Fibrosis and improved heart function in infarcted rat myocardium. Connecticut Chapter, American College of Surgeons (CTACS), Farmington, CT, 2013 * Winner of Resident Paper Competition, Specialty Surgery.
Suresh SC, Thirunavukkarasu M, Selvaraju V, Sanchez JA, Palesty AJ, McFadden D, Maulik N. Thioredoxin -1 (Trx-1) Engineered Mesenchymal Stem Cell Therapy increased Pro-angiogenic factors reduced Fibrosis and improved heart function in infarcted rat myocardium. New England Surgical Society (NESS) 94th Annual Meeting Hartford, CT, 2013
Suresh SC, Ajemian MJ. Hand assisted compared to laparoscopic assisted colectomies: are we bending oncologic principles? Waterbury Research day, Waterbury, CT, 2013
Chysna K, Shaikh IA, Eghbalieh S, Joshi M, Suresh S, Palesty AJ. Central Venous Access Port Devices - Comparison between Subclavian and Internal Jugular Approaches in a Community Hospital Setting Waterbury Research day, Waterbury, CT, 2013
Selvaraju V, Suresh SC, Thirunavukkarasu M, Sanchez JA, Maulik N. Heat Shock Protein (HSP) A12b Gene Therapy Ameliorates Myocardial Injury by Enhancing Angiogenic Signaling Through Thioredoxin-1/VEGF Cascade In Type I Diabetic Rats. Scientific Sessions of the American Heart Association, Dallas, TX, 2013
Thirunavukkarasu M, Suresh SC, Selvaraju V, Sanchez JA, Palesty JA, McFadden D, Maulik N. Thioredoxin -1 (Trx-1) Engineered Mesenchymal Stem Cell Therapy increased Pro-angiogenic factors, reduced Fibrosis and improved heart function in the infarcted rat myocardium. 99th Annual Clinical Congress of the American College of Surgeons Surgical Forum. Washington DC, 2013. JACS 2013 Sep (217) S34. *Winner of the Excellence in Research Award for the category of Cardiothoracic Sur
Thirunavukkarasu M, Suresh SC, Selvaraju V, Sanchez JA, Maulik N. HSPA12B gene therapy in diabetic myocardium. Scientific Sessions of the American Heart Association, Los Angeles, CA, 2012
Suresh SC, Thirunavukkarasu M, Selvaraju V, Maulik N, Sanchez JA. Intramyocardial Gene Therapy with Adeno Beta-Catenin Preserves Cardiac Function by Increased Angiogenesis and Cell Survival In Type I Diabetic Rat. The New England Surgical Society, Farmington, CT, 2012 AND the 98th Annual Clinical Congress of the American College of Surgeons, Surgical Forum, Chicago, IL, 2012 *Winner of the Excellence in Research Award for the category of Cardiothoracic Surgery.
Joshi M, Suresh SC, Shaikh IA, Rana Z, Scholand SJ. Tick-Borne Trauma: An Unusual Presentation of Anaplasmosis. Waterbury Research Day Waterbury, CT, 2011
Brenes RA, Abbas HMA, Suresh S, Sanchez JA. Disparities in perforation rates from acute appendicitis. The 91st Annual Meeting of the New England Surgical Society, Saratoga Springs, NY, 2010
Panait L, Suresh S, Fancher TT, Braich P, Sim Y, Dudrick SJ, Ajemian MS. Hand- Assisted Laparoscopic Compared to Laparoscopic-Assisted Colectomies: Are We Bending Oncologic Principles? 5th Annual Academic Surgical Congress. San Antonio, TX, 2010
Suresh S, Panait l, Fancher TT, Braich P, Sim Y, Dudrick SJ, Ajemian MS. Outcomes of Laparoscopic Techniques for the treatment of colon cancer Connecticut chapter of American College of Surgeons. Waterbury, CT 2009