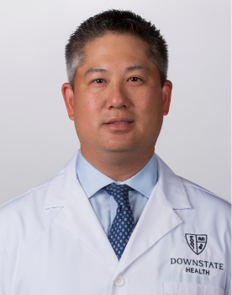 Justin Chin-Bong Choi, MD, FACS
Assistant Professor of Surgery
Division of Vascular Surgery
Dr. Choi received his Doctor of Medicine from the Baylor College of Medicine. Following a residency in General Surgery at the Baylor College of Medicine, he completed a fellowship in Vascular Surgery at the Georgetown University and MedStar Washington Hospital Center in Washington, DC.
Most recently, Dr. Choi was staff surgeon at the Michael E. DeBakey VA Medical Center and Assistant Professor in the Division of Vascular Surgery and Endovascular Therapy at the Baylor College of Medicine.
Dr. Choi has extensive experience in minimally invasive endovascular and open vascular surgeries, and will lead departmental, multidisciplinary initiatives aimed at reducing primary amputation rates in the Brooklyn community.
Previously, he spearheaded multiple quality improvement programs and in particular, developed and lead a multidisciplinary effort to manage institution-wide pulmonary embolisms through the Pulmonary Embolism Response Team (PERT).
In addition, Dr. Choi is an experienced basic and clinical sciences researcher. He has served as Lead Site Investigator for a multimillion dollar trial examining transfusion strategies after high cardiac risk surgeries (CSP 599: TOP Trial) and investigated the cellular etiology of aortic dissections.
Dr. Choi's didactic and clinical educational activities have included serving as contributing author for SCORE questions, mentoring oral boards preparation, and serving as medical student clerkship leader.