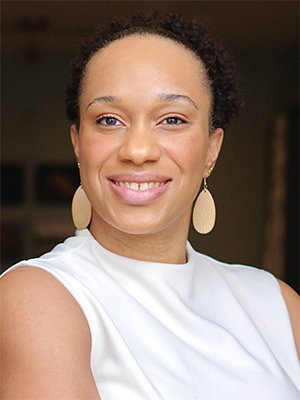 Simone A. Reynolds, PhD, MPH
Director of Online Learning and Instructional Innovation, Assistant Professor
Department of Epidemiology and Biostatistics
(718) 270-6736
(718) 270-2533
Academic Qualifications:
PhD: University of Pittsburgh, Graduate School of Public Health
MPH: New York Medical College, School of Public Health
Background and Expertise:
Dr. Simone A Reynolds is an Assistant Professor in the Department of Epidemiology and Biostatistics in the SUNY Downstate School of Public Health at SUNY Downstate, Brooklyn, NY. She also serves as Director of Online Learning and Instructional Innovation. Dr. Reynolds graduated from Randolph-Macon Woman's College (BS, Biology), New York Medical College, School of Public Health (MPH, Epidemiology) and the University of Pittsburgh, Graduate School of Public Health (PhD Perinatal Epidemiology). While at the University of Pittsburgh, she was awarded a pre-doctoral fellowship as part of the Reproductive, Perinatal, and Pediatric Epidemiology T32 Training Grant, from the Eunice Kennedy Shriver – National Institute of Child and Human Development (NICHD). Her doctoral research was performed using the historical Collaborative Perinatal Project cohort (1959-1965). This work investigated fetal and placental growth differences by fetal sex among infants born to normotensive and preeclamptic women. This work provides evidence that impaired fetal growth is subtly different in the offspring of preeclamptic women based on fetal sex.
She previously served as the Study Coordinator for the National Children's Study Connecticut Study Center at Yale University. The National Children's Study aims to examine the effects of the environment, as broadly defined to include factors such as air, water, diet, sound, family dynamics, community and cultural influences, and genetics on the growth, development, and health of children across the United States, following them from before birth until age 21 years.
Dr. Reynolds interests include: Reproductive and perinatal epidemiology, reproductive exposures, women's health, fetal growth, preterm birth and birth outcomes. Environmental factors related to maternal health, adverse pregnancy outcomes, infant health and the subsequent life course.
Reynolds SA, Roberts JM, Bodnar LM, Haggerty CL, Youk AO, Catov JM. Newborns of preeclamptic women show evidence of sex-specific disparity in fetal growth. Gender Medicine 2012; 9(6):424-435. DOI: 10.1016/j.genm.2012.10.013).
Recent Presentations / Posters
Reynolds SA, Roberts JM, Catov JM. Preterm delivery following spontaneous abortion: Does the risk differ by race? 24th Annual Meeting of the Society for Pediatric and Perinatal Epidemiologic Research (SPER) Book of Abstracts, Montreal Canada, June 2011.

Poster presentation.
Reynolds SA, Roberts JM, Catov JM. Determinants of Fetal Growth: effect of sex and race. 23rd Annual Meeting of the Society for Pediatric and Perinatal Epidemiologic Research (SPER) Book of Abstracts, Seattle Washington, June 2010.

Poster presentation
Reynolds SA, Roberts JM, Catov JM. Preeclampsia and poor fetal growth: effect of infant sex. 23rd Annual Meeting of the Society for Pediatric and Perinatal Epidemiologic Research (SPER) Book of Abstracts, Seattle Washington, June 2010.

Poster presentation