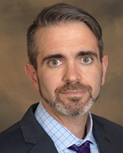 Thomas Mackie, PhD, MPH
Chair and Associate Professor
Health Policy and Management
Academic Qualifications:
BA with Honors, Wesleyan University

M

PH and

Masters

International Program with United States Peace Corps, Boston University School of Public Health

Joint-PhD in Social Policy and Sociology

,

Heller School of Social Policy and Graduate School of Arts and Sciences, Brandeis University
Background and Expertise:
TOM MACKIE, PhD, MPH, is Chair of Health Policy and Management and Associate Professor at SUNY Downstate Health Sciences University. Trained as a medical sociologist and health services researcher, Dr. Mackie's research aims to bring new evidence to pressing mental healthcare policy and practice dilemmas confronted by children and their caregivers. His research is motivated by the rapid expansion of system-wide innovations that seek to address the well-documented gaps in access to quality pediatric and perinatal mental healthcare. As a mixed methods and interdisciplinary researcher, his work has examined an array of system-level innovations, including universal screening programs, healthcare provider supports (e.g., psychiatry access programs), and monitoring programs (e.g., prior authorization and drug utilization reviews). His work also leverages the decision and system sciences to improve the use of research evidence in the development, implementation, and sustainment of these innovations. Dr. Mackie has published over 35 peer-reviewed articles and received over 6 million dollars in external funding from a diverse array of sponsors, including W.T. Grant Foundation, the Patient-Centered Outcomes Research Institute, National Institute of Mental Health, Agency for Healthcare Research and Quality, and the Substance Abuse and Mental Health Services Administration.
Courses Taught:
HPMG 5206: Intro Health Policy and Management

HPMG 5204: Access, Cost, and Quality of Care

HPMG 7200: Public Health Management and Ethics

HPMG 6001: Integrative Learning Experience in Health Policy and Management

HCAD 6001: Integrative Learning Experience in Healthcare Administration