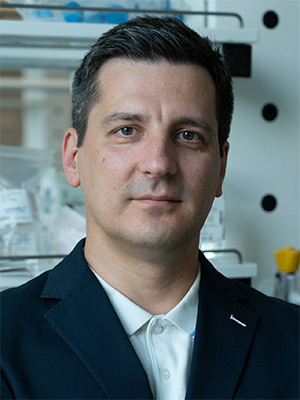 Sergios-Orestis Kolokotronis, PhD
Assistant Professor
Department of Epidemiology and Biostatistics
(718) 270-6741

(718) 270-2533
Academic Qualifications:
PhD: Columbia University
MPhil & MA: Columbia University
Adv. Certif. in Environmental Policy: Columbia University
BS: Université Paris-Sud XI
Background and Expertise:
Dr. Sergios-Orestis Kolokotronis is an Assistant Professor in the Department of Epidemiology and Biostatistics in the School of Public Health at SUNY Downstate Medical Center, Brooklyn, NY. Dr. Kolokotronis graduated from Université Paris-Sud XI (BS, Biology; Minor: Mathematical Biology) and Columbia University (MA/MPhil/PhD, Ecology & Evolutionary Biology). As a postdoctoral fellow at the American Museum of Natural History's Sackler Institute for Comparative Genomics he researched the evolution through time of pathogens and their close relatives (funded by DARPA) and served as the Research Coordinator of the DNA Barcoding Initiative (funded by the Alfred P. Sloan Foundation). He applies evolutionary thinking to questions on the evolution and adaptation of microbial pathogens, their vectors, and reservoir species using genomics and bioinformatics. Organismal systems of interest include RNA viruses, Mycobacterium tuberculosis, MRSA, and eukaryotic parasites, such as malaria and trypanosomes. His latest interests include the microbial ecological context of pathogen transmission and persistence, e.g. microbiomes of ticks and urban birds, and how the urban and industrial environment intensifies natural selection for antibiotic, metal, and pollutant resistance of microbial communities (employing metagenomics).
Before joining the SUNY Downstate community he was a faculty member at Fordham University and Barnard College, Columbia University, where he taught a variety of undergraduate and graduate courses and supervised students.
Dr. Kolokotronis holds faculty appointments in the College of Medicine (Division of Infectious Diseases, Department of Medicine, and Department of Cell Biology). His lab is based in the Institute for Genomic Health.
Website: http://kolokolab.org
LinkedIn: https://www.linkedin.com/in/koloko
Google Scholar: https://scholar.google.com/citations?user=u3i_xH4AAAAJ&hl=en
PubMed: https://pubmed.ncbi.nlm.nih.gov/?term=kolokotronis+s%5Bau%5D&sort=pubdate
Twitter: @sokolokot