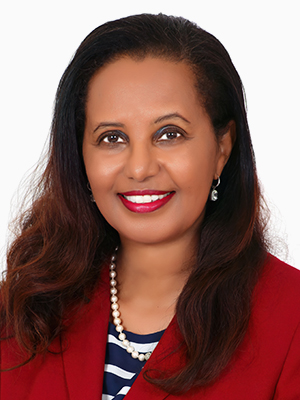 Senait Kebede, MD
Adjunct Associate Professor
Department of Community Health Sciences
Dr Senait Kebede is a global health professional and pediatrician with clinical, academic, and public experience of over 25 at national, regional, and international levels. years of experience in on She is also the Founder and President of International Health consultancy (IHC), LLC. Dr Kebede has extensive experience in providing technical assistance for international agencies including the World Health Organization (WHO) across multiple countries in the world. She has worked/consulted with, UNAIDS, UNICEF, World Bank, CDC, and USAID in various capacity including as Adolescent health and HIV specialist with UNICEF, WHO Africa regional coordinator increasing access to Anti-Retroviral Treatment (ART); and investment and efficiency advisor for UNAIDS. Across these roles she has been responsible for technical input for policies, programming, planning and evaluation and actively led and participated in development of program guidelines and training of health professionals.
Dr. Kebede is an Adjunct Associate Professor of Global Health at the Rollins School of Public Health at Emory University where she taught a graduate course on global health strategies and transforming public health surveillance. She also served as the lead instructor for Antimicrobial Resistance course and as faculty for Clinical Community of Practice for COVID-19- Africa CDC/Emory. Dr Kebede also guest lectures at Georgia State University and is a contributor to the HIV eCourse at Mayo Clinic, School of Continuous Professional Development. She is also affiliated with St. Paul's Hospital Millennium Medical College, Addis Ababa, Ethiopia as a visiting Honorary Associate Professor of Pediatrics. Dr Kebede has been a speaker in various national, regional, and global forums and published her research work in peer review journals. Dr. Kebede serves in a variety of expert working groups on global health including serving as member of the WHO Global Influenza Program: The Partnership Contribution Independent Technical Expert Mechanism; and member of WHO TB Team expert for TB/HIV & Child and Adolescent TB Working Group. She is also the Co-Chair for the Private Sector Engagement Subgroup of the Child Health Task Force.
Dr. Kebede received her MD from Addis Ababa University in Ethiopia, with specialty in pediatrics and an MPH from Johns Hopkins University. She is also a Gates Strategic Leadership Fellow for Reproductive Health, JHU and certified in Project Management (Project Management Institute-PMI).
Areas of Interest
Global health equity
Infectious Disease
Maternal and Child Health
Disease Surveillance and Epidemic Preparedness
Mental health