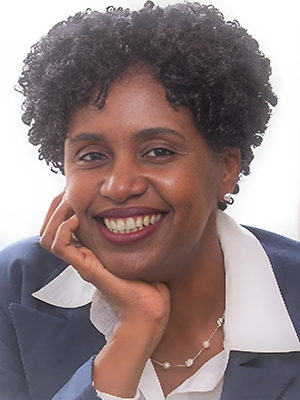 Marilyn Fraser, MD
Research Associate Professor
Department of Community Health Sciences
Dr. Marilyn Fraser is the Chief Executive Officer at the Arthur Ashe Institute for Urban Health (AAIUH), a Research Associate Professor in both the Department of Medicine and the School of Public Health at the SUNY Downstate Health Sciences University, and the co-Director of the Brooklyn Health Disparities Center. Previously, as Deputy Director and Associate Director for Research & Training, she managed the Institute's community outreach and research programs.
Dr. Fraser, as co-leader of an investigative research team supported by several NIH and CDC grants, helped develop behavioral health intervention models and training curricula for AAIUH's award-winning Black Pearls and Different Fades of Health programs. The Institute's community outreach programs prepare hairstylists and barbers to educate their clients about various health topics, including breast, prostate and colorectal cancer, cardiovascular disease, and HIV/AIDS risk reduction. She also served as the Co-PI in conducting the Institute's ACCESS project to increase access to health and social services for formerly incarcerated individuals in Brooklyn.
Guyanese-born Dr. Fraser is a graduate of the Spartan Health Sciences University School of Medicine in St. Lucia and did her medical training in the West Indies, Mexico, and the United States. Dr. Fraser has received numerous awards including the Health Award from the New York State Association of Black and Puerto Rican Legislators, and the prestigious Fulbright Research Specialist award to develop and implement a climate change and public health internship program for secondary school students in Trinidad and Tobago. She was also the recipient of the Innovator Award from the Bedford Stuyvesant Family Health Center, the Community Award from the Nurses Association of the Counties of Long Island (NACLI), as well as an extraordinary woman of Downstate recognition. She was also nominated to serve on the nationally acclaimed Clinical & Translational Science Award (CTSA)'s Community Engagement Domain Task Force. Dr. Fraser was honored as a Power Woman in Brooklyn and received the special Health Award. She was also honored as the winner of the Crain's Heritage Healthcare Leadership Award and named one of Crain's Notable Women in Healthcare. Most recently, Dr. Fraser was honored as one of the CUNY School of Medicine's 2021 Strong Women in Medicine. Dr. Fraser regularly presents her work at scientific meetings, nationally and internationally, and is a co-author on several publications and a book chapter.