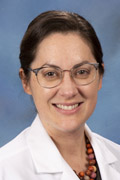 Anna Plourde, MD, MPH
Assistant Professor, Director of Clinical Microbiology
Pathology
718-270-8295
(718) 270-1967
Education and Training:
2001 – 2005, BS (Biology & Classics), University of Massachusetts, Amherst
2008 – 2012, MD, University of Massachusetts Medical School
2012 – 2016, Residency in Anatomic & Clinical Pathology, University of California San Francisco
2016 – 2019, MPH (Epidemiology & Biostatistics concentration), University of California Berkeley
2019 – 2020, Fellowship in Medical Microbiology, University of Chicago Medical Center & NorthShore University HealthSystem
Research and Clinical Interest Summary:
Dr. Anna Plourde, MD, MPH is Director of the Clinical Microbiology and Virology Laboratories at SUNY Downstate Medical Center, where she oversees clinical microbiologic testing and provides consultation on ordering and interpretation of diagnostic tests for infectious diseases.
Her research interests include molecular microbial testing, the clinical utility of microbial diagnostics, and infectious disease epidemiology. In addition, she works closely with members of the Infectious Disease and Infection Control departments on diagnostic and therapeutic stewardship efforts. Finally, Dr. Plourde enjoys teaching SUNY Downstate medical students and Pathology residents rotating in the Clinical Microbiology laboratory.
Singh K, Kaul K, Schora D, Sabatini L, Plourde A, McElvania E. 2020. Absence of Unrecognized COVID-19 Community Infections in the Greater Chicago Area Using SARS-CoV-2 Reflex Testing, March 2020. J Community Med Public Health. Sept 18; 4: 193. DOI: 10.29011/2577-2228.100093.
Shaw JD, Miller S, Plourde A, Shaw DL, Wustrack R, Hansen EN. 2017. Methylene Blue-Guided Debridement as an Intraoperative Adjunct for the Surgical Treatment of Periprosthetic Joint Infection. Journal of Arthroplasty. July 21. pii: S0883-5403(17) 30617-4.
Plourde AR, Bloch EM. 2016. A Literature Review of Zika Virus. Emerging Infectious Diseases. July; 22(7): 1185-92.
Plourde A, Jiang Z, Gross A, Owens CO. 2013. Patterns and Immunohistochemical Stain Usage in Extended Core Prostate Biopsies: Comparisons Among Genitourinary Pathologists and Non-Genitourinary Pathologists. Archives of Pathology and Laboratory Medicine. 137: 1630-1634.
Biffi A, Plourde A, Shen Y, Onofrio R, Smith EE, Frosch M, Prada CM, Gusella J, Greenberg SM, Rosand J. 2010. Screening for Familial APP Mutations in Sporadic Cerebral Amyloid Angiopathy. PLoS One. Nov 11; 5(11):e13949.
Biffi A, Anderson CD, Nalls MA, Rahman R, Sonni A, Cortellini L, Rost NS, Matarin M, Hernandez DG, Plourde A, de Bakker PI, Ross OA, Greenberg SM, Furie KL, Meschia JF, Singleton AB, Saxena R, Rosand J. 2010. Principal Component Analysis for Assessment of Population Stratification in Mitochondrial Medical Genetics. Americal Journal of Human Genetics. Jun 11;86(6):904-17.
Gschwendtner A, Bevan S, Cole JW, Plourde A, Rosand J, Kittner SJ, Markus HS, Müller-Myhsok B, Dichgans M et. al.; International Stroke Genetics Consortium. 2009. Sequence variants on chromosome 9p21.3 confer risk for atherosclerotic stroke. Annals of Neurology. May;65(5):531-9.
Jakob E, Skow C, Haberman M, Plourde A. 2007. Jumping Spiders Associate Food with Color Cues in a T-Maze. The Journal of Arachnology. 35: 487-492.