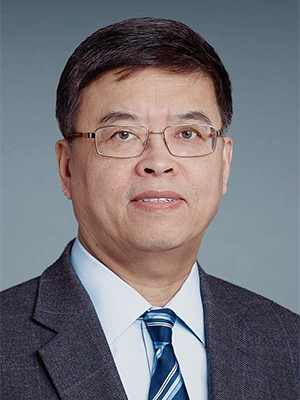 Zhiheng Pei, MD PhD FASCP
Adjunct Associate Profesor
Pathology
Education and Training:
Graduate school: Vanderbilt University Graduate School, degree: PhD, location: Nashville
Medical school: Jiamusi University School of Medicine, degree: MD, location: Jiamusi
Residency: Vanderbilt University School of Medicine, program: Anatomic Pathology, location: Nashville
Fellowship: Vanderbilt University School of Medicine, program: Molecular Pathology, location: Nashville
Research and Clinical Interest Summary:
As a physician-scientist, I have broad interests in the etiology and pathogenesis of chronic diseases. I have been pioneering and evaluating a new concept – microecological disease or microbiome disease in several cancer-related projects in the past several years. I view microecological diseases as a new type of microbial disease caused by altering the community structure of a healthy microbiome rather than by a pathogen in the classic paradigm. In several NIH sponsored projects, my laboratory defined the esophageal microbiome (R01CA97946: Bacterial flora in the normal esophagus and reflux disorders), demonstrated its association with reflux diseases (UH3CA140233: Foregut microbiome in the development of esophageal adenocarcinoma), and proved that subjects with esophageal adenocarcinoma had marked dysbiosis and functional alteration in their oral microbiome long before they developed EA (U01CA182370: Role of the oral microbiome in the etiology of esophageal adenocarcinoma). Additionally, we have studied microbiome in cancers of the head and neck (R01CA159036: The oral microbiome and upper aerodigestive squamous cell cancer; R21DE025352: Role of HPV in oral cavity squamous cell carcinoma) and stomach (R01CA204113: Foregut microbiome, gastric intestinal metaplasia, and gastric cancer risk).
Another project relates to the etiology of chronic tonsillar hypertrophy (CTH) (R01AI063477). CTH is an obstructive disease that plays a pathogenic role in obstructive sleep apnea, failure to thrive, abnormal dental and facial growth, halitosis, and other ailments. CTH has also been implicated in the neurologic morbidity associated with sleep disorders, such as inattention and hyperactivity in children. "Sulfur" granules (SGs) in tonsillar crypts are large clusters of bacteria that have drawn the attention of many physicians since 1896. I was taught that the granules represent "actinomycosis" when I was a medical student and learned to diagnose tonsillar "actinomycosis" during my residency in pathology. There have been numerous serial studies and case reports on tonsillar "actinomycosis" in the past 120 years. ETN surgeons treat tonsillar "actinomycosis" with tonsillectomy because it is associated with CTH and refractory to antibiotic therapy. The standoff between SGs and enormous germinal centers in CTH tonsils was so intriguing that I decided to scrutinize the "actinomycosis" paradigm with modern technologies when I became an attending pathologist. Our hypothesis is that CTH is a manifestation of the immune reaction to antigens released from SGs in hypertrophic tonsils. We are testing this hypothesis by investigating the association between SGs and CTH with normal tonsils as controls, defining the microbial community in SGs, and identify the entire repertoire of antigens that causes the activation of B lymphocytes in CTH.
My interest in the analysis of microbiota in the human health context also extends into the clinical domain, where I am working with Residents and Fellows on the application of new methodologies for disease diagnosis in clinical practice. In particular, we are pursuing the identification of uncultivable microbial agents in fixed tissue specimens through the use of molecular techniques.
Osborne G, Wu F, Yang L, Kelly D, Hu J, Li H, Jasmine F, Kibriya MG, Parvez F, Shaheen I, Sarwar G, Ahmed A, Eunus M, Islam T, Pei Z, Ahsan H, Chen Y. The association between gut microbiome and anthropometric measurements in Bangladesh. Gut Microbes. 2020;11:63-76. PMC6973329.
Nolan-Kenney R, Wu F, Hu J, Yang L, Kelly D, Li H, Jasmine F, Kibriya MG, Parvez F, Shaheen I, Sarwar G, Ahmed A, Eunus M, Islam T, Pei Z, Ahsan H, Chen Y. The association between smoking and gut microbiome in Bangladesh. Nicotine Tob Res. 2019 Dec 3. pii: ntz220. doi: 10.1093/ntr/ntz220. [Epub ahead of print] PubMed PMID: 31794002.
Yang Y, Zheng W, Cai Q, Shrubsole MJ, Pei Z, Brucker R, Steinwandel M, Bordenstein SR, Li Z, Blot WJ, Shu XO, Long J. Racial Differences in the Oral Microbiome: Data from Low-Income Populations of African Ancestry and European Ancestry. mSystems. 2019;4:e00639-19. PMC6880044.
Roubaud-Baudron C, Ruiz VE, Swan AM Jr, Vallance BA, Ozkul C, Pei Z, Li J, Battaglia TW, Perez-Perez GI, Blaser MJ. Long-Term Effects of Early-Life Antibiotic Exposure on Resistance to Subsequent Bacterial Infection. mBio. 2019;10:e02820-19. PMC6935859.
Yang Sun, Qian Chen, Ping lin, Rong Xu, Dongyi He, Weiqing Ji, Bian Yanqin, Yu Shen, Qingtian Li, Chang Liu, KE DONG, Yi-Wei Tang, Zhiheng Pei, Liying Yang, Hongzhou Lu, Lianbo Xiao, Xiao-kui GUO. Characteristics of Gut Microbiota in Patients with Rheumatoid Arthritis in Shanghai, China. Frontiers in Cellular and Infection Microbiology. 2019;9:360. PMC6819506.
Hao Y, Ruiz R, Yang L, Neto AG, Amin MR, Kelly D, Achlatis S, Roof S, Bing R, Kannan K, Brown SM, Pei Z, Branski RC. Mitochondrial somatic mutations and the lack of viral genomic variation in recurrent respiratory papillomatosis. Sci Rep. 2019;9:16625. PMC6851396.
Yang Y, Zheng W, Cai QY, Shrubsole MJ, Pei Z, Brucker R, Steinwandel MD, Bordenstein SR, Li Z, Blot WJ, Shu XO, Long J. Cigarette smoking and oral microbiota in low-income and African-American populations. J Epidemiol Community Health. 2019;73:1108-1115. PMC6913090.
Ganly I, Yang L, Giese RA, Hao Y, Nossa CW, Morris LGT, Rosenthal M, Migliacci J, Kelly D, Tseng W, Hu J, Li H, Brown S, Pei Z. Periodontal pathogens are a risk factor of oral cavity squamous cell carcinoma, independent of tobacco and alcohol and human papillomavirus. Int J Cancer. 2019;145:775-784. PMC6554043.
Liying Yang, Yuhan Hao, Dervla Kelly, Huilin Li, Giyuan Hu, Stuart Brown, Theresa L. Chang, Zhiheng Pei. Differential effects of depot medroxyprogesterone acetate administration on vaginal microbiome in Hispanic White and Black women. Emerging Microbes & Infections. 2019;8:197-210. PMC6455113.
Wu F, Yang L, Islam MT, Jasmine F, Kibriya MG, Nahar J, Barmon B, Parvez F, Sarwar G, Ahmed A, Eunus M, Islam T, Slavkovich V, Hu J, Li H, Graziano JH, Pei Z, Ahsan H, Chen Y. The role of gut microbiome and its interaction with arsenic exposure in carotid intima-media thickness in a Bangladesh population. Environ Int. 2019;123:104-113. PMC6371773