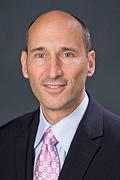 Neil M. Sperling, MD
Associate Professor
Otolaryngology
Background and Expertise:
Dr. Sperling is Adjunct Associate Professor and previous director of the Division of Otology in the Department of Otolaryngology. He is also Affiliate Assistant Professor of Clinical Otolaryngology at Weill Cornell Medical College.
After completing his medical education at New York Medical College and Residency training at the New York Eye and Ear Infirmary, Dr. Sperling completed fellowship training in otologic research and surgery in Minneapolis with Dr. Michael Paparella at the Minnesota Ear, Head and Neck Clinic and the University of Minnesota. Dr. Sperling was involved in the creating the first cochlear implant program in the Borough of Brooklyn at SUNY affiliated hospitals, which continues today. Dr. Sperling's special clinical and research interests include otosclerosis, immune-mediated hearing loss, and tympanic membrane retraction.