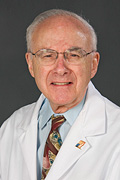 Abraham Shulman, MD
Professor
Otolaryngology
Background and Expertise:
Dr. Shulman, Prof. Emeritus Clinical Otolaryngology, at SUNY Downstate, is a graduate of the Kings County Hospital Center, Division of Otolaryngology's residency training program. Following graduation, he completed a fellowship with Julius Lempert at the Lempert Foundation and served as Lieutenant Commander in the USNR as Chief of Otolaryngology at the Portsmouth Naval Hospital, Portsmouth, New Hampshire.
Dr. Shulman has been the author and one of the editors of the 1st edition of the text entitled Tinnitus diagnosis and treatment in 1991, which identified a new discipline, Tinnitology. The second edition of the tinnitus text, Tinnitus diagnosis and treatment, started preparation in 2015. He has contributed textbook chapters and published over 250 scientific articles on the basic science and clinical protocols for tinnitus diagnosis and treatment, and is a reviewer for several scientific journals. In 2010 SUNY Downstate Medical Center included him in a celebration of achievement of 150 years of medical education in Brooklyn.
His research interests include sensorineural hearing loss, electrical and ultrahigh frequency acoustical stimulation of the cochleovestibular system, vestibular evoked response, mechanisms of tinnitus production, translation of functional brain imaging with nuclear medicine and EEG based electroencephalography –QEEG/LORETA, for attempting to understand brain function in the presence of the tinnitus signal, development of tinnitus targeted drugs for tinnitus relief for clinical types and subtypes of tinnitus, and fluid dynamics of the ear and brain. Dr. Shulman's clinical interests are hearing loss, tinnitus, vertigo, and the fluid dynamics between ear and brain. Symposia, articles, tinnitus courses and a tinnitus text have identified Dr. Shulman as an international figure for the symptom of tinnitus.