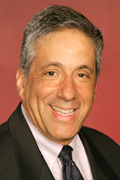 Edward F. Smith, MD
Local Director Ophthalmology, Department of Veterans Affairs, New York Harbor Healthcare System, Brooklyn Campus
Clinical Associate Professor of Ophthalmology
Department of Ophthalmology
Background and Expertise
Dr. Smith is fellowship trained in neuro-ophthalmology and practices comprehensive ophthalmology as well as neuro-ophthalmology. He performs and teaches small incision cataract surgery, refractive cataract surgery, pterygium excision with graft, penetrating keratoplasty and most anterior segment reconstructive procedures. For the past 20 academic years, his career has involved teaching residents ophthalmic surgery, and has functioned as Director of the Department of Veterans Affairs NY Harbor Brooklyn VA Hospital for the past ten years. Dr. Smith has had the good fortune of being involved in educating all of the graduating SUNY Downstate ophthalmology residents, both in the operating room and the clinic, and is proud to say that many have gone on to become national leaders in the ophthalmic community.
Dr. Smith has been included in Best Doctors in New York Magazine (1991), Castle Conelly Best Doctors in New York (1999-2010) as well as New York Times Superdoctors (2008-2010).
Research Interests
Collagen Crosslinking for Infectious Keratitis
The use of intraocular lenses to deliver intracameral antibiotics
Frequency Doubling Perimetry in Neurological Visual Field Defects.
Education
Undergraduate: CUNY Brooklyn College – B.S Chemistry, Magna Cum Laude
Medical School: SUNY Downstate Medical Center, Cum Laude
Residency: Ophthalmology - SUNY Downstate/Kings County
Fellowship: Neuro-ophthalmology - SUNY Downstate/Kingsbrook Jewish Medical Center
Selected Publications
Smith E.F, Desai R,,Enriquez, B, Purewal, B. Schrier A, Trypan Blue for Capsulorhexis Ophthalmology ;accepted for publication anticipated 7/2010
Schrier A., Attia H., Greebel,G. Trokel S., E. F. Smith. In Vitro Antimicrobial Efficacy of Riboflavin and Ultrviolet Light on Staph Aureus, Methicillin Resistant Staph Aureus, and Pseudomonas Aeruginosa Journal of Refractive Surgery, September 2009 Volume 25:No.9.pp S799-S802.
Smith EF, Elbash AR, Schrier A, Berg PD, Eid I. Antimicrobial activity of acrylic intraocular lenses soaked in fourth generation fluoroquinolones. J Ocular Pharmacol Ther. 2008;24(5): 495-500.
AR Elbash, EF Smith, S Haji et al, Antimicrobial Activity of Fourth Generation Fluoroquinolone Soaked Acrylic Intraocular Lenses. Refractive Eyecare (CME supplement) Volume 11 Number 5, May 2007
El-Bash AR, Edelstein M, Smith EF; PION after Lumbar Spine Surgery, Ophthalmology 2004:111 (3):611
Schecter B, Schrier A, Nagler R, Smith E;, Regression of Primary Conjunctival and Corneal Intraepithelial Neoplasia with Topical InterferonAlfa-2b, Cornea 2002:21:6-11
Fingeret M., Smith EF, Reminick L,Johnson C., Frequency Doubling Technology Perimetry as a Screening Tool in the General Ophthalmic Elderly Population. Perimetry Update 2000-2001 pp 271-275. Proceedings of the XIVth International Perimetric Society Meeting
Smith E, Santamarina L, Wolintz A; Herpes Zoster Ophthalmicus as a Cause of Horner's Syndrome, Journal of Neuro-ophthalmology: 13 (4) 250-253; 1993
Selected Presentations
Liu M, Desai R, Enriquez B,Smith EF, A Comparison of the Accuracy and Efficiency of an Innovative Ultrasound Device With Routine A Scan Biometry in a Resident Clinic Setting. Poster presentation ARVO May 2010 Ft Lauderdale , Florida.
Ahmad H, Pontdujour R, Liu M, Smith EF, Lazzaro DR. The Effect of Caffeine and Beta Blockade on Surgical Performance Using the EYESi VRMagic Anti-Tremor, Forceps and Capsulorhexis Surgical Simulator Modules in Experienced vs. Novice Surgeons. Poster presentation at ARVO May 2010 Ft Lauderdale Florida.
Collagen crosslinking protocol for the prevention ofImpending Corneal perforation in Infectious Keratitis, A. Schrier, S. Trokel , E.F. Smith , Leipzig, Germany Dec 5 2009.
Construct Validity of Anterior Segment Surgical Performance and the Effect of Caffeine using the EYESi VRMagic Simulator. Ahmed H, Smith EF, Liu P, Pontdujour R., Lazzaro DR., Poster presentation. American Academy of Ophthalmology 2009 San Francisco .
A Comparison of the Effectiveness of Soaking Acrylic Hydrophilic and Acrylic Hydrophobic Intraocular Lenses in Moxifloxacin 0.5%, Shaw,J, Gaffar, M. Schrier, A., E.F. Smith, Poster presentation at ARVO Ft. Lauderdale May 2009.